Graham Reid | | 9 min read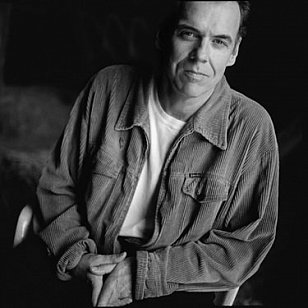 Thursday last week and a cool, almost chill night in Los Angeles. It's a little after nine and John Hiatt is back in his hotel room after dinner. He came in from Nashville a few days ago to do some recording and writing with "three other guys" but is now just making a few phone calls.
He flies home tomorrow in time to catch the kids off school for the spring vacation." Maybe he'll do a little work in the office at home, "just a converted bedroom, actually." Then again, maybe not. It's the normal life. Kids, work, hanging' round the house. Hiatt kind of likes it.
"I had an office away from the house for the first couple of years when I went back to Nashville after living in California," he says, "and it was helpful because I was so undisciplined.
"I kept thinking of a famous advertisement in the 60s of some guy going off to work, kissing his wife and kids. Something about that was just hugely appealing so I made an attempt to re-create it. I think us weirdo types, creative types I suppose, find a certain kind of normalcy very attractive, I dunno..."
This is John Hiatt today, a man who has made his way from the other side of the looking glass and whose painful, sometimes humorous, self –assessments have made for one of the finest bodies of song writing to come out of America in the past decade. "It's been a slow turning from the inside out," he sang three years ago on yet another of his wry and autobiographical albums.
"A slow turning...but you come about."
Hiatt's turning began on August 3, 1984. He quit drinking, a habit he had cultivated since age 13. In a subculture where drugs can be a currency, Hiatt found one which was legal and always on call.
"I used to drink a lot in those days," he sings on this most recent Stolen Moments album, "yeah, that's the way the wind blows..."
The words now contain a measure of self-acceptance.
He was a fat and and unhappy kid, he says, and when he was 16 was using booze to keep his weight down. Girls didn't like fat boys...so he drank. Later he used it for inspiration and to feel good. Most often he just drank to get drunk.
Then, after 20 years he quit – and the music got better. His half-dozen previous albums had hinted at "his stubbly genius of the back alley" as one writer called it. But Hiatt was too erratic.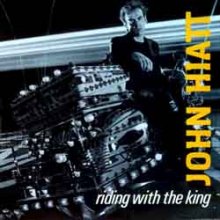 His Riding With the King album in '83 had been his most consistent and showered sparks of pure magic. In the title track he told of his conversion to music as a way of defining himself when he mimed to Elvis records.
"I stepped out of a mirror at 10 years old...I had a guitar hanging just about waist high, I'm gonna play that thing until the day I die...don't you know we're riding with the king?"
After Riding With The King people started to talk about Hiatt. But then again, some people always had.
From his debut Hangin' Around the Observatory in '74, he always sounded so promising he was spoken of in hushed tones. But he never matched the expectations others had of him.
Too big to be a cult hero, too small to be a headliner. And often unreliable because of the booze. Even today, after three cracking albums in a row he still hasn't reached that elusive bigger audience. When he plays in Auckland in April it is as support act to the Robert Cray Band and Hiatt's name is in such small print it almost looks like an afterthought. But his recent albums, Bring The Family, Slow Turning and Stolen Moments, guarantee him an audience in his own right.
Brutally honest, poetically refined songs and observations of skewed American life have been his life's work. And always with great bands. He's pleased to report he's bringing a band with him on the tour also.
"Yeah, we're called The Fugitive Popes and they are guys I picked up at the end of last year. We held auditions just to see who was floating around this great land. And more than a few Rock Back Billy's turned up," he says hooting with laughter as he refers to a song on Stolen Moments about an old time loser musician.
"Actually we felt we could have put four or five bands together and station them around the country at strategic locations. I could just turn up and play...the Chuck Berry approach to touring!"
Hiatt has worked with pick-up bands before, the difference has always been he picks up (or is picked up by?) the best in the business.
The "three other guys" he's working with in LA are Ry Cooder, Nick Lowe and Jim Keltner, all of whom have drifted in and out of his life over the past 10 years.
"It's just a project which doesn't have a name really – or a purpose," he adds as an afterthought. "We just wanted to get together and make a racket, just having ball writing songs together."
The last "racket" this band made was Hiatt's Bring The Family in '87 which had critics inventing new superlatives. "One of the best studio bands ever assembled gets its teeth into a bunch of peerless adult love songs," wrote Q magazine in a Hiatt retrospective in late '88.
At last he was on a roll – and he hasn't stopped since.
What kicked him along was the return to Nashville the previous year. His wife had committed suicide in LA and with a one-year old child he realised he had to put some order into his life. So he went back to the city which had given him a break when he was a 16-year old hopeful from Indianapolis who walked into a music publishing company, played a few songs and was taken on as a staff writer. Over the next few years his songs had been picked up by the likes of Three Dog Night although his often angry edge placed him closer to Elvis Costello.
As his star rose he moved to LA, drank even more, was picked up and dropped by one record label after another, then woke up a sober solo parent trying to come to terms with all that had happened.
Back in Nashville the competition among songwriters prompted him to get to work.
"There were songwriters everywhere and the pressure didn't just come from people you knew, fer crissake. Everybody in Nashville writes. The door-to-door insurance man says, 'you wanna buy insurance? No? You want to hear a song then?' It makes you work and at the craft that's for certain.
"It's a wonderful process which has been in place since I wrote my first song when I was about 11. It's a life habit and my own personal therapy to use songs to clear things up for myself, like a reality check and a look at where I am at a given point in my life.
"I envy people who can express themselves simply and directly. I have a tough time doing that and maybe that's why I started writing songs. Communication on a person-to-person basis is still difficult for me. But hey, I'm an American male in my late 30s, what can I tell you? We're a fairly shutdown bunch and not known for our great communication skills."
Despite Hiatt's espoused inability to communicate in person, his songs cut right to the bone.
On Riding With the King he tells of the hurts ("who'll stalk that little bit of love that hasn't been killed – lovers will) and unflinchingly puts his own faults and fears under analysis. There can be a dispirited, beaten, tiredness in his songs, haunting voices from the past and a chilly wind in the night.
At times the imagistic style could be harrowing and disconnected, the sense of unrealised fears almost overwhelming. You can only speculate what Hiatt must have been thinking from underneath the bottle.
"It isn't really scary for me to look back. There are plenty of times I say 'whoa, what was I on about then?' But I don't regret the past. I don't want to live in it – but I can't regret it. It just takes every crazy step you make to get you to where you are.
"People tried to stop me doin' what I was doin' and I can see where friends were saying they thought I might be having a little bit of a problem with that stuff," he says laughing at the deliberate understatement.
"But it's one of the features of alcoholism that the last thing you want to hear is you might have a problem. It's the whole notion that somehow you can control it. I always say nobody held me down and poured it down my throat.
"You've got a problem if anything pulls you away from your life and I can get hooked on just about anything. I've got a dependent personality, sure.
"So what do I do now that's detrimental? I drink a ton of coffee – but what the hell, huh?"
What has kept Hiatt going is his sense of humour. His albums, as much as being personal observations, also include odd, pointed anecdotes which sound culled from the pages of the National Enquirer.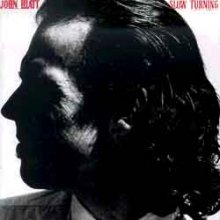 Trudy and Dave on Slow Turning is typical. Hiatt sketches out the story of a couple who hold up an automatic teller machine "took the money for the laundry and drove away clean." He finds something naively appealing in the story.
"That was a local news piece about a couple who had done a copycat crime. I was really taken with the sincere regret they expressed that they had done such a thing. I had the sense they were people who had gotten their back against the wall and didn't have a clue as to how and why.
"They just felt their options had narrowed sufficiently so their only way out was to commit the crime. It was touching to me and get moved by little things like that.
"Right now I'm doing some research for this project with Ry, Nick and Jim so I've brought this magazine Low Rider.
"There's a wonderful subculture of car worship here in Southern California among Mexican American where they chop cars to the ground, install elaborate hydraulics and then have these hopping contests or go cruising down the boulevards. Because I came from Indianapolis where they have the Indie 500 I've always been into cars. In this magazine they have these open love letters in a column at the back and it's very touching...so open and direct and ultimately more poetic than anything I could come up with.
"It's very inspiring and that stuff just gets to me."
As much as Hiatt can touch the deep dark well within, spin out a funny story and rock out with the best he also can spit up a splendid line of invective which has seen likened to Elvis Costello.
But as Hiatt's faltering career took him to London to record with Tony Visconti (David Bowie's producer and at the desk for Hiatt's disastrous All Of A Sudden in '83) or Nick Lowe (for some of Riding With The King) his records became more erratic.
Record companies with a low threshold for financial pain weren't impressed by his unfailing ability to deliver indifferent records. In his time he has been "let go" by Epic, MCA and Geffen.
"MCA were good, we asked to be let go and they let us. But Geffen had a much more interesting approach to termination of the contract. In '86 I was flown out at their request to discuss with the head of A&R about possible producers for my next album. Upon my arrival I got a call from my attorney saying Geffen had released me. So the A&R guy, who was just as surprised as I was, took me upstairs to meet the vice-president and sure enough, they'd released me the day before. Dropped, I think is probably the term.
"But it turned out fortuitous and opened a door for me to do Bring The Family. I was also at a point where I was looking forward not back, and just grateful for my own sobriety, so I was much more willing to accept anything that might befall me.
"I had just gone through a hell of my own making and come out the other side which had the effect of rendering all these other seeming monsters to be kind of toothless. They weren't nearly as scary as any I'd created on my own."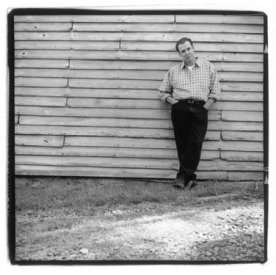 The clean, sober and much improved John Hiatt is still taking it one day at a time he says. The quest now is a simpler one. The normal life and working with musicians he respects. No egos in the way.
"The payoff for me is to work with these incredible talents, that's what I got into this for...there's so much to learn...so much music out there. Simplicity is it...just always shootin' for that now.
"What I'm aspiring to do is to play like I don't have anything to prove...that's the thing to shoot for...nothin' to prove..."