Graham Reid | | 4 min read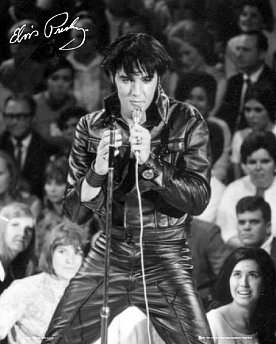 When you look at the footage now it's as if you've been tossed down some weird time tunnel.
It is 1968 and out on the explosive streets of America are assassinations (Robert Kennedy, Martin Luther King), riots and demonstrations, cops wielding clubs, and teargas clouds filling the air. The soundtrack is the Stones' Street Fighting Man and the day-glo hippie Summer of Love - just a year previous - seems a distant memory.
Yet the audience for this television show look like young Republicans beamed in from about 1961: girls with bouffant hair, boys with just the hint of sideburns. Nice clean-cut kids.
Even more confusing is the man on the stage they are watching: a leather-clad rocker who has stepped off the tour bus from the late 50s. This implosion of primal rock'n'roll in the longhair post-hippie days would seem to make no sense at all.
But in the history of rock'n'roll this was a defining moment - because the man on stage was Elvis Presley.
And he was back.
Forty years ago this month an Elvis television special was screened to a pre-Christmas audience in the States which had probably had just about enough of hippies, Yippies, killings, riots and revolutionary rhetoric. Their homes had been invaded by images from the escalating war in Vietnam and politicians like the oily Richard Nixon who had bunkered down in the White House.
People need light relief from time to time, but unexpectedly Elvis - the guy who had done lightweight movies - wasn't there to give them simple escapism.
The Man Who Had Been King repositioned himself as relevant force in American music . . .
It was about time.
By 1968 this singer who had almost single-handedly created rock'n'roll culture just a decade previous was irrelevant: Elvis hadn't sung live since a concert in Hawaii in 1961; his last top selling single had been the pap-pop Good Luck Charm six years previous; and his recent (but much more earthy) single Guitar Man had failed to enter the Top 40.
Unbelievably, Elvis Presley hadn't been on television since a Frank Sinatra special in May 1960.
While the Doors, Janis Joplin, the Beatles, Vietnam and Black Panthers commanded headlines in "the year that shook the world" (according to writer Mark Kurlansky who documented it), Elvis was a man out of time.
For much of the 60s he had retreated to Hollywood for increasingly terrible films and their lazy, dire soundtracks.
Then something remarkable happened: in June 1968 his manager Tom Parker decided Elvis needed to be on television and suggested a Christmas special. Elvis would naturally sing soft'n'sentimental Yuletide songs.
But through a series of fortuitous connections and a rare alignment of talent (television producer Steve Binder, music producer Bones Howe who had worked with jazz legends such as Ornette Coleman and would later produce Tom Waits) and a cast of excellent musicians, a very different Christmas show developed.
Elvis was loving it as you can hear in the rehearsals recently released in the lavish four-CD collection The Complete '68 Comeback Special. He jokes with musicians, parodies himself, delights in the mistakes he makes, pulls out old songs for his own amusement -- and everywhere sounds like a man enthusiastic about a career that had seemed all but over.
Then there was the show itself: in a leather-clad sequence before a live audience Elvis delivered what we might now call an Unplugged session notable for its energy, passion and humour.
Not since he had emerged out of Memphis in 1956-57 had Elvis seemed so vital.
Even today on the three-DVD set (released in 2004) or on the four-CD set of all the outtakes, rehearsals and the show that went to air you can hear the King reclaiming his crown.
He was relaxed but committed, menacing in songs like Trouble and full of lithe sexual energy at other times. He was never more comfortable and at ease than when he was making music.
The '68 Comeback Special is a reminder that the Fat Elvis Years before his death, which provide mileage for cheap comedians and impersonators, were actually of little consequence in his career.
Those who take the long view of Elvis invariably point to some significant events: his Memphis sessions which started it all, his first movie role in Love Me Tender in '56 when he hinted at a career as a serious actor . . .
And The '68 Comeback Special where in songs like One Night With You he exuded pure sexual and animal energy.
After the show he booked into Chips Moman's small studio in Memphis - the first time he had recorded in his hometown in over a decade - although the studio musicians weren't that impressed.
"I mean we were thrilled about Elvis, " said trumpeter Wayne Jackson, "but it wasn't like doing Neil Diamond."
Which shows how low Presley's star had fallen.
Yet Elvis arrived, fitted in, let Moman take charge, and committed to lengthy sessions --23 takes of In the Ghetto -- because he liked the vibe of the place. He also had great songs to work with, some of which he brought himself. The material included soul-funk, edgy rockers, truck-drivin' country-rock, ballads on which Elvis showed rare restraint, and pure pop. And the tight band and backing singers were on the money the whole way.
From those Memphis sessions came classic songs: Suspicious Minds, Kentucky Rain, Long Black Limousine, Gentle on My Mind . . .
In the Ghetto gave Elvis his first top 10 hit in fours years and, better still, its social message made him relevant.
In mid '69 he booked in for concerts in Las Vegas - vibrant and vital shows, not the perfunctory events of his final years - and reconnected with America again.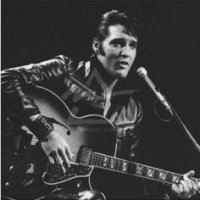 For a while anyway.
The pills were everywhere to help him keep up his hectic schedule, the songs offered him became increasingly indifferent, the body ballooned and that young, sexualised panther from The '68 Comeback Special faded into memory.
But even today listening to these rehearsals and shows, or watching him on the screen teasing, titillating and pouring his soul into rock or gospel songs you can see a man utterly in command of his art. Few today could touch him for sheer sensuality.
It is timeless and Elvis is singular, as he always was.
When the shy 18-year old Elvis recorded his first song My Happiness in Sam Phillips' Memphis studio he was asked by Phillips' partner Marion Keisker who he sounded like.
"I don't sound like nobody," he replied.