Graham Reid | | 4 min read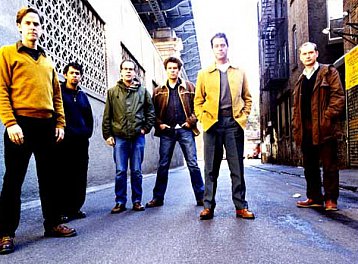 Beyond the city limits of Tucson in Arizona, hot winds blow across the endless Sonoran Desert. Mexico is just 100km south.
This is a mysterious and unforgiving place where the arid land shimmers in the heat. The sun plays tricks on the eye and the landscape looks the same everywhere. Yet there is beauty in the details, and in this land of marginalised characters and shifting sands there is a strange music in the air.
But you can't live out here, so air-conditioned cars on cruise control hiss towards the shade of the cities.
Downtown Tucson is the old part. Mariachi music floats in the warm air and the buildings are of Spanish design. There is the famous Hotel Congress, a sprawling place originally built in 1919 and then rebuilt after a fire in 1934 which accidentally flushed out the bank robber John Dillinger and his gang who had been lying low in a third-floor room.
The Hotel Congress is a place of great beauty - and is written large in the mythology of Tucson's indie-rock outfit Calexico, a flexible ensemble around Joey Burns and John Convertino who were previously the rhythm section for Giant Sand.
It was Sand's Howe Gelb who led LA-based Burns to Tucson when he used to go there to see his dad. The band followed, and in the warm Hispanic streets Burns found his second home.
In LA Burns had picked up a smattering of the Spanish music when he accompanied his mother who did social work in Hispanic areas. His mum also played piano and sang, they visited Mexico, so the music infiltrated itself into his consciousness.
"I studied classical music in college, upright bass was my instrument, and I liked being in school and learning about the classics," he says.
"But I knew deep down I wasn't going to be in an orchestra, I wanted to create my own thing, and that spirit is what forces you to go forward.
"You listen and borrow but you want to make your own mistakes and your own style."
The music Calexico have been making since the mid-90s over nine official albums (some only available through their website) hasn't made too many mistakes, however. A blend of indie-rock, Mexican mariachi music, soundtrack-styled jazz (they wrote the soundtrack to the Heather Graham/Luke Wilson movie Committed) and Americana country-folk, Calexico conjure up those borderless deserts and offers a cast of characters from downtown Tucson who blow in and out of the city, often stopping at the old Hotel Congress.
Whatever you call Calexico's music - and most critics reach superlatives as much as a label - it has been steadily attracting a following, although it must be confusing to find the appropriate bin for any record store.
"I'd probably just put it in indie-rock, I feel most comfortable there, but I definitely see in places like Denver, Phoenix, Tucson and San Francisco there is a more Hispanic audience coming to check us out."
In part that's because they often tour with mariachi band members, some of whose musical upbringing is as eclectic as Burns'.
"Rigo Pedroza grew up in Southern California," he says referring to one of their regular trumpet players, "and we used to play in the same club on Sunset Strip. He used to play guitar in an acid metal rock band and yet here he is playing mariachi because it was instinctual. He heard it growing up and when he was in his late teens his father said, "Here play this, I need you to play this on a gig" and now he's an amazing mariachi player - and a heavy metal guitarist.
"The mariachi musicians are very open minded, if they are playing a show and people say, 'Hey, play Led Zeppelin' they'll pull it out and kick ass. That's what I like about them, they are open and improvisational and have a fly-by-the-seat-of-the-pants spirit.
"They have inspired me. They are not possessive of their tradition. Mariachi comes from Mexico and they are in Arizona and they enjoy sharing the tradition as long as it is respected. We give it a lot of respect."
But don't pin Calexico as some alt.rock Tex-Mex outfit because the most commonly applied word to their albums is "soundtrack".
They evoke places and spaces like Ennio Morricone, but a track like Crumble on their terrific new album, Feast of Wire, also sounds like a jazz-noir piece.
"Oh yeah, we love Gil Evans, Miles Davis, Eric Dolphy - I'm a big fan of him - and more and more Charles Mingus, who was born in Nogales, which is the border town of Arizona and Mexico. Actually I'm listening to [Dolphy's] Out to Lunch right now."
The reason Calexico are finally in this part of the world is because of Nick Cave, who is such a fan he invited them to open for him in Sydney. They have added a few dates of their own and are bringing an ensemble in which each musician, as Burns explains the line-up, seems adept on at least half a dozen instruments. He is credited with playing 13 (and singing) on Feast of Wire.
It is this musical dexterity of Burns and Convertino which has seen them work with Giant Sand's Gelb with the likes of Victoria Williams, Vic Chesnutt, Barbara Manning and the late Rainer Ptacek. They have toured with Pavement and the Dirty 3, and play regularly in Europe.
" That's the most inspirational place to play and we've been collaborating more and more with musicians over there. The fact we have two musicians from Germany and a soundman from Holland gives you totally different perspectives on things which you would otherwise automatically think are just one way or defined completely.
"Our bass player is completely into the Beach Boys, Burt Bacharach and Glen Campbell. He studied architecture and also loves experimental music. Martin Wenk [guitar/accordion/trumpet/vibes] is way more into alt.country and loves Nick Cave and Johnny Cash."
Out of this melange of influences comes music which defies easy categorisation. Call it "Calexico music" and leave it at that. It's as wide and as restful as an Arizona sky.
"Sometimes part of me wants to be adventurous and do something electronic or jazzy - but the most important thing in doing this music is where there is a vibe and something going on in the room. That's what it's about. Making that."