Graham Reid | | 6 min read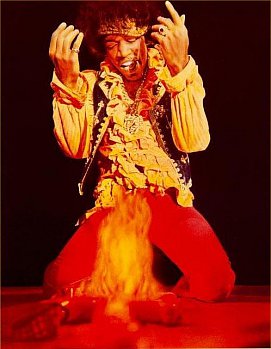 The name Alan Douglas raises mixed feelings among Jimi Hendrix fans. By a series of canny and right-place, right-time manoeuvres after the death of Hendrix in 1970, Douglas -- a former jazz producer, and a friend and adviser to Hendrix in his final years -- ended up as the curator of the Hendrix legacy.
While others, notably the many claiming to be the late guitarist's manager, released posthumous Hendrix albums of sometimes startlingly indifferent quality, Douglas quietly worked away at establishing himself. He pulled boxes of studio tapes under his wing, collected live recording and moved into a position of power within Warner Music to release Hendrix material.
The three Douglas albums – Crash Landing and Midnight Lightning(both in 1975), and Nine to the Univers (1980) – were controversial to say the least.
Both Crash Landing and Midnight Lightning had backing tracks erased and other musicians' parts dubbed in behind Hendrix's guitar and vocals. Nine to the Universe was a "jazz album" of studio jams where Hendrix worked out with jazz organist Larry Young. None of the material was ever intended for release.
Perhaps the dodgy politics of all that vindicates what Hendrix manager Chas Chandler recalls in the book by Hendrix producer Eddie Kramer and writer John McDermott, Hendrix: Setting the Record Straight.
"Hendrix said to me – and I remember the sentence," Chandler says, " 'He [Douglas] can help [in business matters] . . . but I don't want that guy to have anything to do with my music.' "
That's a damning indictment … but it might not be one fans agree with. Certainly critics turned their guns on Crash Landing when it was released, but it also went to number five n the American charts and outstripped the other previous posthumous releases. Both Midnight Lightning and Nine to the Universe had lesser returns, but Hendrix's star was fading anyway.
Times had changed and Jimi was no longer as hip as he once was. Glam punk, new wave and whatever simply stamped the dirt down.
Since the mid-Seventies though Hendrix has come back. There are literally hundreds of bootleg albums and with the Hendrix family gaining control of his estate and establishing the Experience Hendrix imprint, there has been a more sensitive and intelligent release of live showings, radio appearances and studio material.
Then there's Stone Free, the Hendrix homage which features acts as diverse as PM Dawn, the Cure, Pat Metheny and Ice T, and numerous other such tribute albums. The name of Alan Douglas has faded into the past, almost obliterated by the slew of material by Hendrix, a man who only released three studio albums and two live albums in his lifetime.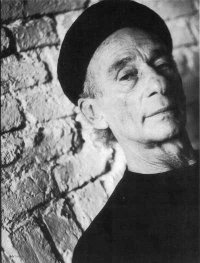 But back in 1993 I spoke with Douglas about the albums he had done, and because he said there would be more to come from him. On the phone from London, Douglas was confident the time was right for Jimi again. He'd done his homework. And market research.
"You have to start directing Jimi's produce to young people because that's where his audience is. Over 60 per cent of his audience is under 21. Polygram [Records] did market research 18 months ago and that's where The Ultimate Experience album came from. We asked the people to choose the tracks they wanted to have on a Hendrix compilation.
"And Jimi's music has transcended the times but the packages haven't and previously [the CD reissues] had just used transfers from album covers with no information or photos.
"Now we have the remastering technology which is constantly evolving so we added to that unreleased photos and essays so the kids get a good read as well as a good sound. They demand that.
"If you read the three booklets on the CD reissues of Are You Experienced, Axis: Bold as Love and Electric Ladyland, you'll get a complete picture of his recording career.
"We'll also pick it up in the blues album we'll be releasing and the remastering of the Band of Gypsies album."
As he regularly does, Douglas promises more Hendrix albums. In the late Eighties he was talking of the complete Woodstock Hendrix performance (it would now appear next year for the 25th anniversary of that festival, he said) and now he was talking about an album of blues performances.
"The time feels right because everybody recognises the blues as the roots and with the success of John Lee Hooker – who is one of Jimi's greatest fans and whom I've interviewed for the video press kit for the album – people will be ready for this."
The album would apparently contain "all unreleased material" (Douglas later says some tracks have been released but have been off the market for a long time so are "new") and include an alternate version of Red House and an unreleased version of Voodoo Chile. It will be drawn from all periods of Hendrix's short career.
As it happened he was as good as his word and a terrific Blues album did appear with typically excellent liner notes.
Douglas also says he has "six or seven complete concerts in the can"(Berkeley, San Diego …) which might come out in a 10-disc concert box.
Perhaps even more interesting, however, would be the reconstructed First Rays of the New Rising Sun, the album Hendrix was working on at the time of his death. Scheduled to be a double album, it came out as Cry of Love (a single album) and other tracks appeared on some of the shoddy posthumous albums (over which Douglas had no control).
"I have a tape box with Jimi indicating the track listing for the first three sides of First Rays and we're going to put that out – with liner notes and photographs. Jimi might have changed his mind, but that's all we have to go on."
And that is exactly what happened.
And in Australia and New Zealand, a rarity: a four-track CD with Gloria, the Van Morrison song which originally appeared as a vinyl EP in an old Hendrix box set but wasn't seen again until the second Essential Hendrix album.
Interestingly enough all of these albums which Douglas promised not only appeared as he said, but his name was relegated way down the credits because Experience Hendrix took control. But Douglas is an interesting character whose seems to be more of a facilitator than producer.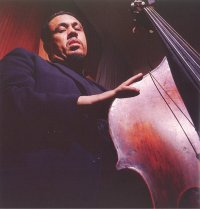 In the early Sixties he produced albums by Art Blakey, Kenny Dorham and Jackie McLean for United Artists, teamed up Duke Ellington with Charles Mingus (right) and Max Roach for the Money Jungle album, got Cecil Taylor together with the young John Coltrane (Hard Driving Jazz), and then picked up Eric Dolphy for two albums.
His gift seemed to be putting people together and so he started his own Douglas label. He released albums by political comedian Lenny Bruce, the innovative Last Poets and Timothy Leary (for which he got Jimi Hendrix, Steven Stills, Buddy Miles and others together while also sampling from the Beatles and Stones behind Leary reading his own writing).
He became a confidante to Hendrix who was by this time – the late Sixties – becoming frustrated with having to play his hits. Hendrix was moving on musically and Douglas – whose company embraced recordings, book publishing and films – could help. He was a whisper away from getting Davis and Hendrix together (on the day Davis suddenly demanded $50,000 and when drummer Tony Williams heard that he asked for the same – the session was aborted)
He also scheduled Hendrix with arranger Gil Evans, but the guitarist died shortly before returning to the States for the sessions. After Hendrix he released two albums by guitarist John McLaughlin (then fresh from sessions with Miles Davis) and became the keeper of the Hendrix flame. But with the catalogue reverting to the family, his ambitious and controversial reissue programme was curtailed.
Clearly Hendrix is still a growth industry and in 93 Douglas noted the much acclaimed touring photographic and poster exhibition was only the first phase of restring Hendrix to his rightful place and back into the ears of a younger generation.
And increasingly that young audience is hearing Hendrix in new ways. The tribute albums were one starting point – and there are Hendrix samples in material by Digital Underground (Jimi's Who Knows on their Sex Packets album) and Caveman (Crosstown Traffic forming the basis for I'm Ready).
"Unless the sampling is terrible sounding, we leave it alone," said Douglas back in 93. "Jimi was a very expansive, considerate and generous human being and he'd probably have just given his music away to the young kids anyway. So we keep the same attitude – unless they do something exploitative and it's harming Jimi .. .then we jump on them.
"But Jimi's music was so beautiful it should be heard. And the more you listen, the more you hear. Just expect the unexpected."
I guess what he didn't expect was to loose control to the Hendrix family. But in his time at the helm Douglas put a lot of well packaged Hendrix back into the world.