Graham Reid | | 5 min read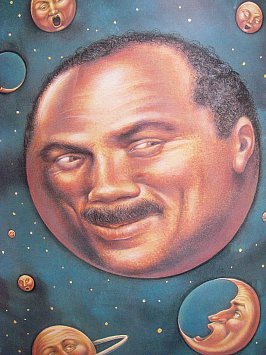 Quincy Jones doesn't quite put it this way, but he knows that with great power comes great responsibility. And Jones has great power because of a financial empire founded on an extraordinary career in music which spans from bebop to hip-hop.
This is the man who hung out with jazz artists like Dizzy Gillespie and Charlie Parker in the early 50s, counts his Grammy nominations in the high sixties, produced Michael Jackson's phenomenal Off The Wall, Thriller and Bad albums, and has his own film and record companies.
"When you can do what you want to do," he says, "you really have to think carefully because that freedom and independence is a dilemma."
But to hear the affable Jones talk about forthcoming projects, it is clear the power is tempered with a keen sense of responsibility.
"I don't have time to go out and beat the bushes from one company to another with an idea, so fortunately I'm at the stage of having a joint venture company with Time-Life. Our small company uses them as a distribution network and we have the power to do anything we want.
"We can do a Broadway show, the evolution of black music as a mini-series, the Jesse Jackson show, rap educational shows – which is what I'd really love to do – and then there's the film of the life of Pushkin which we are doing as a joint-venture with the Russians."
Although Jones isn't averse to having a bit of fun with his position where "the only limit is the imagination" – the animated film The Dude Meets Bugs Bunny is a case in point – the television programmes with Jesse Jackson are a particular interest.
"The first show was Bill Cosby, talking about his daughter's drug problem and it's important kids get things straight. Jesse can do that because there has never been a voice like his in a national situation.
"Inner city kids from single-parent families usually just have a mother at home and no male role model – and that's one of the things I'm really concerned about. They think the role model is the crack dealer –that's the maximum wage for them, the guy with the car and the girls.
"I want to destroy that and talk about hope. One of the things these kids have is an incredible culture, but with the media, a rapper of six months ago is called 'old school,' and it becomes like a disposable culture. You can't afford to have that attitude."
So at one level Jones is producing television programmes to offer positive role models, and at another still creating music – but also with a purpose.
Jones' recent album – his first solo outing since The Dude back in '81 – brings together all the many threads of his career from jazz to current rap trends and announces itself in its title, Back on the Block.
In case you missed the point, Jones makes clear The Dude is back – and he's brought some heavy company with him.
The material runs through almost every style with a cast which includes Ella Fitzgerald, Sarah Vaughan, 12-year old boy-wonder Tevin Campbell, a host of rappers like Ice T, Herbie Hancock, Ray Charles and so on. And on. Only Jones could pull this one together and only Jones could make it sound so coherent.
But there is a point to it as well. Dance if you like, but let rappers Kool Moe Dee and Big Daddy Kane introduce the kids on the street to Dizzy, Gillespie, Miles Davis and the jazz generation on a version of Joe Zawinul's classic Birdland.
"My 12-year old grandson said the song he liked best was Birdland and then said 'who are these people?'. That was great. I'm happy I didn't chicken out of mixing the rappers with the beboppers.
"I just put Big Daddy Kane right on the spot and said 'introduce Miles Davis'. He said 'right who's Miles Davis?' But they're only babies – only 21 years old," he laughs.
At 57, Jones knows the expansive reach he has can get across the generations ("people expect me to be 75 years old but I just started young") and he uses it to advantage.
At the other end of the spectrum from the young rappers, he tells of Dizzy Gillespie coming into the studio when Davis and Fitzgerald were there and complaining about 'all those old suckers in there' – and Dizzy is 73."
"You know when I saw Miles and Dizzy in that studio together my heart just about stopped because that's my Rolling Stones and Beatles, Michael Jackson and Prince. As a kid they were my gods."
But the god of the 80s, Michael Jackson, doesn't appear on Back on the Block – the most notable absentee. Jackson was keen but the president of CBS Records Walter Yetnikoff, stepped in. Jones admits it was hurtful but deflects discussion away quickly.
"We had a relationship and sold what . . . 75 or 100 million records? But it doesn't matter. To me the concepts and feelings were so strong it didn't matter. It was a slight – but when you've got Ella, Sarah, Dizzy and Miles you can't feel your're lacking anything."
And having Miles Davis there was a real coup because curiously for someone who has been a Davis fan since the early 50s, Jones has never worked with the trumpeter. But something may be in the wind.
"We've been talking but I always felt that when Gil Evans was alive it would have become too much a ménage-a-trois," he says referring to the legendary jazz arranger who died three years ago.
"But if I had only one record to take away to a desert island, it would be Miles Ahead. Until Gil died I figured they had a marriage made in heaven – but Miles and I may do a Brazilian thing together.
"He just needs a canvas to paint against with his trumpet. But speaking of a canvas, the way I've been involved with Miles the most is buying his paintings. He sends me about five oils a week and I just don't have enough walls anymore.
To hear Quincy Jones talk is to hear the history of popular black music laid out before you. He laughs about Richard Pryor telling him about the size of New Zealand trout (Jones is a food fanatic who says eating should be considered a religion) and how he pushed Kool Moe Dee to rap at 135 beats per minute so he had to think like a be-bopper. Jones covers all the bases easily.
The album Back on the Block reflects 40 years of his life and is brought right up to the present with young Tevin Campbell, who he says has the same magic as both Stevie Wonder and Michael Jackson, both of whom coincidentally he also met at 12 years of age.
And while Jones speaks highly of two-time presidential candidate Jesse Jackson as being a good role model for kids on the bad blocks, he's pretty much one himself.
Young Tevin Campbell acknowledge as much when Jones launched the album in America.
Interviewed by MTV, Campbell was asked if he knew who Quincy Jones was when they first met.
"I know he did Michael Jackson and some things, that's all,"
The interviewer pushed the point, "but you know now?"
"Oh yeah," said Campbell, his eyes glowing. "I know."
Elsewhere has an amusing post-interview encounter with Quincy Jones here.