Graham Reid | | 4 min read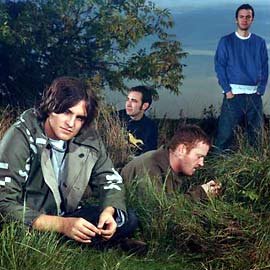 Even after you've taken into account his weariness from jetlag and the stress of meeting a dozen strangers important to his career in the past few hours, James Walsh strikes you as hesitant, quiet and slightly overwhelmed by all that's happening.
He keeps his eyes modestly downcast and, for one who has already endured and enjoyed the attention of the Britrock media, he seems wary and filled with nervous uncertainty.
But give him a break. Walsh's band Starsailor may have made the cover of influential rock rags such as NME, had a couple of UK top 20 singles and been written up in glossy mags like The Face and Q, but he's also still very young.
He may sing in a voice which soars like a confident angel, but he's only 20 and there are strong suggestions of puppy fat. The cheekbones will doubtless appear when the rock'n'roll lifestyle kicks in. And it's starting to.
Two months ago Walsh and bassist James Stelfox were in Auckland on a day-long transtasman promo-hop from Sydney to talk about their music, at that time only an EP's worth of which anyone had heard.
Back in Britain, however, they'd left behind a rock press kissing the ground they'd walked on even though their debut album, Love is Here, was still some months away.
Starsailor were stars before they'd even set sail on their brilliant career, and they felt kind of apologetic about it.
At least so it appeared in Auckland as Walsh and Stelfox slumped in the local office of their multinational record company, travel weary and overwhelmed by the attention of the past year. Later, Walsh would play a few acoustic numbers and sing in an unnaturally mature and powerful voice which could nail a Jeff Buckley poster to a wall. On that meagre evidence the hype for this quartet from Wigan - home of the Verve - was well placed.
These then are the facts: Walsh sings like Jeff Buckley without the high soaring bits, no question; the band is named after an album by Jeff's dad Tim; Neil Young and Van Morrison get many favourable name-checks in Walsh's soft-spoken conversation; their open-hearted songs reflect these references; they are very nice young men.
And they may be, as the Britpress believe, one of the best of the current crop of Next Big Things from Britain. Let's face it, there aren't many 20-year-olds who can sing in a stadium-filling voice as Walsh does on their UK top 20 single Fever, "I must have been blind, to carry that torch for most of my life ... "
Starsailor make what Mike Scott of the Waterboys called "the big music" and Walsh has it in his soul.
As part of the so-called New Acoustic Movement - alongside the Doves, Turin Brakes and Ed Harcourt who have yet to be fully discovered locally - Starsailor appeal to a young generation finding this classic big ballad sound for the first time. For the post-dance middle generation they are Coldplay with charisma, and older heads are attracted by those Buckley connections.
Walsh laughs about what he sees from the stage: "There's always girls in the front row and we've got the perfect merchandising for them, a vest. Then there's a row of students, then older blokes at the back who seem to have come because of the name.
"It's funny at the moment, the other day I was stood outside a tube station waiting for a friend and this bloke comes up with a kid in a pram and asked me to sign a copy of the EP and said, 'You're one of the first bands I wanted to listen to because you respect history.' Then he said, 'Can you sign it to Dylan'?"
Walsh laughs with understanding about what that might mean.
"But that's what it's about really, keeping that music alive but adding a new element in order to pay respect. People misunderstand the difference between paying respect and ripping people off.
"Oasis had three melodies, and they were Beatles' ones."
And it is in the post-Oasis context we should see Starsailor. They are a rock band grounded in history - live they play Van Morrison's The Way Young Lovers Do, as did Jeff Buckley, and the Flying Burrito Brothers' Hot Burrito 2 - but they also bring something of their own to the feast. Their rhythm section locks on a smart groove (unlike, for example, Coldplay) and while they owe much to music of three decades ago and Buckley's late 90s romantic agonies, they have connected with a UK audience worn down by dance.
"People always think of dance music as being really innovative," says Walsh, "and three or four years ago they really were. But I think people in dance got quite lazy and so ignored melody and concentrated on beats. There were whole albums' worth and not much else.
"But bands are gaining a following again and people from dance are wondering what they are going to do. Now we've got stuff like the Avalanches where the melodies are good because they've recognised songs are back in fashion, so they're starting to write songs now."
It's doubtful they'll write them in any way as traditional as Starsailor, however, and Walsh admits they have been schooled in classic rock. Literally.
Three-quarters of the band came together as music students at Wigan College and Walsh admits that hearing 70s Neil Young was an epiphany. "I thought this is really, really different: something totally understated and yet still massive."
For a few years, with various guitarists, they'd played local pubs and clubs and caught the ear of an NME writer. ("The first gig was at a pub in Warrington where I'm from," says Stelfox. "Just round the corner from the house, in front of three people and a dog.")
Walsh's older brother, connected with the music business, started to manage them, record companies fell over themselves after seeing them play, a deal was signed with Chrysalis EMI, their first UK top 20 single was the demo that got them signed ...
Stars were born, but also hyped by NME, which announced them "brightest hope for 2000" (following already-forgotten Terris and Lo-Fidelity Allstars of the previous two years) and put them on a package tour of new bands.
"It's been kind of encouraging," says Walsh. "NME is supportive, but people are already talking about the backlash.
"In the early days we used that magazine to get people into the gigs because you need someone to tell you 'this is a band to watch' when there's no material out there.
"The trick is to take it as a challenge. So many bands have fallen by the wayside because they've been given the opportunity to play their music to a larger audience because of the anticipation, but they've seen it as something to be big-headed about.
"We're nervous because we've been given all these accolades and now we're going to have to make sure we get some way to proving we're pretty good."
As Walsh's voice takes flight over the muscular, melodic music on Love is Here - whether it be the spirit of the Buckleys or his own - Starsailor are already proving they are something more than just pretty good.
Footnote: Starsailor were the last band Phil Spector ever recorded. They went to LA for sessions which were -- not surprisingly, given Spector's volatile history -- aborted.