Graham Reid | | 1 min read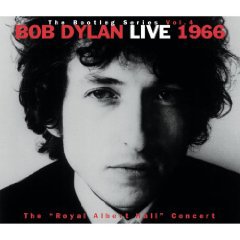 Appropriately on the Columbia Legacy label, this double disc (Volume 4 in the on-going Bootleg Series) contains the whole of the famous "Royal Albert Hall" concert -- actually at the Manchester Free Trade Hall -- where a voice from the darkness yelled, "Judas." This is the stuff of legend, and the accusation from some aggrieved folkie that Dylan was betraying his audience by wielding an electric guitar seemed to galvanise Dylan in his pursuit of an amalgam of literate, surreal lyrics and rock'n'roll with the group which would later become The Band.
Historic these recordings may be, but they also crackle with energy, capture Dylan in acoustic mode in remarkably fine voice (they used to say this guy couldn't sing?), and plugging in to play material which would become the template for a hundred bands and careers.
Opening with the lovely She Belongs to Me (with a piercing harmonica) and into a slightly sneering version of Fourth Time Around, Dylan is listened to in respectful silence, then delivers Visions of Johanna, It's All over Now, Baby Blue, Desolation Row, Just Like a Woman and Mr Tambourine Man. On each song he drags notes and words, finds the gentleness or cynicism within, sometimes spitting the words venomously and, even way back then, changes the melodies.
But the second disc unleashes the whipcrack rock and headache-inducing harmonica which alienated his audience (lots of jeering and slow clapping), leading to that accusation. With Robbie Robertson's guitar stabs, Garth Hudson's keyboards spiralling off on tangents and Dylan at his confrontational best, nothing would be the same again.
Thoroughly essayed and with great photos of the Beatle-booted Bob, an extraordinary moment in rock history captured, and curious how no one has come forward to claim their moment of fame.