Graham Reid | | 4 min read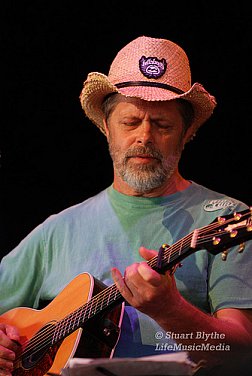 When Bill Chambers tells it, with a smile at the corner of his lips and in his leisurely Australian drawl, it sounds the most natural thing in the world. But it's kind of strange.
He's talking about the mid-70s and what he was doing then, having grown up on country music and playing in bands.
"I was a bit of a cowboy hippie, long hair but a cowboy hat. I had a long beard and the typical 70s hippie look and people thought I was a freak, doing country music but looking like a weirdo. But we got through all that," he laughs.
"Then my children were born so we went to live in the desert for 10 years. Kasey was 3 weeks old and Nash was 2 and we lived on the Nullarbor, hunting foxes for a living. It was the 70s, when fur was fashionable, so you could hunt and skin foxes, dry the furs - this sounds like bullshit, but it's true - then we'd send them to Europe."
For a decade Chambers' wife Diane was their children's teacher and the kids grew up listening to his battered tapes of the Flying Burrito Brothers, the Byrds and Jackson Browne, and older stuff like Johnny Cash, Merle Haggard and Hank Williams on which he'd grown up.
It didn't harm the kids; Kasey is now Australia's biggest country music export; she works throughout the States and her second album, Barricades and Brick Walls, was nominated for an Aria.
Bill, who co-wrote the title track of his daughter's album, was on a shortlist at the same event, too - his Sleeping with the Blues nominated for best country album. An intelligent collection of mostly originals, it was his debut album after 15 years as a professional musician. It is grounded in the Texas tradition of evocative narratives -- much like those of his influences Guy Clark and Steve Earle -- and while it has taken Chambers some while to get there, at 52 he has plenty of stories to tell. And - the desert decade aside - a fascinating life still unfolding.
He's a two-times grandfather, "but the one you hear crying is my baby. Since my grandchildren were born me and my girlfriend have had another one as well, it's all happening in my household. I thought I was too old, but apparently not."
Bill grew up in Southend, a fishing village in South Australia near Mt Gambier. His fisherman/hunter father was into the hillbilly music of Hank Snow, Hank Williams and expat Kiwi Tex Morton. Like most kids his age he heard Elvis' music and loved it, got into Buddy Holly, then the Beatles and the Stones as a teenager. He picked up guitar and played in local bands -- "Just doing old-time dances playing the quickstep, the military two-step and barn-dance music" -- and fell for the tougher sounds of Johnny Cash.
"I was the only guitar player in town so didn't have much influence from anyone around me, except my dad, who used to sing cowboy songs."
He started playing lead guitar, married Diane at 20, hit his cowboy-hippie phase in the early 70s when he heard Gram Parsons -- and then headed off for the desert.
"We went out for three months holiday and loved it so much we stayed for 10 years. It wasn't until the kids went to high school we came back to civilisation. When they started high school we started the Dead Ringer band with my wife on bass, the two kids singing and Nash playing drums and did that for a couple of years. When the kids were old enough we hit the road and travelled all over Australia."
When the Dead Ringer Band's second album won an Aria they decided they might have something special, so stuck with it. In the mid-90s Bill and Diane separated -- "which was devastating for all of us because it was a family band" -- and Bill moved to Sydney to play bars and produce albums while Kasey went out on her own.
Her '99 debut album The Captain received international acclaim. Rolling Stone named it one of their top 50 albums of the year; Britain's Q called it "the work of new world pop star in the making"; and she became the first non-American to headline the Austin City Limits television programme in the show's 26-year history.
"She's a fairly big star now," says the man who plays guitar in her band. Nash manages and produces her, mother Diane is out on the road selling the merchandise ("It was hard for a while but we get along better now than we ever did") and through Kasey, Bill has toured the States and made the contacts. They opened for the likes of Joe Ely, have become friends with Steve Earle and Emmylou Harris, and Guy Clark is a big fan of his album.
That's hardly surprising because Sleeping with the Blues is in the Austin tradition and the opening track is Dreamin' 'bout Texas.
"It wasn't intentional but I've been listening to guys like Steve Earle, Guy Clark and Nancy Griffith for years and when I went to make an album the songs just went in that direction. When I go to Texas and perform they say, 'God, you sound like an Australian', but in Australia they say I've got a Texas twang. I guess most people in country are influenced by American music.
"I play a couple of times a year in Austin, just little bars -- and an old dancehall called Green Hall about an hour out where Bob Wills and the Texas Playboys used to play, the oldest dancehall in Texas. There's no dressing room and you load the gear through the front door where the people are. It's rough as guts but Willie and Waylon have played there, Merle Haggard and Jerry Jeff Walker, too."
Bill is having the time of his life and the solo album he made because Kasey wasn't touring has opened doors. He now knows people he once admired from thousands of kilometres away, and has come back from Nashville co-producing an album by Australian singer-songwriter Catherine Britt with Keith Stegall, who produces Alan Jackson's albums.
When he tells you that it sounds like the most natural thing in the world. And not a bit strange.
Elsewhere has a 2008 update on the remarkable career of Kasey Chambers here.