Graham Reid | | 4 min read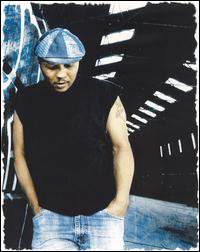 More than four decades after one of the family first scored a hit, and 25 years from the first Neville Brothers album Fiyo on the Bayou, you could almost forgive the brothers Aaron, Art, Charles and Cyril for slowing down a little.
The oldest, keyboardist Art, is 68 and had a close call with death after back surgery in late 2001. And their last album, Valence Street in 1999, despite the presence of the Fugees' Wyclef Jean bringing some hip-hop colours to their New Orleans funk -- flew well below the radar of public consciousness.
At their time of life, the Brothers -- the youngest is 57-year old percussionist Cyril -- could be kicking back a little and reflecting on careers which defined the sound of funky New Orleans when Art formed the legendary Meters, took it in a psychedelic-soul direction and then brought them home as the Wild Tchoupitoulas band which connected with the black Indian tradition of their home in New Orleans' 13th Ward district.
By the time the four siblings came together as the Neville Brothers in 1978 they were already famous. Then they started winning Grammy awards.
Yet, against the odds, the most recent Neville Brothers album, Walkin' in the Shadow of Life is alarmingly funky, almost desperate in its urgency, and already considered by critics to be their best album since Yellow Moon in 1989.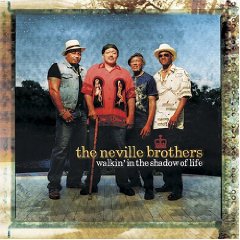 The reason might be in the fine print -- among the Nevilles this time out is Aaron's son, Ivan, who has had a major hand in crafting the album. He was one of the co-producers, has his name on the credits on more than half the songs, and he weighs in with keyboards, guitar, bass and drums.
Now somewhere around 40 -- "I ain't tellin' you my right age" -- Ivan Neville has a substantial career behind him since he moved from New Orleans two decades ago and established himself in Los Angeles as a name in his own right.
"I had a blessed childhood," he says from Los Angeles, where he divides his time with his hometown, "and as a young man I got to see a lot of music being made and a lot of doors were opened up for me as a result of being from the Neville family.
"But when I moved to LA I got to play with people here, and then in New York."
The roll-call he worked with is impressive. He was in Keith Richards solo band the X-Pensive Winos, played and co-wrote with Robbie Robertson, and recorded and toured with Bonnie Raitt. He launched his solo career with the astutely titled album If My Ancestors Could See Me Now in 1988, and has played with the Rolling Stones.
He''s also now officially on the Neville Brothers website in the band biography section (his cousins Ian, Jason and Omari who play on Walkin' In the Shadow of Life aren't credited there yet) and reluctantly accepts that he brought the deep funk back to the band. No surprise, given that he runs his own band parallel to the Neville Brothers. It is called Dumpstaphunk and it's a funky, slick band.
Ivan says that when he branched out with Keith Richards there was some hostility from those who expected him to stay within the Neville's long-established New Orleans style.
"There were times when the name affiliation meant people would assume I did a certain type of New Orleans thing, but I've absorbed and expressed many different styles which are incorporated into many different things. After I co-wrote a song with Robbie Robertson and sang on another one or two with him, that expanded people's ideas of what I could do.
"But now I'm playing with the Brothers and we're all doing it together. I still stretch out in other directions. I did a session about six months back playing organ with Jerry Lee Lewis and Neil Young on a couple of songs. That was an amazing dynamic and pretty cool."
If Ivan can take some credit for bringing an urgent George Clinton/Parliament funk edge into the band for Walkin' In The Shadow of Life, the album was also prompted by Art's illness.
When it looked like he might not walk again after back surgery, he told his family he felt he wasn't giving or getting enough out of life, but "just walkin' in the shadow of life". That led to the reunion of the brothers and their children.
As with all Neville Brothers' albums, there is a powerful social conscience at work in many of the tracks, notably their updating of the Temptations' Ball of Confusion and in original songs like Junkie Child, and Kingdom Come co-written by Cyril Neville and Bono for the earlier Brother's Keeper and re-recorded.
"There's a lost generation out there. You see it every day and what better way to say something than in a song. You see it in a lot of kids and in people of my generation who have ended up dead or in jail."
The 13th Ward where he grew up was kinda rough, but not that bad. "A lot of it has changed where I grew up as far as people buying up property ... a lot of the people have gone and it's yuppies or what you might want to call them. Young, successful, white, career-minded folks buying up the old houses and doing them up."
And newness is all around Ivan Neville, not the least in what he's doing right now.
"I'm playing with the Brothers and helping refresh that. They've gone through different stages but this new record is pretty funky and there''s a lot of social commentary on it. And when we go out live we are mixing the new style with some classic Neville Brothers stuff.
"It isn't an update, just adding some modern elements. And it'll get you up dancing, that's for sure."