Graham Reid | | 6 min read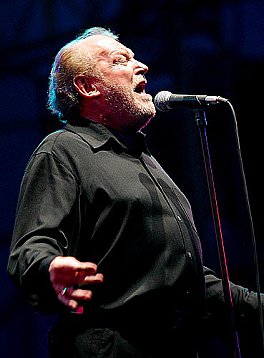 Even Joe Cocker finds it amusing he should be staying in his hotel in Denmark under an alias. After all, he's hardly fan-bait as a crumpled 61-year old and, once out of his regulation black stage uniform, he can walk any street in most cities unrecognised.
"In the daytime when I've got my denim jeans on and a polo shirt I can keep a low profile. Once in a while in shops people stumble on it, but otherwise I can get around unnoticed. It's kinda nice. I think back to those days when I had a real big hit and I couldn't go anywhere. So this is a new freedom.
"But when people do recognise me they don't make a big deal, they just talk to me which is very nice."
Aside from touring -- "We've just done 56 shows in 18 countries in three months" -- he lives quietly in Colorado ("very country living, there's a greenhouse I grow tomatoes in") and when he gets downtime on tours, as he did in Iceland for three days, he goes fly-fishing.
"I get a bit caught up in being an old rocker because I get focused on the job. And that's why I like fishing, it's such a different world. In Iceland it was very pristine with beautiful waterfalls, -- very New Zealandish actually -- except in places it's barren and volcanic. So we did that then walked around the town until we got fed up with it."
He laughs with that croaking creak which has distinguished his singing style since he roared to life almost 40 years ago with a throat-shredding version of the Beatles' With A Little Help From My Friends. With a distinctive, arm-swinging stage style variously described as resembling a flailing, epileptic human windmill and a spastic being electrocuted, Cocker cut a distinctive figure at Woodstock and the former gas-fitter from Sheffield was on his way. At last -- a few years previous he'd earned less than $2 in royalties for his first single, a cover of Lennon-McCartney's I'll Cry Instead.
In truth he was on his way to self-destruction through booze and drugs and although possessing the finest British r'n'b soul voice of his generation the singer, who had been inspired by Ray Charles at age 14, looked set for an early grave.
The early promise exhibited on songs like Dave Mason's Feelin' Alright (a two times hit, in '69 and '72), Leon Russell's Delta Lady, Lennon-McCartney's She Came in Through the Bathroom Window and Hitchcock Railway, Darling Be Home Soon and The Letter, by the early Seventies, after on-going drug and alcohol problems, one rock encyclopaedia wrote him off as "one of rock's saddest casualties".
Among other brands he wore were "a tragic victim" and "an early burn out".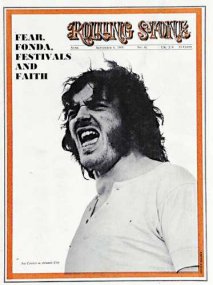 Yet Cocker has proved remarkably durable with career peaks in the mid 70s on hits such as You Are So Beautiful and I Can Stand A Little Rain, and in the early 80s with the autobiographical sentiment of I'm So Glad To Be Standing Here Today. The following year he had a massive hit with the schmaltzy duet with Jennifer Warnes on Up Where We Belong from the movie An Officer and A Gentleman.
In the late 80s he broke through again with his album Unchain My Heart (a tribute to Ray Charles) and since then he has enjoyed the odd minor radio hit.
The man who had been written off more than once was now being hailed as "a rock'n'roll survivor" and "an elder statesman".
Right now he's on his Heart and Soul tour -- although matters are confused because there are two albums with the title Heart and Soul: one is yet another hits compilations; the other is his new album on which he covers U2's One and REM's Everybody Hurts alongside lost 60s classics such as Chuck Jackson's I Keep Forgetting, and Aretha Franklin's Chain of Fools.
"The greatest hits came out and we were looking for a title so I mentioned Heart and Soul. I figured they would use something else for the new one, but they've settled for the same one. Very confusing," he cackles.
If some of the newer songs don't brush up quite so well at least Cocker -- unlike peers such as Rod Stewart -- is trying more contemporary material. And anyway, it hardly matters. The album serves to remind that Cocker made his reputation as an interpreter of other people's songs.
For a brief period in the late 70s, and again more recently with Tony Joe White, he tried writing his own material but it is his definitive versions of Jimmy Webb's The Moon's A Harsh Mistress, Leon Russell's Delta Lady, numerous Beatles' songs, Billy Preston's You Are So Beautiful, Jimmy Cliff's Many Rivers To Cross and a dozen others for which he is known.
"My main thing is the singing, I just enjoy the performance. I took a bit of flack for some of the songs on this new album, like doing [Marvin Gaye's] What's Going On and people said they had already been defined so well. And it might have been a bit self-indulgent.
"But because of my vocal style I don't try and reinvent them. Even if the arrangement isn't that far removed from the original I try to bend them around in a certain way that gives them a new approach.
"When we started we were going to make it all 60s material but then as people put suggestions in front of me -- like doing Everybody Hurts -- I realised it's 40 years ago if I just covered songs from the 60s, and that's a long time back for the listener to relate to. Some songs like I Keep Forgetting most people wouldn't even know about.
"I was a little disturbed doing One because it was such a Bono tune -- but it sounded very personal and I've always had a way of converting everything into love songs, sort of man-woman songs. So I rethought it to suit a bad affair."
Guitar solos sent to the LA studio from England by Eric Clapton and Jeff Beck remind you of the high regard in which Cocker is held by his peers, although he admits that hit Up Where We Belong didn't please everyone.
"I had friends who said they'd rather just remember me singing my old stuff. And at first I didn't want to record it, I hated it because it was so sweet. But eventually when we got into it I thought it had something special.
" I realised Up Where We Belong was pretty commercial but any singer when commissioned to do something for a movie -- and they don't do that much any more, it was nice to be asked for specifically -- would get into it. I thought it was a challenge."
He applauds the current soul revival and name checks Joss Stone, but also pays respect the greats of the 60s like Solomon Burke, Sam Moore and Al Green who have started recording again in recent years.
"There aren't that many great voices out there like Solomon Burke, most of those cats are fading away so I'm glad they are being more treasured for what they did to establish soul music as we know it."
Yet one notable absence on the late Ray Charles' duets album Genius Loves Company was Cocker, the man many consider his natural successor.
"It would have been nice and I'm sure they would have got me into Volume Two, but in some respects it hurts me to hear Ray on that album. He sounds poorly, that upsets me. I'd rather listen to other things by him, and he recorded over 60 albums, which kinda leaves the rest of us in the dust."
Although Cocker is no slouch in that regard. Not counting live albums he's recorded well over 20 albums which averages out one every two years.
But never with his idol and mentor?
"We did a television special on NBC in the States and did You Are So Beautiful. But I've never seen it televised, they'll probably resurrect it at some stage," he says offhandedly.
So where does Cocker see himself in the panorama of singers?
"I'm an r'n'b singer but I've always liked pop ballads," he says modestly. "At heart I'm just an r'n'b singer with soul tinges."