Graham Reid | | 4 min read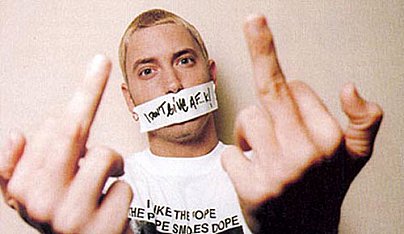 It's probably never been easy to be Eminem. But these might be particularly trying times for him. Which seems a strange thing to say given he's so successful. But that's the problem.
When Eminem was the angry underdog you could believe his rage and enjoy the swipes he took at American presidents, Osama bin Laden, Christina Aguilera and Britney Spears, Marky Mark, Michael Jackson and Moby.
These were people who took themselves far too seriously and therefore deserved all they got.
But things have changed since the phenomenal success of his movie 8 Mile of late 2002 - which had the second biggest opening weekend in America (behind Hannibal) for an R-rated film - and its pretty terrific accompanying soundtrack. The relentless upward trajectory of his career has faltered.
Taking the long view of the remarkable career he has compressed into about six years, it's as if he has exhausted the possibilities for himself.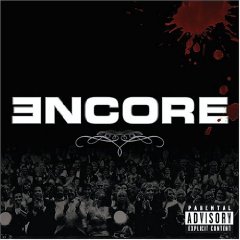 And that makes his forthcoming album Encore not just interesting but, for him, important.
When he emerged in the late '90s as the foul-mouthed white rapper from the underbelly of Detroit, his was a voice which resonated with a huge audience. He came off as a disenfranchised kid saying, "Dammit, I count too".
And he did, to a lot of people.
Rolling Stone writer (and Eminem biographer) Anthony Bozza saw 8 Mile on its opening weekend and wrote: "The audience was a true cross-section of New York City: black, white, Hispanic, Asian, young and middle-aged. Some were heavily into hip-hop; some were hooked on pop and MTV; some were drawn by the media buzz; and others - two Goths, a group of metalheads and a grey-haired couple with a whiff of academia to them - just looked to be curious."
Eminem was, if not an all-round family entertainer, pulling a broad demographic.
I don't doubt it. I saw him at Los Angeles' House of Blues in early '99 just after the release of his debut album The Slim Shady LP and it was much the same.
My impression - confirmed when he hit the stage and the room exploded along with My Name Is - was that these people weren't drawn by controversy, they were actual fans. This guy spoke to them, and maybe even for them.
He was the living embodiment of one of rock's most important principles: he didn't give a fuck.
But the genuine anger of the EP and debut album proved hard to sustain. Then came the film which would have fallen apart if he hadn't played a convincing earlier version of the superstar he had become.
The soundtrack album - which featured only four Eminem songs, although they are among his best - succeeded because it also came as the voice of the on-screen character, Rabbit, the young, angry white guy clawing his way up.
But after 8 Mile, Eminem was up. Way up, and his last album, The Eminem Show, failed to fire fully. Even his controversial lyrics didn't ignite anger in those who had previously condemned him.
Controversy from him -- as with Madonna -- was now so predictable they just ignored him, and a few longtime fans acknowledged it was as if he had little new to say.
If the controversies he rode made his name, he no longer has them in attendance. Being a married, multi-millionaire with a daughter he loves spending time with has diluted some of his force. His young hip-hop audience will cheer for someone celebrating the fact they've made it, but finds it harder to relate to the travails of success. An album by Eminem whining about how tough it is at the top would be a death-blow.
Hip-hop is an attitude, and in that regard it has probably replaced rock which, now manicured into the mainstream, has largely abdicated that role.
So Eminem's earliest work captured his own frustrations and resonated with that broad demographic of equally frustrated people. His subjects and language were deliberately outrageous and what those outside popular culture never understand -- which is why we should dismiss enraged fundamentalists and politicians who emerge every time a new Marilyn Manson arrives or Madonna appears naked -- is that controversy is part of the contract in showbiz.
Eminem is just another in a long line that goes back to a hip-shakin' Elvis -- a white boy making it in a black art.
Controversy -- as Mick Jagger, Madonna, the Beasties and Nine Inch Nails will tell you -- is good for business. That's what gets you on the nightly news and preached at from pulpits. And the kids undoubtedly love it.
What they intuitively know -- just like Willie Dixon's old blues song which says the men don't know, but the little girls understand -- is that Eminem is acting. Effectively just playing around to get up people's noses.
But when he said as much in his terrific Stan, an open letter to an obsessive fan -- "I say that shit, just clownin' dawg, c'mon" -- it created a new problem.
By 'fessing up that this is all an act -- we knew it was, but were perfectly prepared to believe the myth -- he has destroyed part of his mystique.
So, it's all just an act?
Eminem's been smart enough to ridicule himself and the role he has been cast in. He plays the dysfunctional white boy rapper (in the My Name Is video he's a patient on Dr Dre's psychoanalyst's couch) and now he's thrown attention back on his band D12.
But he has now explored and probably exhausted all the many roles he has adopted: from white ghetto rapper to (somewhat surprisingly) loving father. Do you really want to hear another outburst about his mother? Or another song about his daughter, Hailie?
He has been through a revolving door of personas and voices: Eminem, Marshall Mathers, Rabbit. Each reflects some aspect of himself, but they too have all been worked through now.
If there's another controversy the knives will be out as much as they were when Michael and Janet Jackson used to come up with another headline-grabbing drama just before an album release.
And what do we make of the title of the new album, Encore? Doesn't that sound like the title of a career coda, an ending?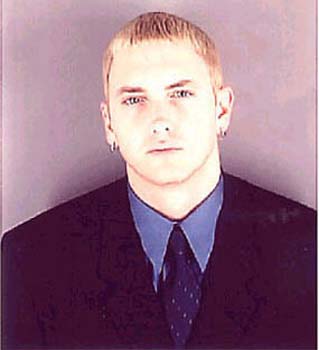 Of, course none of this may be true, and he could deliver something as devastatingly good as that debut EP or the songs on the 8 Mile soundtrack.
Eminem's a clever guy, of that there's no question, and knows exactly who he is and where he sits at this point. Look how he's been away from the spotlight this past year. He knew he had become a bit player in his own career, incidental to the controversy. It was time for the music to take centre stage again.
There's a new Eminem album out. Kids half, even a third, my age can't wait to hear it. Me neither.
But maybe for different reasons.