Graham Reid | | 1 min read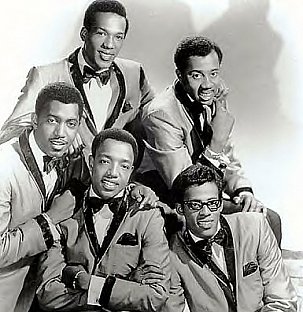 The ever-changing line-up of the legendary Motown soul group the Temptations (only two original members of the '61 founding group by the mid-Nineties when the five-disc retrospective Emperors of Soul was released) made their career a little difficult to follow.
But they were one of the cornerstone acts on Motown.
Even their most ardent fans might have thought the Emperors of Soul collection just a bit too much of their special magic to be readily assimilated, but it was a fair tribute to a band which, according to Dave Marsh' The Heart of Rock and Soul, spun almost a dozen of the greatest singles of all time (not to mention album tracks), among them My Girl, Since I've Lost My Baby and Don't Look Back, all in '65 and all written and produced for them by Smokey Robinson.
That was quite a way to start a chart-worrying career.
The box set opens with the endearingly lo-fi Come On (and the terrific Romance Without Finance which was the flipside of the '61 Oh Mother single) and then charges through that ever-expanding catalogue of hits: My Girl, Ain't Too Proud to Beg and Just My Imagination (both later covered by the Stones), the exceptional Papa Was A Rolling Stone of '72 (written by Norman Whitfield who also wrote, along many other hits, War for Edwin Starr), I Wish It Would Rain . . .
With great songwriters on hand, the famous and fantastic Funk Brothers backing them in the studio, frontmen such as David Ruffin ('64-'68), Melvin Franklin ('60-'95) and Eddie Kendricks ('60-'71) as well as a revolving door of great harmony singers (some of whom would occasionally handle frontline duties), the Temptations could adapt their approach to any material.
As with many acts on Motown, they weren't immune to what was going on in the streets and homes of black America: Papa Was A Rolling Stone was an early, if slightly ambivalent, look at absentee black fathers (he was a jerk but we sure miss him).
Mostly however they were a band which specialised in love songs, but as the times got tougher in the Seventies and the membership kept pulling apart, the Temptations ceased to be the hit-factory they once were. They moved to Atlantic Records but again their former success wasn't to be repeated. In 1980 they re-signed with Motown and although their Reunion album was well received their best days were long behind them.
Various members came and went throughout the Nineties and they quit Motown again in 2004. There is a Temptations group (and various splinter groups) even now -- but the Temptations who made the great music was that which lasted -- on record at least -- between the early Sixties and the mid-Seventies.
Few groups could match them song-for-song. Emperors of soul indeed.