Graham Reid | | 3 min read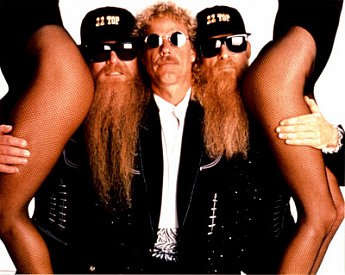 In a blur of urgency a pre-release copy of the new album is rushed across town, essential in advance of the phone interview. And here it is, ZZ Top's XXX, an album where the title reminds you of this Texas trio's 30-year career.
This is a necessary artefact. Imagine not having heard it and the famously bearded Billy F. Gibbons opening the conversation with, "hope you like our new direction?"
Tell singer/guitarist Gibbons that and he laughs as only slow drawl Texans can do. More of a low, threatening chuckle.
No, XXX is no departure from the winning formula that took this hard-touring trio of Gibbons, equally hirsute bass guitarist Dusty Hill and clean-shaven drummer Frank Beard to mega-status back in the mid Eighties.
Of course, there have been declining sales figures since then - although when they tour here they still carry a support crew of almost 30 and have a list of dressing room requirements not dissimilar to the one in 1987 when they sent earth tremors through Western Springs.
But top of the heap or just carrying on doing it, it's all the same to them.
"You know," says the amiable Gibbons, managing to create half a dozen lazy syllables where you might normally locate just two, "we never slowed down to think about it."
He says they've "stayed on that B.B.King march," referring to the legendary bluesman who still plays 300 nights a year (ZZ Top average around 250) and their set list today reflects the audiences' interest in their "earlier style."
"Some of the recordings on XXX have a similarity to that style too," he says stating the somewhat obvious about an album which includes tracks with such archetypal Top-titles as Trippin', Fearless Boogie and 36-22-36. But what else would you expect: this ia a band which considers subtle a dirty word and prefers to offer material with titles like Tube Snake Boogie, Pearl Necklace, Velcro Fly, Woke Up With Wood . . .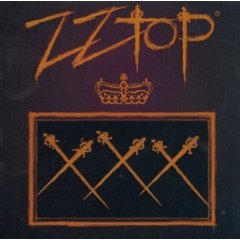 Initially intended as a live album of new material, XXX closes with four tracks recorded before beered-up and boisterous audiences in small clubs.
Gibbons says it gave them a chance to be back in an intimate setting - but most stadium rockers say that. What did they miss about downsizing to clubland?
"Well, in Madrid recently the power went out. We missed electricity!"
Yes, ZZ Top unplugged isn't the point. After all here's a band who on XXX acclaim their love of Walkmans and boom boxes.
So what's on Billy's Walkman on the tour bus these days?
"A little bit of everything, I picked up some blues things on the Flyright and Crazy Cat labels out of England, got some Texas swing from the Forties ... and a techno group from Belgium called Telex. They are very good. Real tight, real interesting early Eighties stuff, guys just peeling the onion when techno was not even called by that name."
Among life's surprises is learning that ZZ Top, whose trademark is minimal hard-edge blues rock, listen to Belgian techno.
Gibbons explains: the studios they use in Houston also attract rappers and hip-hoppers, one night they all got talking, some rap guy mentioned Telex, next thing you know ...
Not that it has informed XXX he is quick to counter. Blues rock it still is, and while public infatuation with the blues waxes and wanes, Gibbons feels the interest coming back.
"Dusty said if you want to discover the blues just wait a few years and there'll be someone there figuring it out. I find it now predictable there will be some kind of rediscovery. The genetics of this weird American art form is now well-known to the world and it's become a global property."
Thirty years of blues rock experience isn't to be lightly dismissed, but what two things has he learned that he wouldn't have if he'd been a panelbeater?
"How to read minds, because many nights we are up there performing a song we've done many times and you sometimes blank out. Thanks to that mind-reading ability you get a shot of body language or some clue, so 30 years on the road has honed the skill of mind-reading.
"The other is, 30 years on the road will make you mindless."
He chortles about recently meeting old fellow traveller B.B. King who was delighted they were celebrating their 30th anniversary: "He said, 'yeah, I remember when we'd been out 30 years. That was about 20 years ago.' That was encouraging."
And in another 10 years?
"If Muddy Waters can do this until the day he died and we could do that, that would be a good deal."
ZZ Top: three decades down, still doing it and patents pending on their distinctive sound from "a drum, a bass and fuzzy guitar."
But Billy, here's what we really wanna know: Is aftershave overrated?
"Boy, would we not be the ones to ask, it's been 20 years since we've had an 'after'. "