Graham Reid | | 5 min read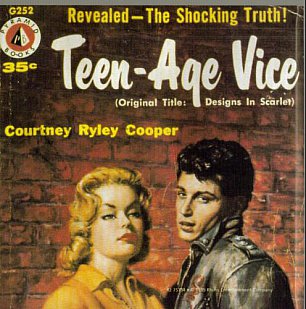 Billy Joel isn't usually cited in the Elsewhere world as an insightful reference, but his feisty We Didn't Start the Fire of the mid-Nineties was a brisk, rocking historical synopsis of our time (JFK, Chernobyl etc) which was referenced a little in Bob Dylan's Subterranean Homesick Blues chant-poem of three decades previous.
However, by starting his countdown of great events from the year he was born, Billy seemed to be intentionally saying -- well, you'd like to think it was intentional -- "history begins with the first thing I remember."
Thinking people might argue otherwise.
Rock music -- from saccharine pop to the Sex Pistols, Genesis to grunge -- is now at middle age, which means it started some while before Miley Cyrus, or even Madonna, came along.
Blame the cultural curators born into that era who can't see or hear beyond it, but the Sixties is about where most people start their rock history. You don't hear Britrock bands looking back much before '64 either.
But something existed before Beatlemania - and it wasn't Happy Days.
With the reductionism so common these days, the Fifties had been distilled down to a few images of American cars with massive fins, kids around the juke box in the soda shop, and Mom'n'Dad shaking their heads about this crazy new music called rock'n'roll.
But it is all pretty safe, like American Graffiti where the nice kids were at the centre of the frame and suggestions of danger merely lurked on the margins.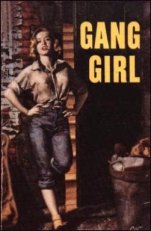 Just like the movie Grease or the soft television series Happy Days, where the Fonz might wear leathers and ride a motor bike but he is still polite to the ladies.
Primal rock'n'roll has been reduced to a few songs played on Classic Hits radio. Fifties rock'n'roll is seen as novelty music, a retro fashion style, a few dance moves . . .
But it was so much more than that: Fifties rock'n'roll was also rebel music for a post-War generation in search of its Self and a soundtrack to call its own.
It was about sex, danger, fast cars and issues of race. It had rallying cries: "When you're rockin' and you're rollin', you can't hear your Mama call," screamed Little Richard, a gay black man who had his hair piled huge and wore make-up.
And Elvis in eye-liner and his hair dyed black: "Well I heard the news, there's good rockin' tonight . . . Meet me in a hurry, behind the barn, don't be afraid darlin' I'll do you no harm . . ." Hmmm.
Or Little Richard again: "Good golly Miss Molly, you sure love to ball . . ."
Or more simply, "Awobopaloobopalopbamboom!"
Yes, Fifties rock'n'roll conjured up more than just kids sipping milkshakes or going down to the high school hop. It was music for people who saw Marlon Brando brooding his way through The Wild One and watched James Dean fight it out with a switchblade carryin' punk. It was the soundtrack to a movie like Blackboard Jungle where the thugs in the classroom broke all of their teacher's precious dance band records and just didn't care . . .
This was rebel rock'n'roll, nothing safe about it.
It was white kids listening to black music, a white boy from Memphis pulling together country and r'n'b into some strange new and exciting form, it was about driving too fast, it was about sneering instead of smiling. And about having a very good time.
Loud Fast and Out of Control: The Wild Sounds of 50s Rock is a superb four-CD reminder of the undiluted energy of pre-Fab Four rock'n'roll.
Released on Rhino - the reissue label which unleashed the excellent Nuggets box set of psychedelic garageband Sixties rock - Out of Control is a primer of the trashy and thrashy, the kind of music the Cramps and Nick Cave probably play daily for inspiration.
Where Nuggets was an expansion of the 1972 double album of the same name, this one could be read as the American Graffiti soundtrack expanded into some weird, seldom-explored corners.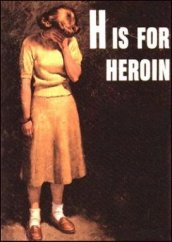 With Rhino's characteristic thoroughness (amusing and informative liner essays, terrific artwork from sleazy Fifties paperbacks), the set puts the often thrillingly mono sound back into the MP3 world.
There's an interesting assertion in the liner notes: that Sixties bands didn't invent anything, just consolidated, mutated and expanded on the template laid down by rock'n'roll, r'n'b and blues. In the Fifties however, these guys - everyone from famous names like Chuck'n'Elvis through to one-hit wonders - were actually creating something new.
Well, maybe. But maybe not too, because there are slices of country (Buddy Holly, Carl Perkins) and swags of piano-driven r'n'b and jump jive here which trickled in from the Forties.
That said, there's primitively exciting music among the 104 Ramones-length rock'n'roll songs here. This isn't an "alternative history," more of a panoramic and inclusive one.
Certainly there are hits and classics here. Included are Jackie Brentson's Rocket 88 (from 51, which many consider the first rock'n'roll song, five years before Elvis and driven by Ike Turner's piano) and Bo Diddley's always alarming primal ker-chunk of Bo Diddley.
There's also Chuck Berry's Johnny B. Goode (unarguably one of the most fully realised songs of the century, a story in song), Rebel Rouser, a couple of tracks each by Elvis, Jerry Lee, Little Richard, Buddy and so on.
But mostly this set throws up surprises: the scary 40 Days by Ronnie Hawkins; the wailing King Kong by Big T Tyler (who never recorded again); and the extraordinary Rockin' This Joint Tonight, which sounds like a 33 played at 45.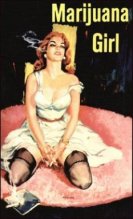 Here is Screamin' Jay Hawkins' demented Frenzy, reminding how he brought theatricality to rock two decades before Alice Cooper and his Marilyn Manson minion -- and Sonny Bono (who later worked with Phil Spector in the early Sixties then had his own career with Cher and later still as a conservative member of Congress) being old enough to write and produce Koko Joe in 58 for Don and Dewey ...
Titles alone tell the Fifties story of the first generation to identify itself as teenagers, not adults in waiting. So here are the clarion calls: C'mon Everybody, Let's Have a Party, Roll Over Beethoven.
Titles also tell of Fifties cool (Sunglasses After Dark, Put Your Cat Clothes On, Duck Tail) and sexual excitement (Tutti Frutti, Red Hot, Lovin' Machine). And teen rebellion (Jailhouse Rock, Rebel Rouser, Rockin' Bones which boasts "my bones'll keep rockin' long after I'm gone") or conjuring up the pre-Stones dark side (Little Demon, Race with the Devil, Voodoo Voodoo.)
Much of this might mean very little to the post-grunge/hip-hop generation -- although Pearl Jam fans would perfectly understand the angst, and DJs could find plenty to sample from.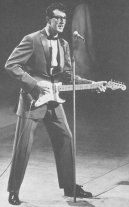 But it's interesting just how many of these songs have been resuscitated down the years: Summertime Blues (the Who, heavy metal biker band Blue Cheer), Who Do You Love (Quicksilver Messenger Service), La Bamba (Los Lobos), Slow Down (Beatles, Jam), Brand New Cadillac (Clash), Somethin' Else (Flamin' Groovies) ...
And of course the songs of Buddy Holly (left) which formed a cornerstone for the young Beatles and the early Stones.
Loud Fast and Out of Control might look like a history lesson -- but it rocks menacingly and is a salutary reminder to you (whoever you might be), that we didn't start the fire.
But Chuck, Elvis, Wanda Jackson and others certainly did.