Graham Reid | | 3 min read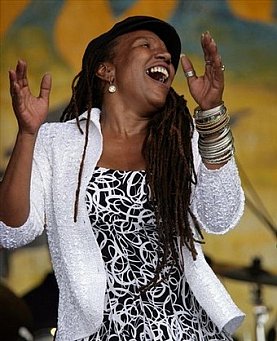 Sometimes, as with those Lennon children Sean and Julian, and of course Bob Marley's offspring, you just have to live -- sometimes live up to -- with the name you've been bron into. A help . . . but a hindrance no doubt.
Yes, the name was an issue when she started, says singer Charmaine Neville, daughter of Neville Brothers' saxophonist Charles and one of the third generation of Nevilles out of New Orleans.
"Everyone was saying, 'It's just because she's a Neville' and 'Oh, she's a Neville, we know what kind of music she's going to do.'
"So I felt I had to turn it round because I didn't want to be stereotyped. That's why record companies called me a problem child, because I refused to conform. They wanted you to do the popcorn and bubblegum music and sell a million albums. But that's not what it's about. I want people to have something real they can feel and make them feel good.
"It's about longevity. Look at people like Cher, Tina Turner, Ella Fitzgerald and Alberta Hunter - and even Madonna. When she first came out I did not like Madonna. But as I learned more I realised she was very gifted, and doing a lot of the writing.
"And she's a genius in marketing. And it doesn't matter what they say about you, as long as they say it."
But for Charmaine Neville, whose career started as a backup singer for the Neville Brothers then as part of the Survivors (from whose ranks also came Harry Connick Jnr and Bobby McFerrin), what they were saying was she wouldn't be making it if she didn't sport the famous surname.
"Early on I took a whole other route, which was to do every type of music I could, because I thought if I just did rock'n'roll I'd just get the rock'n'roll crowd, if I did r'n'b I'd just get that crowd. So why not do it all and that way touch more people?
"I tried to widen my spectrum and keep as much music coming out of me as I could."
Today this Neville has a creditable jazz and blues career with her longtime band, which includes saxophonist Reggie Houston and keyboardist Amasa Miller. ("After 20 years I only have to blink and they know what I'm going to do.") She is a regular at the New Orleans Jazz and Heritage Festival, yet she quickly disavows she is a jazz singer.
"I wish I were, but I'm not. I sing jazz songs but people like Ella Fitzgerald, Nina Simone, Betty Carter, Sarah Vaughan, Nancy Wilson ... those people are jazz singers and I can interpret what they are doing, but I think it would be sacrilegious saying I was a jazz singer.
"I've done wonderful work with great jazz musicians from Dizzy Gillespie to Don Cherry but still I don't want to label myself as a jazz singer because it's a falsity, I'm an entertainer and that's it."
As an entertainer who has appeared on the bill alongside the Rolling Stones, Dr John and Linda Ronstadt, she has taken her music through the festival circuits of Europe and America, and appeared in venues as diverse as clubs in Barbados and the Angola Penitentiary in Louisiana, where the inmates raised money to get her to perform.
And she notes she gets more acknowledgement outside her own city.
"Anywhere you go, you meet musicians who'll tell you people in their hometown don't know them, but if they go anywhere else they do. It's true, they forget about you in your own neighbourhood."
But her passion for New Orleans' unique cultural confluences runs deep.
"Louisiana is shaped like a boot and I think God just put his foot down and lifted it off and said, 'Soul, food, good music, friendly people, that's where it's gonna be, right there.'
"The fact of it is everybody's family here was living in a city where there's music in every household, every church, every corner barroom and there's kids sitting on the corner singing. It was an atmosphere which was not just inside my home but all over my city. They had songs for everything when I was a kid: walking songs, cleaning the house songs, whippin' your behind songs. My mama had cookin' songs."
And out of that gumbo of influences and personal ambition, Neville has carved a place for herself separate from the family connections.
"I still want to branch out and do all kinds of things. I did a tribute to Ella Fitzgerald with the Nelson Riddle Orchestra and that was a wonderful tour. I'm not Ella. Ella is always going to be Ella. But touring with a big band was something I'd always dreamed of.
"In that I feel I was born too late - but it's coming back and a lot of the young people are taking that old swing and jazz and bebop and turning it around.
"If that's what happens, I'm ready - and ready for everything."