Graham Reid | | 2 min read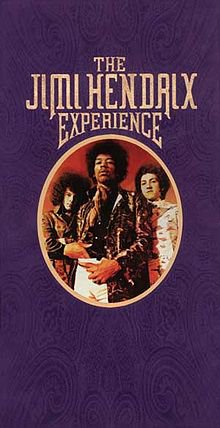 It should be easy to get together a thorough Jimi Hendrix collection. After all, his recording career lasted fewer than four years.
Presumably, all you'd need would be his exceptional debut album Are You Experienced, the follow-up Axis: Bold As Love and the expansive, Essential Elsewhere double album Electric Ladyland. The Smash Hits collection would fill a few gaps, although only the serious would bother with the live, somewhat ropey Band of Gypsys album.
And that should be it. The short life of the life-changing Jimi Hendrix (1942-70) tied off rather neatly.
But dying was just the start of Jimi's career. Posthumous releases now outnumber official albums by about 30 to one.
First there was The Cry of Love - the album Hendrix had all but finished and was set to release as First Rays of a New Rising Sun - then came compilations of studio jams (War Heroes, In the West) and the live-in-concert albums (Jimi at Monterey, Woodstock, the Isle of Wight, Winterland and anywhere else he plugged in).
There have also been some live-to-air radio shows (Radio One, The BBC Sessions) and the notorious albums where "producer" Alan Douglas wiped out the backing tracks and replaced them with session musicians playing along with Hendrix's guitar and vocals.
But that ain't all of Hendrix from beyond the grave.
There's been a five-album set Live and Unreleased (snatches of guitar playing and interviews), the dire Woke Up This Morning and Found Myself Dead, which featured a drunken Jim Morrison bellowing obscenities behind Jimi's guitar noise, and Red House, which contained six versions of Hendrix playing that song plus a John Lee Hooker version on which Jimi didn't appear.
There have been albums with such winning titles as Fuzz, Feedback and Wah-Wah and Whammy Bar and Finger Grease. And much, much more Jimi, not the least those coming out of the jimihendrix.com website.
There are hundreds of Jimi Hendrix albums in fact. And I remind you: his recording career lasted fewer than four years and he sanctioned the release of only five albums.
Since the family got control of the estate there has been another re-issue of the original albums (the fifth by my count), a reconstruction of First Rays, an excellent "best of," and a few other things.
Then in 2000, when you thought there could be no more Hendrix in the vaults came - wait for it - a four-CD set featuring 56 (yes, 56, count 'em!) previously unreleased recordings.
With an 80-page booklet and appropriately wrapped in purple velvet, The Jimi Hendrix Experience is the Hendrix set to end all sets. If you believe the hype.
Well, as one who has done the Hendrix driftnet trawl many times down the years, it's sort of all true.
Like Bob Dylan's Bootleg Series and Bruce Springsteen's Tracks, this is a box-set which traces an alternate history of the artist from the first track (Purple Haze) through to the last (Slow Blues).
The opener initially sounds just like the released version but with slight differences in guitar and vocal phrasing, then unexpectedly at the end Hendrix and band embark on an extended guitar extrapolation. Or freakout, if you will.
Far from Purple Haze simply being a concise commercial single written at the insistence of his manager, Hendrix already had it sketched out with free-form possibilities. It's like hearing the Beatles' Help but with John Lennon's primal screaming at the end.
From there this set takes flight through a couple of superb versions of Hey Joe (one live in Paris before the song had been recorded as his debut single, the other an early studio version with a female vocal trio on backing vocals) and into a tough, non-vocal version of Little Wing (his most delicate song), a rare live treatment of Midnight Lamp, a brittle non-vocal seven-minute studio exploration of Axis, previously unheard songs (Somewhere, It's Too Bad), blues songs and so on. And on.
Sure, there are a few things which don't justify their inclusion, but when the big reconsiderations come they are extraordinary.
So despite the veritable mountain of Hendrix albums out there, this handsome set is full of revelations, even in songs you thought were so familiar.
Who would have thought, this late in his posthumous career (dead more than 30 years) that could happen?
If there's an ambitious teenage guitarist in your household or an otherwise well-behaved middle-aged person who sometimes racks up Purple Haze or Foxey Lady and goes a little wild, my guess is you've just been given a belated tip on a Christmas or birthday present they will cherish for years.