Graham Reid | | 2 min read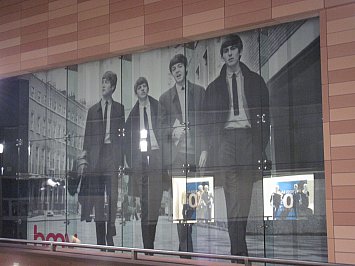 So are the remastered Beatle albums released on 09/09/09 ("number nine, number nine, number") the full-stop on a career which ended almost four decades ago? Maybe not.
While at Abbey Road in June listening to the playback of some of these tracks (about which I wrote this), it seemed natural to ask engineers Allan Rouse and Steve Rooke -- who have each spent the past couple of decades working on Beatles or Beatles-related albums such as Let It Be Naked, the "songtrack" of Yellow Submarine and various McCartney debacles such as Give My Regards to Broad Street -- what could possibly come next.
Frankly, they didn't know. Or if they did, they weren't saying -- although dismissed some suggestions.
Some unreleased Beatles material has achieved mythic status: a 27-minute version of their pre-apocalyptic Helter Skelter; a 10-minute take of Revolution; the free-form Carnival of Light from January '67 created for a psychedelic rave of the time; Beatlemania-era concerts recorded by producer Martin, whole albums of early material which EMI compiled such as Sessions (announced in December 1984 then quietly dropped) . . .

Engineer Rouse is dismissive of the Helter Skelter version saying it isn't as interesting as fans might think: "If it appeared on-line we'd close them down immediately".

And Carnival of Light?

"It is what it is," he shrugs, adding it is no [Beatle's] best interest it be released.

But in recent years McCartney has tantalisingly dangled it whenever he has an album of his own to promote like the recent Fireman release?

"Oh, you noticed that, did you?" he laughs. But George Harrison rejected it from inclusion on Anthology 2 and his estate feels the same. It's rubbish noise by stoners.

The 10-minute Revolution has already been on-line (hardly essential but crying out for a remix) but there is much more Beatle-music for the obsessive and curious.

The Beatles' Hollywood Bowl concerts of August '64 and '65 were recorded (a compilation was released in '77 but has not appeared officially on CD); there's the historic Shea Stadium concert of August '65 (some songs appear in the Beatles' Anthology DVD); music from the studio sessions for Let It Be, some of which was scheduled to appear on the aborted George Martin-produced Get Back album . . .
And much studio noodling.
Perhaps of most interest is the complete rooftop concert in London in '69, the group's final performance before a live audience. It was recorded in its entirety and has been sitting in a can for the past four decades. Forty minutes of rock'n'roll history.

When it comes to Beatles re-issues and remastering, it may yet be a long and rewinding road.