Graham Reid | | 5 min read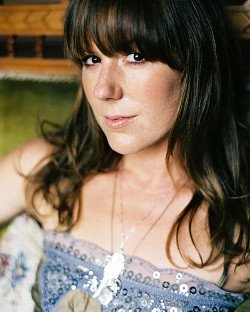 "You know, I'd left school and had gone straight into playing in pubs," laughs Auckland singer-songwriter Miriam Clancy. "I had no other training behind me. So it was either work in a café, or go and live at mum's."

Clancy laughs again as she remembers that difficult period a few years ago when she decided to stop knocking herself out after a decade of playing with bands in bars. It was time to take stock and reconsider. And so she stopped working as singer -- all she had ever done since quitting school -- to reflect.

Of course that reflection took place with an acoustic guitar, and the space to write and think gradually turned into a series of low-key gigs around Auckland, notably at that now former mecca for singer-songwriters, the Temple on Queen St where she played almost every week for a year.

This was a big change of musical direction for the girl who grew up in Foxton, played in bands churning out covers of rock classics by AC/CD, Bon Jovi, Cold Chisel and Pat Benatar, and to this day professes a passion for the music of Detroit's working class rocker Bob Seger.

Yet there are few traces of that colourful rock'n'roll background on her remarkable debut album Lucky One, a strong and consistent collection of original songs which invites comparisons with American alt.country acts and the long tradition of singer-songwriters rather than the denim'n'leather rockers whose songs she once played..

Clancy has come to musical maturity with the remarkable Lucky One, a collection of often emotionally intense songs given colour and texture by a small core of sympathetic fellow musicians.

"They are all very personal songs," she says of the 11 tracks on Lucky One, "and it can be embarrassing. There's the song And So It Begins. When I was singing that I was crying my eyes out, it was hard having it all out there."

With lyrics which are refined and considered ("practice pushing the 'what if' away/walking bereft in this solemn brigade"), and instrumentation which moves from gentle acoustic guitar to swelling Hammond organ and kicking electric guitar, Lucky One showcases an artist at the top of her game.

Clancy's journey to this impressive debut has been long and sometimes wayward as she freely admits, but it was always going to be this way.

"When I was about six or seven I wrote a journal and had pictures of myself with a guitar. I knew what I was going to do, which is exactly what I am doing now at age 32. "I'd tell a couple of my friends and get laughed out of the room, like, 'Aww, she thinks she's cool and is going to be a singer'.

"But I knew it then and would go to sleep thinking about it."

Between then and now however she has listened to and assimilated a swag of diverse music: her Croatian mother and Irish father were both musicians ("and a fiery blend of genes") and after they separated she lived with her mum who played Little Feat, Neil Young, Janis Joplin, Joan Baez and Neil Diamond around the house.

Being a child of the 80s however she added melodic Fleetwood Mac, the urgency of early Bruce Springsteen, the wham-glam of David Bowie and Prince to the mix: "Prince really shaped me although you can't hear any of that in my music, but the guy is a genius."

Then at 16 left school, took a "stink job" for a while, then hooked up with musicians on an Access course.

She joined their band as lead singer and for the following four years played around the pubs of the Foxton and Levin area. By 20 she's seen and done it all, and was looking for something more.

"I was a bit clouded by the whole sex, drugs and rock'n'roll thing and started having illusions of grandeur. So I stopped playing the pub rock because wanted to be with better musicians, and I started working with some older guys who could play in time."

She became the musical director for a local band and, by putting on better shows and more professional performances, they scored corporate gigs.

Then she lit out for Wellington and worked with jazz musicians, all the time expanding her musical parameters.

When she heard that Auckland r'n'b rocker Ted Clarke was looking for a singer to join his outfit for some gigs in Malaysia she grabbed the opportunity.

"I packed my bags and came to Auckland -- then sat around for months waiting for the trip to happen. We went in the end and I'd always said I was not going to go overseas until music paid for it. And it happened, although maybe a little later than I thought."

It was on her return to Auckland that she decided to listen to what she now calls "more pensive music" and to stop knocking herself out in clubs and bars with Clarke's Backdoor Blues Band, and the Rockafellas.

"I'd liked early Sheryl Crow and that might have spurred me on into thinking that I could do that kind of thing."

And so -- entranced by the songs of Elliott Smith, cult figure Ray LaMontagne and Gillian Welch -- she started to explore a deeper and more emotionally intelligent musical palette which now comes to fruition on her album Lucky One.

The songs were all written recently, most as a result of time spent in Los Angeles where she went to shop her demo but ended up playing in clubs and at singer-songwriter nights.

"That atmosphere really fired me up," she says while also acknowledging the influence of Neil Finn and Johnny Cash on her recent song writing.

Clancy has lived music all her life and in her thoughtful lyrics you can hear her experiences transformed into a very personal, sometime heart achingly beautiful and sad magic.

She has come a long way from those pubs as a teenager, but the experiences she brings to her lyrics and performances have given her a rare musical confidence: she has played in bands which had residencies in Auckland's SkyCity Casino and Kuala Lumpur's Boom Boom Room; performed at Ericsson Stadium before 20,000 people at Warriors match and sung at the Bluff Oyster Festival Ball in Invercargill; and been a backing vocalist for studio sessions.

Get her at the right moment and she'll even admit to having played bagpipes for a few years in Foxton.

It has been a long journey, but Miriam Clancy has arrived.