Graham Reid | | 6 min read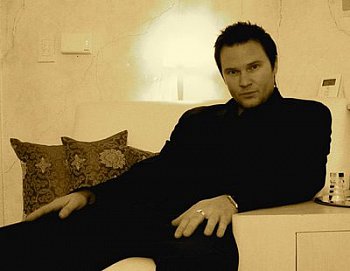 The first call catches Greg Johnson and his wife Kelli somewhere in the empty landscape of Texas heading for Shreveport, Louisiana with a fuel gauge hovering near "Empty".

"We're looking for gas at the moment," he says slightly anxiously, and there follows a brief and fraught discussion in the front seat. They are turning back rather than run out of petrol.

Two hours later he is once again on the mobile, they are gassed up and making good progress.

"Kelli's a stunt woman working on a film called Battle of Los Angeles. And yeah, it's being filmed in Shreveport. But they offer tax breaks and that's why Hollywood has been shooting in these kinds of places.

"It's a huge budget sci-fi thriller so they've turned downtown Shreveport into a war zone and there are burned-out cars and the army fighting aliens.

"Shreveport is a pretty broken down anyway so they don't have to do too much to destroy it. Downtown is fairly decrepit.

"Kelli's been away for a month and I'm about to come down on the New Zealand tour with Boh [Runga], so we thought we better get together. We're doing a bit of tourism together."

And Greg Johnson -- who moved to Los Angles seven years ago to try and crack it as a singer, songwriter and performer with an American record deal -- doesn't get a lot of downtime.

For years he has played in local clubs and bars, had his management hustle to get songs placed in television shows and movies (with some notable successes), but always found time to pop back home for short tours such as the acoustic greatest hits one he's embarking on with Runga, also now based in Los Angeles.


Despite a track record of songs from Isabelle through If I Swagger to Save Yourself which have been imprinted in the landscape of New Zealand pop (and have spawned his new Greatest Hits album), things have been tougher in that place of sunnier skies and "have a good day".

But Johnson -- who has also done commercials, soundtracks (Blues For Robin) and was part of the slightly inebriated Bluespeak lounge-jazz group -- is adaptable and in the past year has changed his focus.

"I've taken it upon myself now to become a songwriter more than an artist in Los Angeles. We had a go at the artist thing and I felt I achieved something in that I got around the country, played to crowds of people and got airplay.

"But I'm married now. I've got my career in New Zealand and I can get my kicks playing big shows there, but it doesn't make sense to do that stuff in the back of a van again. So I'm concentrating on song writing."

Johnson has been co-writing with other Los Angles musicians, some of whom he has met through his publishing people, others that he contacted directly.

As a new focus it seems to be working and may just be a matter of time for really big breaks to come. His music has already appeared in The Hills, the recent Dustin Hoffman film Last Chance Harvey ("admittedly only background, but they were there") and in the movie Fifty Pills.

"That one has been great because it was a teen movie and a lot of kids have been e-mailing me because Now The Sun Is Out [from his 2006 album Anyone Can Say Goodbye] was really featured. There's a high school band in Alabama doing a cover of it. I love that. It's really cool."

Johnson has also been building a high-end home studio and getting his engineering skills up because the expectation in Los Angeles is that songs being pitched have to be of excellent quality.

"The city is not forgiving in that sense. Of all the best engineers and producers in the world, half are living in Los Angeles so you've got to reach that standard.

"I've had some pretty interesting song placements here and there, but I'm hoping to now pitch directly to artists, and that's different for me. But it runs parallel to what I do as a performer.

"I've just pitched songs to Hayley Westenra and Lionel Richie, and I'm working with a couple of guys who have worked with Pink, so we're pitching a couple of songs to her. I haven't being doing it constantly for more than a few months, but I think it should be fun. But it's an odd game."

He notes that he recently heard that Diane Warren -- whose songs have been picked up by Cher, Celine Dion, Meat Loaf, Christina Aguilera and many others -- writes 50 songs a year and maybe only gets 20 placed.

"And that's Diane Warren. So there are probably 100 pitches before you land one. But if you land one on a big record it could be worth it. In the meantime things keep ticking over, and of course there is the tour in New Zealand."

Johnson gets back to New Zealand at least once a year to play in most of the bigger cities.

"I feel very, very lucky to be one of the few who has a consistently good audience -- and hopefully we deliver for them."

Not that the audience loyalty fell into his lap easily?

"Oh no. All those years of shitty pubs and many, many miles up and down the country. It was no overnight thing. It was going to be a long road but you have to enjoy the journey."

And this time he is touring on the back of a Greatest Hits, not all of which are exactly "hits"?

"No. I asked some of my mailing list to suggest their favourite songs and although I didn't go with all of their choices I certainly went with quite a few of them. And so it's not just radio hits I've had, there are live favourites on there.

"And I redid a couple. The new version of If I Swagger is my favourite.

"A lot of people had said over the years, 'I played that at my wedding', and I always thought that was strange because it is quite a brutal song in some ways.

"But I thought if people like it for their wedding I'd do it with a kind of bored Latin feel to it, like a cocktail band.

"I'm very pleased with the way it came out, it works brilliantly in that style with double bass. We'll do that version at the shows I think, maybe get Boh on snare drum.

"It's actually a kind of Bluespeak thing," he laughs as they cross the state line into Louisiana. "It's that song for when everyone is half drunk and the bride dances with the groomsmen."