Graham Reid | | 4 min read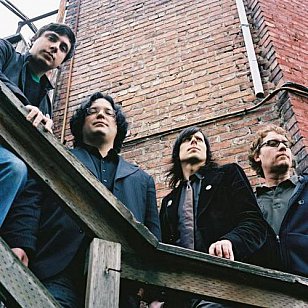 For a man about to go on stage in Holland, Ken Stringfellow sounds as if he's got his feet on the desk and thinking about getting home for a night in front of the tele.

The relaxed Stringfellow has spent a large part of the past 25 years facing audiences: with the neo-psychedelic outfit Sky Cries Mary out of Seattle in the late 80s; in the past decade as a member of REM's touring line-up; frequently as a solo artist (his terrific 2004 album Soft Commands); and tonight he's under the lights -- with longtime songwriting partner Jon Auer -- as a member of the reformed Big Star fronted by the legendary Alex Chilton.

Stringfellow -- described on amazon.com as "the Swiss army knife" of power pop -- is also one of the mainmen behind the Posies -- the band he and Auer founded in Seattle in the mid 80s, folded in 1998, then happily reformed by public demand.
And it would be fair to say they have put themelves about a bit: Auer appeared on William Shatner's album Has Been; Stringfellow recently sang with Norwegian band Briskeby on a single which went top five for 17 weeks in Norway; and together they have appeared on tribute albums to the Damned, Donovan, the Hollies, the Zombies, the Beatles . . .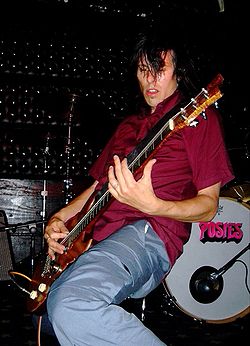 The Posies are part of the alphabet of power-pop kicked off by mid-period Beatles in the Sixties, advanced by Badfinger and Big Star in the Seventies, and taken to stadiums by Cheap Trick in the Eighties.

Power-pop is big on guitars, choruses and harmony vocals -- Stringfellow (left) and Auer have a sibling-like vocal similarity -- but the Posies' often dark, oblique and poetic lyrics belie the uplifting melodies.

And they enjoy themselves: Stringfellow and Auer's acoustic show at Auckland's Kings Arms in 2000 saw them pulling requests and free tequila from the crowd, and firing off hilarious parodies of REM alongside their own extensive back-catalogue.

Stringfellow remembers the night well: "Tequila was a theme of our life then".

Their bittersweet lyrics of All In A Day's Work from last year's Every Kind of Light album, a song which soars like the Raspberries or the Shoes, are instructive: "When we're blurring the lines between us and the good times, it's all in a day's work."

It's that amalgam of elevating melody and tart sentiment that sets the Posies apart. And, as Stringfellow discovered while touring with REM and was met everywhere by people who loved Posies music, has rewarded them with loyal fans.

"Every band has loyal fans, I don't know if ours are exceedingly numerous," he laughs. "I also have to think how we might acquire new fans, which isn't as much a musical thought as, 'How do we present the music to people who would like it but don't know it's there?'

"It could be collaborating with different people, which is what I like to do with my solo stuff. That brings new energy into things."

Certainly their years with Big Star -- a definitive power-pop band of the early 70s -- has taken them to similarly-minded audience.

"This started 13 years ago as a one-off but I knew there were people like me who were fanatical about [Big Star] before I ever dreamed I'd be playing with them. People love those songs, and although at the time they only sold a couple of thousand albums word of mouth grew such that 20 years later when they were reissued they sold a lot.

"So people who come to see Big Star now came to it much later in the game."

With so many parallel projects reaching their logical end Stringfellow expects to be back in writing mode soon.

"We've been touring non-stop based on the Posies record, the Big Star record, and the REM album. With Every Kind of Light we've done three tours of Europe, and North America and now this tour to Australia and New Zealand. Which pretty much saturates where we can go.

"I did the same thing with my record: Europe, America, and Australia and New Zealand. It's time to recharge."

Mid-year Stringfellow will be back in Seattle to write free of distractions -- no cable, no internet -- and sell up to move to Paris.

"I'm building my life there -- my wife is French -- and I wrote quite a bit of Soft Commands there, but it'll probably take a year to get everything shipped over.

"But I feel very at home there. Okay, I don't have a space to work there yet, but hey -- I'm stylin'."

Before then however it's the full throttle Posies for our listening pleasure.

"Jon and I may do some [acoustic] songs together towards the end, but if people are looking for a power-pop show they will be scandalised.

"It's pretty much a full-on brutal rock show. It's quite impactive, shall we say."