Graham Reid | | 4 min read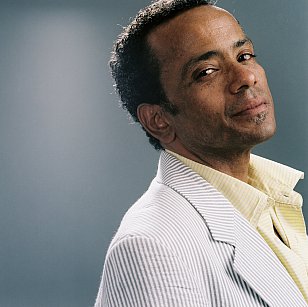 If you could distil the history of New Orleans down to a few litres of blood, they'd probably be pumping around John Boutte's body. Listen to this.
"The European side of my family has been here since 1760. There were two brothers Boutte, Pierre and Hillary, who was an architect who built what is now the oldest theatre in New Orleans. It was originally the Spanish governor's mother-in-law's house in Jackson Square but is now the Le Petit Theatre.
"Brother Pierre was a slave trader who owned a plantation just south of the city. He brought in slave boats at the plantation and brought them to auction on New Orleans. So that's the European side.
"My mother's people came out of Haiti during the [18th-century] revolution along with the Toussaint and Louverture families. They were creole aristocrats who evidently treated their slaves pretty good because they got them out of the country and on to the boat to New Orleans.
"On one of my grandmother's sides there was the Wyandot nation which was an Indian tribe from up towards Michigan. So I've got African, French, Spanish and Indian - and Irish and Scottish too because my grandfather's mother was from Cuba and they were the Scottish and Irish who went there to build railroads."
Boutte is a one-man cultural melting pot. He's also a witty conversationalist, a former banker, talented pianist, and one of 10 kids (all the girls' names start with "L" including his accalimed sin ging sister Lillian)
Ironically, given that they're from the crucible of music that is the historic city of New Orleans, neither John nor Lillian started out as musicians, and nor does it run in the family.
"No, neither my father or mother were musicians. Lillian was the first in the family to pursue music professionally. It wasn't her first love. She always played and sang but she loved doing hair, she was a cosmetologist but the chemicals started affecting her so she had to find an alternative. She started to sing and people liked it.

"When I was eight I wanted to join the school band and our next door neighbour Mamou, who was like a grandmother to us kids, had a cornet. That's what I started on."
Boutte played cornet and trumpet until the end of high school, picked up a little piano along the way ("I was a good Catholic boy but hanging around those sanctified [gospel] churches") and started singing a capella in harmony groups on the corner.
"I wanted to pursue music and liked Motown soul and brass bands and the music from the gospel church behind my mother's house. Guys like [New Orleans' legendary guitarist and banjo player] Danny Barker were always around my house so music was in the air for me. But everyone said, 'You gots to have somethin' to fall back on, boy.' So I went into business college and got a degree. Then I joined the Army for four years, was a banker for two years, and one day met Stevie Wonder when he came down and got his honorary doctorate here.
"I spent the day with him and played piano and we sang a bit, and when he was leaving he gave me a hug and said, 'John, you play okay piano but you have a signature in your voice, you don't sound like anybody else, and if you have the patience and determination you could make it'.
"Two days later I quit the bank and I haven't been back since. I been a poor black boy, but I've had fun. I'm richer than most of my millionaire friends. I sacrificed a lot of things to do the music but people look at me and think I'm 30 rather than 43. I have no worries. What am I supposed to worry about? Money, love or whatever? No I don't worry 'bout nothin'."
Boutte has been a professional singer for almost 15 years singing sometimes in hometown clubs but mostly hitting the festival circuit. He appears at the annual Mardi Gras festival and recorded a critically acclaimed album The Foot of Canal Street which featured some of his originals, notably Sisters about the "L-ladies" in his family.
"When I was in college I wanted to be a songwriter while I was studying economics but didn't have anything to say. Then I was doing the Canal Street record and the producer said to put some originals on. I was embarrassed to put them on a record but everybody loves them.
Harold Batiste, the guy who arranged Alfie and A Change Is Gonna Come for Sam Cooke, came up to me at a jazz festival and told me, 'That song about your sisters is one of the best New Orleans tunes ever written and I had to pull over to the side of the road and cry when I heard it'.
"That changed my whole attitude and I thought maybe it wasn't a bad tune after all."
Listening to Boutte's voice it is easy to hear why someone who worked with Cooke would be impressed. Boutte has a similar soulful style which at times also recalls a young Rod Stewart in ballad mode. It occasionally sounds genderless, also.
Last year Boutte won male performer of the year at the 14th annual Big Easy Awards (previous winners include Fats Domino and Aaron Neville) and he shared in album of the year at the same awards for Mardi Gras Mambo with the Yockamo All-Stars.
But Boutte has enjoyed even more success with the Cuban band Cubanismo with whom he has recorded. He toured the States and Canada with them and went to Cuba twice. His track Marie Laveau about New Orleans' most famous voodoo priestess also features on the newly released Mucho Gusto: The Very Best of Cubanismo album.
"They are a wonderful band. Six or seven out of the group of 15 are Yoruba priests so when they start drumming you can't be on stage without getting a high. I met some great people through them like the producer Joe Boyd who did Nick Drake and Pink Floyd albums. One night Joe had a couple of glasses of wine, and he doesn't drink much, and he was yelling, 'I'm gonna make you a star!'
"I said if I had a nickel for every time someone's told me that, I wouldn't have to be a star, I'd be a millionaire.
"Singing is a release for me, and the only time I ever get depressed is if I haven't sung in a while. In the bank I was good because I don't like doing stuff halfway. But once a month you'd do the financial statements and then someone would pat you on the back and say, 'Good job' and that was it, anticlimactic.
"But with music when I step off that stage I know whether I haven't done well or whether I've touched somebody. I move myself now every time I get up there. That came from working with Cubanismo and going to Cuba. I never thought a hotel lobby band could bring me to tears but I was sitting in the Nationale Hotel and these guys came on. Now I don't understand a word they're singing, but they are doing it with such conviction. That taught me something.
"I used to sing like every song was my last ... but these guys brought me to the realisation I had to pull the emotions out and sing like every note was the last."