Graham Reid | | 14 min read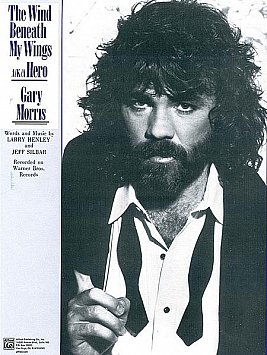 On this slightly hung-over weekday morning Larry Henley doesn't look the kind of man whose words have touched a generation.

He speaks with a quiet, modest and slow-drag Texas accent and seems too self-effacing for someone whose song lyrics have been recited at funerals and marriages, during intimate moments by way of love or apology, and which have spawned innumerable lesser variations.

And, locating himself loosely in the fifty something region, he also doesn't look like the kind of singer whose strangulated falsetto abused the airwaves back in the mid 60s when, as lead singer for the one-hit wonders the Newbeats (below, Henley centre), he shrieked "I like bread and butter, I like toast and jam, that's what my baby feeds me, I'm her loving man..."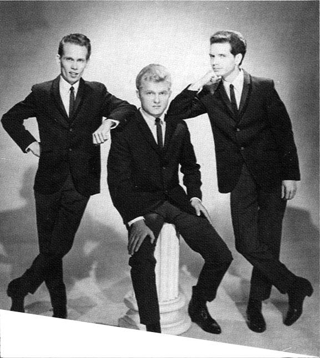 Hardly Ezra Pound, but these days Larry Henley doesn't have to describe himself in those terms. There is something else which has allowed him to redefine himself. That song.

"I always called myself a singer," he says softly, "even though I 'd had successes as a songwriter. But people would come up to me and say 'aren't you the guy that sang Bread and Butter?'.

"I got that all my life, but after I wrote that one song somebody stoped me in the street and said 'Aren't you the guy who wrote Wind Beneath My Wings?'

"He was the first person to call me a songwriter...and that what I call myself now."

And that was quite some song to write. Wind Beneath My Wings – written back in 1981 – has been recorded by over 300 artists, most notably by Bette Midler who sang it on the soundtrack of the 1989 hit movie Beaches.

"The first person to sing it was Roger Whittaker," says Henley. "He was in Nashville recording and Chet Atkins, funnily enough, produced it.

"My publisher called me, very excited, and said, "Larry, guess what! Roger Whittaker is cutting your song! And I said 'great....who's Roger Whittaker?'"

Since then Wind Beneath My Wings – the chorus of which is used in Air New Zealand advertisements – has become a contemporary standard, sung by almost everyone from Perry Como and Vic Damone to Peggy Lee and Gladys Knight.

A partial list of those who have recorded it – and most often had some chart success as a result – includes Scottish pop singer and Prince protégé Sheena Easton, soul singer Lou Rawls, British mainstream entertainer Des O'Connor, folk legend Judy Collins and stage and screen star Howard Keel.

As Henley acknowledges, "all my heroes have sung it."

Yet it was far from the first hit that Henley had written in a career which, to date, includes a catalogue of more than 500 published songs.

Henley, who says he sometimes simply closed his eyes and envisages a three-minute movie to which he puts musical dialogue, is modest and needs drawing on some of his past successes. When they come they are quite astonishing.

He wrote a number one country hit for Tammy Wynette, Till I Get It Right which was covered by Barbara Streisand and Kenny Rogers. It also appeared on the flip side of Rogers' Lucille single from which Henley receive 50 percent of all sales. And that was a bit hit.

He wrote The World Needs A Melody, recorded by the Carter family with Johnny Cash, George Jones and Rogers. He penned a hit for country star Randy Travis with Is it Still Over and wrote Lizzie and the Rainman which broke 16-year-old Tanya Tucker to a wide audience and was subsequently covered by British pop rockers the Hollies. And he wrote even more songs for Kenny Rogers.

"Yes, I've had a lot of songs recorded by Kenny because when he decided to go country the only person he knew in Nashville was me. So I was lucky enough to be the first one to give him songs."

Henley acknowledges that luck played a large part in his career which began in California after the unpromising accident of birth which placed him in Odessa, West Texas.

"I grew up with Roy Orbison. His bio says he as was from Wink, Texas and mine says Odessa, but they are right next to each other and where we lived was just desert, like the end of the world.

"It didn't seem possible that anyone could rise from there, but when Roy had hits that encouraged me.

"I wanted to be an actor, wanted to be James Dean, so I entered a talent quest where the prize was appearance on television. I thought I'd sing something to get on that but what happened was I got a recording contract."

After residencies on Californian television shows Henley decided to move back home. But while in Shrieveport, Louisiana, he ran into the Dean and Mark Combo, joined them on stage for a few songs and was spotted by the vice-president of Mercury Records. Dean and Mark sacked their singer, Henley came and thanks to his falsetto the Newbeats were born with the hit Bread and Butter.

For six years Henley stayed with the Newbeats and during a tour to New Zealand with Roby Orbison and the Rolling Stones became a blood-brother with Ray Columbus, then enjoying his one hit-making period with the Invaders.

It was back-stage after a show and with Mick Jagger and Keith Richards of the Stones, he and Columbus cut their arms with a piece of glass and bonded their wrists together.

Henley says he took it very seriously and although he has only been back to New Zealand this once in the years since, he has kept in touch with Columbus who had also been a regular visitor to his home in Nashville.

Reminiscing the night before until 4 am at Columbus' place has taken its toll on this hot morning, but Henley shows remarkable recall for particular New Zealand music he discussed with Columbus and producer Billy Kristian.

He offers a blunt, genuinely enthusiastic opinion of the forthcoming Herbs singer, a reggae cover of Columbus' Till We Kissed featuring Columbus and guitarist Tama Renata.

"It's a hit," says Henley as the sounds swell from the speakers. And he adds some comments about the production of music which betray a keen ear for that side of the business.

It is one he honed long ago while some of this contemporaries were simply being seduced by being young rich and famous.

During his Newbeats career Henley learned recording techniques produced a few songs and even wrote a little.

"I was never that good at writing songs for myself but was fascinated by country music and so hung around with Kris Kristofferson, Roger Miller and Willie Nelson after I quit the Newbeats. I just absorbed their styles. I think of myself primarily as a lyricist.

"I stumble around on piano and guitar and play the violin poorly. My voice was always my instrument. I am much attuned to language and get prompted by words and phrases I hear.

"I'm a great observer of life and watch someone across a crowded room imagining what they're thinking. A song will come from that and even if it's not what they are thinking that doesn't matter...it's just a starting point.

"But I had this friend John Buck Williams who was Ronnie in Ronnie and the Daytonas.

"I loved his songs but had to say to him I didn't understand what he was saying. He explained his songs were written from the heart but I made my songs up.

"I was hurt by that because I didn't think it was true...until I wrote something which came straight from my heart almost as if it hadn't come from me at all."

That song was Wind beneath My Wings and when Henley explains his usual working method and the genesis of that song, the difference is apparent.

"Songwriting is like a job to me now. When I first went to Nashville I'd go to a bar with a bunch of buddies and we'd sit around and drink beer, exchange ideas and a song would come out. Now it's like nine-to-five. I have an office, make appointments and most of my writing is done by 1 pm.

"Usually two guys get together and go through their notes and say, "I like this idea or phrase," and that might suggest a melody.

Sometimes you just play around on guitar or piano until you come up with something that sounds like a song. I've done it so often it comes easy and is usually finish a song in three or four hours."

Henley, like most of his songwriting contemporaries, keeps notebooks full of overheard phrases, half –formed idea and images...and it was on in one of those that the first scribbled the words "you are the wind beneath my wings" 10 years before he finally wrote the song.

"One day it just came out. I was walking past Jeff Silbar's office [who receives co-credit on the song] and he was just strumming his guitar after work.

"He strummed a chord that just went well 'it must have been cold there in my shadow' and I stopped and asked him to play it again. He just continued to play and I said the melody would go up at this point and in my mind I was writing the song.

"I made up the melody to his chord structure but was taking my son out on a friend's boat in the Gulf of Mexico for his 15th birthday.

"The song kept on going over in my mind and the next night I walked around the docks of Corpus Christi thinking about it. Out in the gulf the next day I asked for a pencil and paper and in 20 minutes wrote the whole lyric on the only paper they had...a brown bag.

"The only thing I changed was the order of the verses. The rest is exactly word for word for word what I originally wrote.

"A friend's wife was there on the boat and I signed the paper bag and said "keep this, it might be worth something. I think it's the best thing I've ever written.' She's now got bag framed and has been offered $10,000 for it."

If the subsequent success of the song allowed him to call himself a songwriter with absolute certainly, it also contains the seeds of a problem for him. As a stylist used to analysing songs he could easily fall into the trap of attempting to mimic his own style.

Henley consciously avoids writing anything similar and recognised the folly of trying to compete with yourself. If anyone asks for another Wind beneath My Wings he simply says he is all out of wind and wing ideas.

"It has limited my vocabulary, I can't use the word "hero" any more in a song."

Henley says that as a writer he responds to given challenges. The Randy Travis hit was "the most country thing I had ever written" and was so country that during the taping of the demonstration record for Travis he was constantly laughing at how funny it was.

He put his name forward for writing a new American national anthem when that was mooted some years back and just last year did an album with onetime disco diva donna Summer. It included a rap section.

"My children love me for that one. I don't like rap and always said I would never write a rap song but it was a challenge so I did it. That was one of the few musical idioms I hadn't written in so I studied New York street phrases just like an actor studying for a part.

"Pop and country both have different ways of saying things so you have to just learn those languages and break them like a code.'

With the multimillion selling success of Wind Beneath My Wings, Henley – who is a self-confessed goal-setter – is now looking to the movies and aiming for an Oscar. Beaches made him realise how powerful a tool the movies can be for giving a song wider currency.

After a song is written he demos it, using singers whose voices match the artist he might wish to pitch the work to. He doesn't sing himself because his normal singing voice is "very black" according to his blood brother.

Through 20 years of living in Nashville with offices on the famous Music Row strip of writing and publishing songs, Henley has built a series of personal contacts and now has access to specific artists through his own publishers and attorneys.

It has been through these agencies he has started to pursue the Oscar. He is carrying with him on this detour to New Zealand - after presenting awards at the Tamworth Country Music Festival in Australia – two scripts for his consideration. One of them is The James Dean Story, for which he may write songs.

He hasn't finished reading the script yet but has had a conference call with the producer and see's the director when he gets back to California to explore ideas.

"A title for a song has been suggested but I can't tell you in case someone else takes it. But I would die to do that one. James Dean changed lives – he certainly changed mine. In my house I have a cardboard cut-out of him standing looking out my window. You look and James Dean is standing there looking at you right back.

"I'd also kill to have a part in that movie, just somewhere in the background."

Before that, however, there are the two weeks in Hawaii writing something for the Girl Scouts who have taken Wind beneath My Wings as their theme song.

"I think we are going to work on an album...but writing children's songs is the hardest challenge. You have to say something at this entertaining and educational and won't say something that could push them in a particular direction.

"I wrote one for the Sesame Street movie which was sung by Bert and Ernie. It was called Up in the Air, but when they came to cut the film it was edited out. That was one of my favourite songs and I was thrilled to be asked to do it.

"That film also had one of the greatest every songs, The Rainbow Connection which was written by a songwriter I admire, Paul Williams."

Henley is enthusiastic in his praise for other writers and notes a few of his favourites. First on his list is Paul Simon, "the most brilliant songwriter who has ever lived, ever will probably. Most songwriters feel that way about him."

The late Roger Miller, and Willie Nelson, who writes very little these days, are others he admires, as is Dolly Parton who wrote I Will Always Love You which Whitney Houston has now turned into a hit...again via a film, The Bodyguard.

"Naturally I'm a great admirer of those songwriters like Gershwin...but Willie Nelson and Rodger Miller invented what I call conversational lyrics, two people talking like 'well, hello there...it's been a long time.'

"That's what got me writing, although my first songs were word pictures and poetry. But studying their lyrics I learned everyone could understand those songs."

"I used to think it was so important that everyone understood what I meant. But what I learned from Wind Beneath My Wings was that people think they understand it. It doesn't matter if they do or not – but if it touches something in their soul as it did me, that's important.

"If I had collected what people have told me Wind Beneath My Wings is about I'd have a book. And I've never met two people who've told me the same story. But I have met many people who've said the first time they heard it was when they were driving and had to pullover to listen to it.

"People have told me I wrote it about John Lennon, Robert Kennedy, John F. Kennedy, and Martin Luther King...whoever their hero was.

Then Bette Midler made it into a friendship song for Beaches.

"They tell me at Warner Brothers [publishing] that it is played at funerals, weddings, sports events, graduation, marriages...everywhere, because it is so non-gender. I wish I'd known that when I was writing it.

"It only ever meant to one thing to me and I had no idea it could mean all these other things

"I wrote it about a woman I loved."