Graham Reid | | 2 min read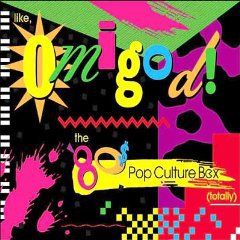 The Eighties was probably no more different or diverse than any other decade, but it does seem weird on reflection: Ronald Reagan and the Rubik Cube; the arrival of CDs, CNN and MTV; personal computers and ghetto blasters; Olivia Newton-John and John Travolta; Ozzy eating a bat and suave Duran Duran; cocaine and Jane Fonda's workout videos; Thriller; the departure of John Lennon, Bob Marley, Marvin Gaye and MASH; Margaret Thatcher (again) and Cabbage Patch Dolls; Spinal Tap and Michael J Fox as a neo-con kid on Family Ties . . .
Strange times, and sometimes even more strange music: Thomas Dolby's She Blinded Me With Science or Prince's sultry sleaze? Country-folk Bruce Springsteen or funk Sheila E? Wang Chun or Kajagoogoo? Synth-pop or hip-hop?
Frankie say "huh?"
This seven CD set with a booklet (notes on each song, a timeline of, mainly American, events) grapples heroically with that diversity, but over the long haul -- and believe me you with New Edition, Ghostbusters and Kenny Loggins one after another it can feel very long -- ultimately fails.
The big names (Prince, Madonna, Springsteen) were never going to make their catalogue available so that isn't the failing. It is that some of the music has dated bady, and this being so American in its thrust means you get the likes of The Fixx, Scandal, Bob and Doug McKenzie (who?) and The Afternoon Delights there to spoil the flow between terrific (if synth-heavy) hits by the likes of Duran Duran, ABC, Soft Cell and the Human League.
And being so American it tells us that Gary Numan was a one-hit wonder (Cars) which rather denies the international impact of Are Friends Electric? if nothing else.
So this collection -- 142 songs -- errs to pop and marginalises hip-hop (only Run DMC with Walk This Way and Kurtis Blow's The Breaks).
All that said there is much shameless fun to be had -- although Toni Basil's Mickey (Lena Lovich made easy for pop kids?) can stick in your head like an unwelcome guest for days.
So what's to like?
Devo (Whip It), Blondie (Call Me), Billy Idol (Dancing with Myself), Cyndi Lauper (Girls Just Want to Have Fun), Georgia Satellites (Keep Your Hands to Yourself), the Dream Academy (Life in a Nothern Town), the Pointer Sisters (So Excited), Frank Zappa (don't get so excited, it's Valley Girl), Kim Carnes (Betty Davis Eyes) . . .
To get these however you do have to get past a lot of MOR stadium rock (REO Speedwagon, Kansas, Toto, Loverboy); oddities like the themes to Hill Street Blues (great) and Greatest American Hero (the opposite); some lightweight club music (Melissa Manchester, Don Johnson) and Bobby McFerrin's inane Don't Worry Be Happy.
So if this was the Eighties as heard on American pop radio you can see why people might have been glad to leave the decade where "greed is good".
This was the pop side of the Eighties.
You can look elsewhere (I recommend Left of the Dial: Dispatches from the 80's Underground, college radio rock) as an alternative.
That was more my kind of Eighties -- the Jam, REM, Echo and the Bunnymen, Meat Puppets, Joy Division etc.
Although I still have a strange affection for Bertie Higgin's Key Largo, John Waites' Missing You, the Bangles' Walk Like an Egyptian, Rick James' Superfreak . . .