Graham Reid | | 4 min read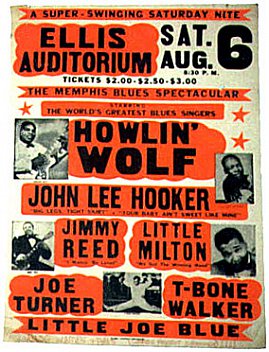 Here follows a broad outline of the growth and development of rhythm and blues, courtesy of Rhythm and Blues Records in the UK, a company which specialises in this music.
PRE 1910
1877 Invention of the Phonograph

1883 Racist coon songs introduced into vaudeville and burlesque

1896 Jim Crow Segregation laws

1897 World's first radio station on the Isle of Wight

1890s Popularization of the cake walk dance

1908 Introduction of double-sided gramophone records

1910 -1920

Black Diaspora from the south

1912 1st blues song published - W.C. Handy's Memphis Blues

1914 The foxtrot - danced with ragtime accompaniment

1917 Closure of Storyville - musicians move from New Orleans to Chicago & New York

1919 Prohibition Act

1919 Victor & Columbia monopoly on record production broken

THE TWENTIES
1920 1st American Radio Station

1921 Crazy Blues by Mamie Smith

1922-7 Boom in sales of radios

1923 Charleston dance premiered

1925 Introduction of the electrical recording process

1925 Standardisation of speed of disc recording to 78rpm

1925-30 Standardization of form of the Blues into 8 or 12 bar chorus

1926-32 Okeh Records Race Series

1927 Lindy-hop introduced leading to the jitterbug and jive

THE THIRTIES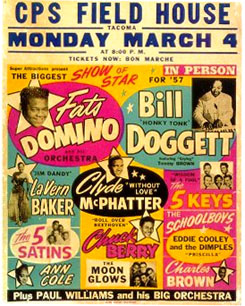 1931 Invention of the Microphone

1932-42 Bluebird Records

1933 Electrification of Tennessee Valley

1933 Repeal of Prohibition Act

1935 Rockola mass-production of Jukeboxes

1938 First recording of the electric guitar

1938 From Spirituals To Swing Concerts

THE FORTIES
1940-5 Decca Sepia series

1941 First Bebop Sessions

1942 AFM Musicians strike

1942 Billboard Harlem Hit Parade

1942 Savoy Records

1942 US entry into Second World War

1944 Louis Jordan G.I.Jive #1 in pop charts

1944 King Records

1945 End of Second World War

1946 First mass-produced television sets

1948 WDIA Memphis - first black radio station

1948 Columbia unveils 33rpm microgroove album

1949 Billboard Rhythm & Blues Chart

1949 RCA introduces 45rpm vinyl record

THE FIFTIES
1950 Introduction of 45rpm Jukebox.

1950 Sun Records

1952 Whites start picking up transmissions from black radio

1954 Mambo craze in America

1954 July Chords Sh-boom #5 in pop charts

1954 August Bill Haley Shake Rattle & Roll # 7 in pop charts

1954 December Alan Freed's Rock'n'Roll Show

1955 Rosa Parks & birth of civil rights movement

1955 1st hits for Bo Diddley & Chuck Berry

1956 1st hits for James Brown & Elvis Presley

1958 1st stereo record release

THE SIXTIES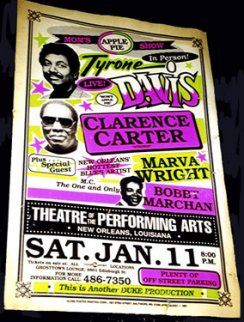 1963 Martin Luther King's March on Washington

1963 Billboard suspends R&B chart

1963 1st hit for Otis Redding

1963 1st hit for Motown writers Holland/Dozier/Holland

1964 Civil Rights Act

1964 Beatles 1st hit in USA

1965 Rolling Stones force Shindig to include Howlin' Wolf on their TV special
This handsome poster below is available in A1 size from Rhythm and Blues Records here. Other posters on this page come from here.