Graham Reid | | 5 min read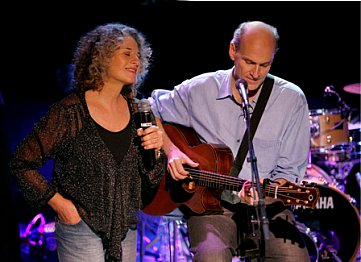 Carole King and James Taylor hardly need an introduction. For 40 years -- more in King's case, she started writing the music for Gerry Goffin's lyrics in the early 60s -- their songs and lives have been public property.

No classic hits station (or student flat in the early 70s) could be without a copy of Taylor's Sweet Baby James (1970) or Kings' Tapestry of the following year, the albums which kicked off their solo careers.

At a time when Jimi Hendrix and Led Zeppelin were stomping across the airwaves, the introspective soft-rock of Taylor and King touched a chord and gave impetus to the singer-songwriter movement out of sunny California.

They appeared together at the Troubadour in Los Angeles in 69 and ever since their careers have been loosely connected.

King played piano on Sweet Baby James and Taylor covered King's You Got A Friend for his 71 album Mud Slide Slim.
James Taylor's Sweet Baby James album landed him on the cover of Time in March 71 with the subtitle "The New Rock: Bittersweet and Low" and he was credited with the "cooling of America". In January he had filled three very different venues in New York: the rock-oriented Fillmore East, the plush Lincoln Centre and the stadium-sized Madison Square Garden.

From this distance -- both of them with long careers, Grammy awards (five for Taylor, four for King) and membership of the Rock and Roll Hall of Fame -- it is hard to imagine them as young and hesitantly stepping into high profile solo careers.

"I wasn't prepared at all," says Taylor, now 61. "It is one of the challenges [of fame] because it's the thing you are hoping for, that you can make a living making music.

"But something which starts as personally and privately as our type of music and then taking it to the public is always a wrenching transition. As wonderful as it is, and you have to deal with that."

King (67) was a more confident: she had spent years with Goffin in the song writing factory at 1650 Broadway ("not the Brill Building" she notes, which denies much previously published information) and had done some solo work. The arrival of the Beatles who wrote and sang their own songs changed popular music and there was a shift away from songwriters for hire.

She credits former husband Goffin (who wrote songs covered by Little Eva, the Crystals, The Animals and Aretha Franklin) for giving her confidence and providing "the model for the lyrics I would later write on my own".

"And James. I was very influenced by James when we started to work together."

If these seem polite platitudes there's a reason. This conference call is a tightly monitored 15 minutes -- which after a few pleasantries leaves less than seven minutes with each to discuss more than four decades in music, films and social activism.

And before being connected I am asked by someone from their agency if I am aware of "the approved topics".

Given their lives, loves and political opinions have been widely publicised -- Taylor's in an deep biography by the late editor of Billboard Timothy White -- this seems peculiar.

I say I hardly have time to speak about anything let alone something which might be mildly controversial. It's an interesting measure of how manufactured and manipulative the music industry is these days. But you do wonder why public people in their 60s require such constraints.

We are connected -- he in Massachusetts, she in Malibu -- and after some preliminaries King is businesslike ("So how can we help you, Graham?"). Taylor thinks about the questions before answering. However a delay on the line means we are both sometimes speaking over each other.

On occasion we get into that, "Sorry, you were saying?" routine. It is a frustrating interview on all fronts.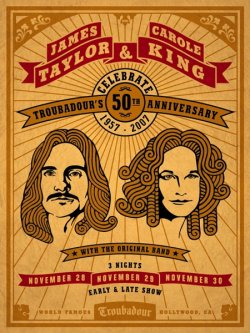 Much of their reason for touring has already been canvassed: they played a tribute to the Troubadour this year, enjoyed it, got the original band back together, decided to take their act on the road playing somewhat larger rooms than the tiny Troub . . .

Taylor: "This has been one of the things we've been working on. Our music is relatively intimate and works best in that context and that's a challenge. That's always something we are dealing with in larger places, how to bring people in close to have that personal touch.

"But we've gotten pretty good at it."

Today CD sales have plummeted for artists of Taylor and King's generation (sales rise after live shows and merchandising is a tidy earner) and both concede the industry has changed markedly. Both recently released albums through Starbucks' Hear Music imprint.

"The best thing for me these days," says Taylor "is not to sign to a record label and sit with them for 10 years. That model has gone and basically I look around for who to partner up with for any particular project I've got.

"For a couple of records Hear Music seemed like the place to be. But I have no idea what the next home I will find for my next project will be. That's wide open and I like it that way."

"James and I are like-minded," says King, "in that we want to go to our fans as directly as possible. We think that doing it through our websites is probably a good model for commercial reasons, and also because we want as few people as possible between us and our fans."

As musicians whose song writing is often informed by the personal, it's fair to ask if misery is the handmaiden of creativity as some believe. Can happy people make great art?

Taylor: "I do think some songs come out of hardship and are remedial and therapeutic, but there are celebratory songs that come out of a sense of well-being or a place of gratitude. It doesn't have to be misery."

King laughs: "There are people who think they need to go out of the way to be unhappy so they can be more creative. But life throws you enough curves that you can write out of misery without looking for it.

"I've written out of both kinds. But I certainly strive for happiness in my life and believe I can write really good songs from wherever I am. Most of the time that is a place of joy and gratitude."