Graham Reid | | 7 min read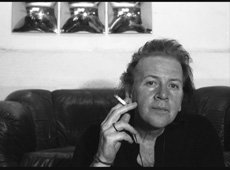 There were always a couple of good reasons for liking the Saints, Brisbane's punk-to-pop finest who were fronted by sole constant Chris Bailey.

The first was Bailey running intellectual rings around rock show host Dick Driver on national television. The other was a great song.

What that song was came down to taste.

Maybe it was their first hit from '77, a piece of Buzzcocks/Ramones period-piece thrash called (I'm) Stranded. Or maybe their bitter observations of their hometown in Brisbane (Security City) from the following year, or the spare story'n'six strings jangle of Let's Pretend. Or the swirly rock with Bonanza guitars of In Mirror.

Or Paradise (see clip below), their blissful melancholy ballad of the kind Mick and Keith used to write around their Waiting On a Friend period.

Or maybe it was their brutal duffing up of Lipstick on Your Collar?
Yes, the Saints did it all . .. and with a revolving-door membership policy which has seen something like 30 ex-Saints (including Ed Kuepper, jazz saxophonist Dale Barlow) wander away from the Bailey experience.

And now Bailey has walked away from the band he founded in Brisbane's working class suburbs.

From a hotel room in Paris where he is working on songs with Johnette Napolitano (of Concrete Blonde) he's happy to talk about his new solo album, 54 Days at Sea (recorded in his adopted home of Malmo, Sweden, with a band which includes Brazilian musicians) but equally comfortable with reflecting on the Saints years, recently gathered on two Raven discs, Scarce Saints and Songs of Salvation 1976-88.

"That first Raven collection is shit if memory serves me correctly and was done without my knowledge," he says in beautifully modulated tones and with a rich laugh.

"I only ever listened to it once and thought, 'This guy [Ravens Glenn A. Baker] is charging money for this?' But I'm actually quite proud of the Saints.

"When they were good they were a pretty terrific rock band in the classic sense and I liked the way we managed to maintain a little of the non-conformist attitude when there was the attitude that we should conform.

"And it's funny, someone asked me the other day if I'd ever do another Saints record . . I don't remember ever formally disbanding the band, because we used to do that every other week. So it doesn't seem particularly relevant to me at this time, but at some point, if I ever get senile and nostalgic, who knows?

"One of the things I've enjoyed over the past couple of years is being a free agent. The Saints were pretty fluid in membership but it still felt like a rock band.

"One of the advantages of being a Solo Artist, as it were, is that, while in my real life I try to be monogamous, when it comes to music I'm a total slut and like to sleep around. And I can duck off and write songs with others like Johnette - or pretend to be a thespian from time to time."

That last reference is to his part as the Pope in an Australian rock opera, The Prophets of Doom. ("There's a sex scene, so that'll be interesting, The papacy, of course, has a long tradition of getting more groupies than most rock singers and being a lapsed Catholic, I'm some sort of authority on this.")

But papal and Saintly matters aside, what is engaging Bailey at present is working with the Salazar brothers, the Brazilian musicians whose pan flutes he heard at a street festival in Malmo and with whom he plays on 54 Days at Sea, a collection of earthy songs which, as Rolling Stone said, sound like latter-day Saints material but sway between Bolivian folk and the nobler traditions of Australian pub rock. And with a curiously Celtic feel?

"Exactly. When I first met Victor and Oscar [Salazar], verbal communication wasn't at a premium because we spoke different languages. But one of the first things I said to them was that it sounded like Irish music, which they quite liked.

"I think there's a commonality about folk music and if you think about it, the north-west of Spain has Celtic connections and that has had some kind of influence because Brazil was heavily raped by Portuguese."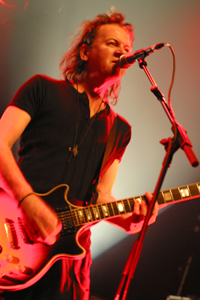 He notes the similarity in chordal structures between Celtic music, Bolivian folk and "even in Swedish and Eastern European folk." But the thing he didn't want to do on 54 Days at Sea was to be the white guy who goes to a less dominant culture and rips it off.

"To me this sounds like a rock record and you don't realise that it's pan flutes taking the melody line which might more traditionally have been done by horns. The record was first released in Sweden and we got this snotty review where someone said I'd gone soft and pan flutes were associated with K-Tel coffee table albums, which I thought was just a little insulting to Latin American culture . . . and like saying a violin only belongs in a symphony orchestra. But that's rock critics for you - some are pretty stupid."

And as Dick Driver discovered, rock journalists take on the articulate, witty Bailey at their peril. He is a man who doesn't suffer fools at all, let alone gladly, and a conversation with him ranges across the effect of Sweden floating its currency last year, the Coca-Cola-isation of rock ("it's depressing that the moist successful band around this summer is Primal Scream. That's Showaddywaddy," he snorts) and the political climate in his adopted homeland.

Politics has always been a passion of this avowed socialist but he speaks fondly of the conservative nature of Sweden )"Lenin said if the Swedes were going to have a revolution they'd probably go to the police station to ask permission first - and that's very accurate") and the advantage of living in Malmo is that Copenhagen in Denmark is a 25-minute boat trip away.

"Copenhagen is a fabulous city and whereas Sweden is quite conservative and Protestant, all I have to do is jump the boat and I'm out of it. Malmo only has about 250,000 people and it's as boring as bat shit.

"But I'm a songwriter, so it's easy to focus on my work without distraction. And it's exciting to jump on the ferry. It's like 'I'm going somewhere!' "

Bailey has been going somewhere all his life, however. He was born in Kenya when his parents were in transit from Ireland to the suburban wasteland of Brisbane's sprawling western suburb of Inala, and discovered rock'n'roll as a teenager. He left hot-wired Holdens behind for life on the road with his Saints.

And, as befits the son of an IRA supporter, he was politically alert at an early age. Right from the start, the Saints played benefit gigs for the Communist Party.

Then Bailey put the band on the road to the UK, where they perversely stood out from the rest of the ratpack of punks by refusing to conform to the obligatory short-haired look, the band broke up, reformed, probably repeated that a dozen times and yet always Bailey kept something called the Saints going.

The albums piled up, the music shifting from three-chord thrash to reveal Baileys considerable melodic gifts. The acoustic guitars came in, the records never sold as many as they deserved, and Bailey remained a cult hero. He recorded in London and New York, dumped on American corporate capitalism between songs on an MTV special, honed his humour sharper but somewhere along the way mellowed without compromise.

The wicked wit is still there, the interest in Buddhism offering a modesty to counterbalance the ferocious intellect. And now he's in Malmo, Paris and a Sydney rock opera before going to Brazil to play at Indian festivals with his new band which includes those Salazar brothers. A Saint no more . . . and no regrets.

"I wouldn't trade in my rather dodgy little career," he says in that powerful, almost Queen's English voice. "In terms of what a working class Irish Catholic immigrant to the New World could expect, rock'n'roll hasn't been that unkind to me. I doubt if I had been a factory worker I would have become the sophisticated, jet-setting world traveller I have become.

"There have been some pretty positive perks and as a form of expression, if you had asked me at 20 if I would still find rock'n'roll interesting at 37, I would have probably said no. But the older I get, the more broad the possibilities seem.

"Rock'n'roll is useful and exciting and it's fucking music and all those arrogant teenage things. But the way I approach it, and this is without sounding egocentric, it doesn't have to be dumb. There are a lot of thing you can do with the text to make it interesting.

"I was born into that generation of beat music, so I find it a little more entertaining than poetry. It still works for me -- turn out the lights, open a bottle of wine. Rock music is cinematic and a transcendental experience. Those three chords -- it's a Holy Thing.

"But let's not continue with this," laughs this one-time Saint and soon-to-be-Pope. "I feel my papal bull coming on!"