Graham Reid | | 6 min read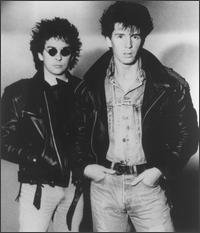 The rock music thing used to be quite straightforward. A few people got together, practiced a few covers, wrote some original material and the band honed its act in pubs and clubs and on the road.

Somewhere down the line a record company appeared and the band made records.

These days that process can be reversed.

Noel Crombie of Schnell Fenster talks of journalists being flown from Britain to Melbourne to see the band - who have already recorded their debut album -- when they appear live for the first time.

And recently the two members of Blue Mercedes buzzed through Auckland to promote their debut album and perform a couple of songs at a nightclub - with backing tapes.

Then this week, another Brit-pop male duo, Climie Fisher, stopped off in the city briefly as part of an almost continuous round of album promotion which has taken them to the States, Europe, Japan, Australia and Hong Kong.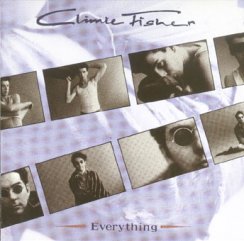 And with a brace of intelligent pop singles from their Everything album charting around the world, the promo push is to continue for some time yet.

It's a necessary evil, acknowledge Simon Climie and Rob Fisher - who have yet to perform live as Climie Fisher - as they concede they are another band in the male pop duo style.

"Yes, there are a lot about," says Fisher, "but we make the analogy that machines make it easier to create a whole sound. The Beatles and Stones would have been duos because the main force came out of two people and the rest were backing musicians.

"The difference is nowadays record companies don't tend to sign backing musicians."

"The duo thing began about l980." says Climie, "when synthesizers and drum machines were readily available. Once you can create the whole sound exactly to your liking it's very difficult to go back to the band situation because you lose so much control."

Fisher says they are keen to get out and play live -- if for no other reason than the press would give them a hard time if they didn't, he jokes -- and it's something they are familiar with and enjoy doing In fact, Climie Fisher are something different from run-of-the-mill studio popsters or record company-created artists as the finely honed pop of their singles Love Changes Everything, Rise to the Occasion and I Won't Bleed for You all show.

Fisher was a member of the band Naked Eyes who had a couple of top 10 singles in the States before he returned to Britain to do session work with Billy Ocean, the Communards and the Cult. He also worked with Peter Gabriel.

Climie has written songs which have been recorded by Roger Daltrey, Leo Sayer and Jeff Beck, and worked with Scritti Politti. His song I Knew You Were Waiting went to number one worldwide for George Michael and Aretha Franklin.

That collective experience has been translated into the singles-packed album which owes its strengths to Climie's distinctive vocals, an ear for a good hook in a song and months of labouring over their own l6-track home studio.

"There are frustrations working in the background of sessions on many projects," says Climie. "You know you could improve melodies, so we've been quite desperate to get our own mark on things.

"Our music is a fusion of styles and I love all that late Beatles and Motown stuff plus the best of everything since. But you've got to notice all that from an observational point of view."

He cites a recent Brit-pop male duo who "think they're brilliant because they've got 16-year-olds screaming at them" and says in the end it all comes down to the strength of the songs.

Working with Scritti Politti, a band who occupy the same highly crafted lightly funky area as they do, was "informative and, publicity-wise, very valuable," says Clime.

"But Scritti Politti can be a bit of a muso's band. Green [Gartside of Scritti Politti] is more paranoid than us and he'd tell you that as well.

"He reached a certain point and was paranoid he couldn't get any better -- and he did. Now he's even more paranoid. But their stuff is a little one-dimensional because they're too scared to have genuine input from other people. We welcome it."

Although Everything credits few musicians outside of Climie and Fisher those who do get a name check have had considerable input. A key figure is Nashville songwriter Dennis Morgan who co-wrote five of the 10 tracts and who has had "something like 200 songs covered in the country field but wanted to get out of that," according to Climie.

The song Rise to the Occasion also features the vocal backing of the black-British trio View from a Hill who add a breathy soulful backdrop.

"They are contemporaries of ours who signed to EMI at the same time," says Fisher. "They are a soft soul band."

"We adored their song No Conversation," says Climie, "so when we did Rise we thought we'd get them in to get the some mood into it. They popped over to our studio and did it and it worked out so well we used that one for the record."

The album also boasts production by Steve Lillywhite on one side and Steven Hague on the other. A skeleton-thin dance remix of the ballad Rise came courtesy of Phil Harding of the PWL Studios.

"We wanted a good dance version as it was going to be the next single in England because it's very difficult to get a ballad away so we got Phil to do a remix for clubs." says Fisher.

"When we first heard it we thought he was mental -- or a genius. After we heard the basics it look us a couple of minutes to adjust, but on the radio it is compressed and doesn't sound as empty as it does on tape."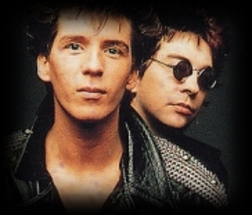 But although Climie Fisher have reasons to be cheerful about the success of their singles and can point to a diverse poppy album which doesn't insult the intelligence, the promo circuit they have to undertake is preventing them from going out live or getting back into the studio.

But their name will still be out there.

Australian singer Kate Ceberano has recorded one of their song, Even the Mighty Fall, and so have Five Star.

But as different singles keep happening for them they have to catch the next flight and off.

They may not have come up the old way of touring and recording, but they've got there. And there's always a place for good radio pop.

Ask Rod Stewart.

When they wrote Love Changes Everything they had him in mind. He turned it down.

He's kicking himself now apparently.
Two years on from this interview Climie Fisher broke up after a second, but less successful album. Simon Climie went into production work and co-writing with Eric Clapton, Rob Fisher also got into production and worked with Clapton. They were on his least impressive albums of the Eighties.
Rob Fisher died of complications after an operation in '99. He was 42.