Graham Reid | | 8 min read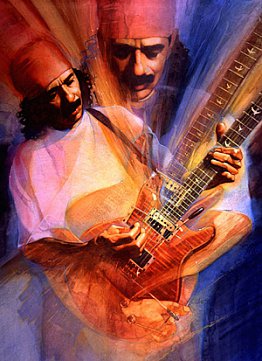 Carlos Santana is either a philosopher or a flake. His conversation is littered with high-minded thinking, but also slews into new age psychobabble which can be cringe-inducing and sounds charmingly naive. This is a man whose favourite colour is a rainbow and thinks MTV should play Stravinsky, but that's another story.
This is 55-year-old Grammy-magnet Carlos on current affairs: "See, I turn off the television and the radio because I don't want to hear on every channel they have terror or panic or anger or fear. As soon as I turn it off I can hear birds chirping, I can feel butterflies, I can feel the sun on my skin.

"If I just turn off the negative stuff then I can feel that God is in charge -- and not Bush or Saddam Hussein or bin Laden. I'm very practical: my profession deals with emanating and projecting positive energy. I can't project positive energy if I watch CNN all the time.

"It's not that I am burying my head in the sand. On the contrary, I am a warrior just as much as a Marine or Green Beret, but I choose words and notes instead of bullets. Instead of bazookas, songs. Instead of tanks and missiles, compositions."

Depending on how you look through the prism at that, it does make sense, and Santana says it with persuasive passion. He may be a musician, but he also comes across as a motivational speaker who won his mandate during the love-vibe of San Francisco in the late 60s when people wore flowers in their hair.

Most artists of his generation are quaint relics, have been through rehab and are overseeing the remastered reissue of their old albums. Santana, who has been married to Deborah for 30 years and runs a non-profit charitable organisation, might have been one of them too if it weren't for two things: relentless touring and a man called Clive Davis.

The touring kept his name alive and Davis -- one of the record industry's most powerful players who signed Santana to Columbia Records in the late 60s -- was helming his Arista label a few years ago when he saw Santana play at Radio City Music Hall.

Davis said he felt that someone with Santana's virtuosity could re-emerge if they made a radio-friendly album together.

Davis' plan was for Santana to do radio-friendly Latin-African rhythms in the tradition of (his earlier hits) Oye Como Va and Black Magic Woman and Evil Ways, on half of the album.

"And I would be entrusted with the other half, which led to the [songs] Smooth and Maria, Maria, and the Dave Matthews and Everlast cuts that became the hallmarks of this all-time album."

Through Davis, Santana was paired with some of the hippest young players on the planet, including the Fugees' Wyclef Jean and Lauryn Hill, Matchbox 20's Rob Thomas, Everlast, Eagle-Eye Cherry and Matthews.

The resulting album, co-produced by Davis and Santana, was the mega-selling Supernatural which was nominated for 11 Grammies at the awards three years ago when they walked off with, among others, best album and best rock album.
Whether it was the best album of '99 is down to taste, but it was marketable and some of that Grammy gleam doubtless belonged to Davis in recognition for his decades in the business, and the fact he was at the time locked in a power struggle for control of Arista with the German parent company.

Davis took three awards (for production on Supernatural) and there was no denying Santana was back selling albums, so they repeated the formula for last year's Shaman which included guests such as Seal, Placido Domingo, Dido, Macy Gray and Michelle Branch.

Shaman proved a lesser Supernatural -- it only picked up one Grammy for The Power of Love with Branch -- but it consolidated the return of Santana.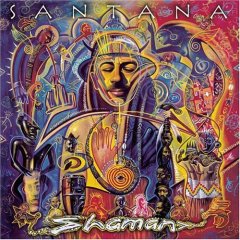 Ironically, these two albums have seen him all over MTV, an idiom he has frequently derided for its vacuousness. He doesn't even think it's about music.

Seven years ago on the eve of his New Zealand concerts he slated the channel and said little of the music it played had lasting qualities -- not like that of his musical heroes, such as jazz saxophonist John Coltrane, Jimi Hendrix, Marvin Gaye and Miles Davis.

Of course he would say that. His music was being ignored by MTV then.

But to give the man his due, Santana is consistent in his view despite being all over the channel these past few years and the albums deliberately aimed in that direction.

"I still feel MTV has nothing to do with music, especially in America. They show dysfunctional young people with their Real TV thing, people crying about nothing. If they ever got out of America and went to Tijuana or India or Africa without a passport they'd have something to cry about.

"To me they are silver spoon-sucking sissies. I would like to see MTV actually present music. Coltrane's music or Stravinsky's music, just real music. I'm very grateful that VH1 and MTV after a while decided to play our music, but we can all of us on this planet raise the bar."

Santana says neither Rob Thomas nor Wyclef Jean were played much on MTV before their hits with him came along. That's debatable, but the songs became so big the channel was forced to play them, although it wasn't easy to get their clips shown.

"It was a bloody war," he laughs "but once they realised the [Supernatural] CD was taking off it was okay. It's like anything: Metallica, Led Zeppelin, Nirvana, Santana ... All these bands were bigger than radio and MTV and Rolling Stone, so after a while they have to come to us because we draw such big crowds."

Santana has always drawn big crowds. Through more than 40 different band line-ups in the past 33 years, his music has been bigger than the band that bears his name.

These days he tours with a line-up which includes bassist Benny Rietveld (who played with Miles Davis at the St James), respected jazz drummer Dennis Chambers, timbales player Karl Perazzo who has worked with Sheila E and Prince, and Raul Rekow, who has been with him since 1976. There are two singers and a horn section, the vocalists standing in for those guests on his last two albums.

"We still play yesterday, today and tomorrow -- by tomorrow I mean songs we haven't recorded yet. But of course because of the dimensions of Supernatural we do play a lot of those songs, and from Shaman. But we still keep it very musical, there's no smoke-bombs or bikinis, no lip-synching. It's still very much just getting down to the music."

Off stage there is another Santana, very different to the one whose aural fingerprint is that pure sustain which is as identifiable as the tone of his musical mentors Miles Davis, Coltrane and Hendrix.

Away from the spotlight his Milagro Foundation pours millions of dollars every year into improving the educational, medical and housing needs of children. The man might speak like a seller of wind chimes, but his heart is practical and he cites as a model the example of Paul Newman's products, where profits go to charities.

"Life and the universe, God, Krishna, Jesus, Buddha, Allah or whatever people want to call it, has rewarded me immensely in many, many ways, not just financially, since I crossed the border from Mexico to San Francisco.

"Here in California, the richest state in the United States, we spend US$4500 ($8130) a student a year, but we spend US$35,000 ($63,254) a year an inmate. So Deborah and I committed to putting more funds into education. There are a lot of institutions that heal people who have sexually molested, raped or abused who need help. I'm happy to tell you there are a lot of people on this planet committed to healing other human beings, promoting a higher education -- and I am happy to be on their planet."

While he says music has more power than politicians ("Kings come and go, but there is only one Beethoven") his role models are people like Desmond Tutu.

He can understand why young people might see Tupac or 50 Cent as heroes -- "everyone needs their Che Guevara, Pancho Villa and revolutionary figures" -- but he preaches peaceful co-existence.

"Because when you kill other people then you become the enemy. When you heal or transform people you are not the enemy, you are the ally. We live in this world and have to fight a war every day, but once you fight with anger you are the enemy. You have to fight with joy, you have to create miracle and alchemy.

"For example, Jesus created wine from water, and if we can inspire people to create a masterpiece of joy in their lives instead of being miserable, then that's good. Most people squirm when you give them a compliment, they never feel worthy of being sacred, holy and divine. They say, 'Oh I can't be that, only Jesus can be that'. That's not true, everybody has holiness, sacredness, the divine and light within them.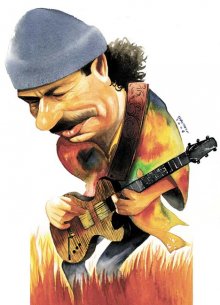 "So my role, beside playing music, is to remind people of their own holiness. It ain't the Pope alone who is holy.

"I don't follow anybody anymore," says the man who was once a devout follower of Sri Chinmoy. "I just follow my heart. I do pray and chant and meditate. If you want to rise high, raise your consciousness. Just throw sandbags out. As [tennis player] Billie Jean King says, 'Don't practise your mistakes'."
This article appeared in the New Zealand Herald, March 15 2003 www.nzherald.co.nz