Graham Reid | | 5 min read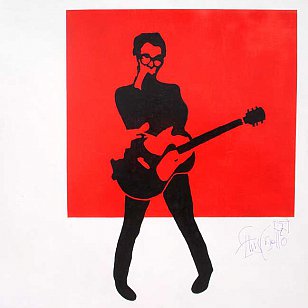 Thirty years on from his spectacular debut '77 album My Aim is True, released at the height of the UK punk era -- Elvis Costello's most recent albums (four in fewer than three years) had been as follows: Il Sogno, a classical album with the London Symphony Orchestra written for a ballet; Piano Jazz with 89-year old jazz pianist Marian McPartland; My Flame Burns Blue, a live album of old hits and jazz standards recorded at the North Sea Jazz festival; and The River in Reverse with New Orleans legend Allen Toussaint.

In the few years prior to those he recorded with avant-guitarist Bill Frisell, classical singer Anne-Sophie von Otter, and an album with modernist avant-saxophonist Jon Harle which seems to belong to no particular genre.

For a man who emerged in those furious years of punk with taut, angry, oblique and short'n'snappy rock songs Costello -- born Declan Patrick MacManus in 1954 -- has come a long way.

But wasn't he always the most musically ambitious artist of his generation?

The mid-price reissue of his first 11 albums -- from My Aim is True, to Blood And Chocolate a little over nine years later -- reminds you just how much.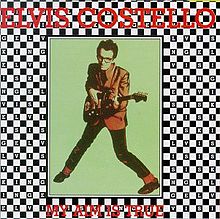 Even on that debut album you can hear echoes of Phil Spector (the handclap'n'echo of No Dancing), touches of country rock (courtesy of the ring-in studio band Clover, on Blame It On Cain, and the gorgeous ballad Alison), 60s Beat-period pop (Red Shoes), and dub reggae (Watching the Detectives).

Then there is a Dylanesque narrative in Waiting For The End of the World -- and his Dylan influence would be openly acknowledged on his second album This Year's Model (only eight months later) in Pump It Up, which draws on Chuck Berry's Too Much Monkey Business and Dylan's Subterranean Homesick Blues for its litany of speak-sing grievances.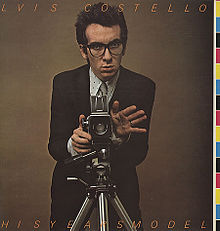 Interesting too that in this early period the man who would later record with Burt Bacharach (Painted From Memory in '98) also sang the Bacharach-Hal David ballad I Just Don't Know What To Do With Myself (which appears on the Live Stiffs album).

Setting aside his lyrical concerns -- there is a dense book in that difficult discussion -- what the first decade of Costello albums illustrates is that such an expansive career was perhaps only possible in the last quarter of the 20th century.

If the punk/new wave era freed many artists from conforming to record companies' expectations then Costello was the one who explored the opportunites the most.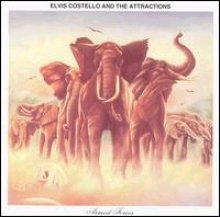 His third album Armed Forces of '79 -- the height of the Rock Against racism period in Britain -- bristled with political rage, but Get Happy! the following year came in a cover which looked like a worn old Stax soul album.

Get Happy! was influenced by black soul acts from the Rev. Al Green through to Motown pop-soul and hard-driving sound of Memphis and Stax.

He covered Sam and Dave's I Can't Stand Up For Falling Down, yet even in this context -- just as he quoted and parodied Cliff Richards' Summer Holiday for The Beat on This Year's Model -- here he refers to the Beatles' From Me To You in Possession, and I Stand Accused is a cover of an old Merseybeats song from the mid 60s.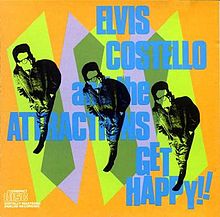 For Costello fans such train-spotting of musical influences was playing catch-up, especially when the following year Costello released two very different albums: the uneven Trust which went from pop ballads to white-knuckle rock (on From A Whisper to A Scream); and Almost Blue in a cover which deliberately evoked a Blue Note jazz album but which was an album of country covers.

Almost Blue kicked in with Hank Williams rockabilly, followed that with Don Gibson's weeper Sweet Dreams and later picked up songs from Gram Parsons, Merle Haggard, George Jones Charlie Rich and others.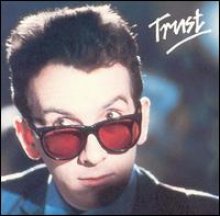 In just four years from his debut Costello had made it clear that his musical reach was wide and deep, and that there would be no turning back.

With his band The Attractions -- put together after his debut and featuring classically trained keyboardist Steve Nieve, the often under-rated drummer Pete Thomas who had done his appprenticeship (like Costello) in pre-punk pub-rock bands, and inventive bassist Bruce Thomas -- Costello continued to carve a wide path through rock, never more so than on the thrilling Imperial Bedroom of '82 where he brought in producer Geoff Emerick (a former Beatles' engineer, replacing Costello's longtime friend Nick Lowe) for an even more musically ambitious collection.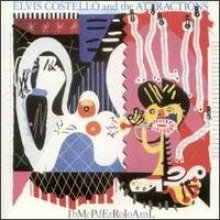 Imperial Bedroom -- and Essential Elsewhere album -- arguably included more classic and distinctive songs than any Costello album since his debut: there are bleak but sometimes sympathetic ballads (Shabby Doll, Long Honeymoon, Kid About It), a howling Dylanesque rocker which emerges from a maelstrom of noise (Man Out Of Time), and he recorded the breathy ballad Almost Blue (which jazz trumpeter Chet Baker adopted as a late-career signature song).

In places the album is orchestrated, in others spare, in yet others it is a straight-up rock'n'roll album.

Subsequent albums in this first decade -- Punch the Clock with its hard-hitting horns and his exceptional Shipbuilding song prompted by the Falklands War; Goodbye Cruel World; King of America, and the raw Blood And Chocolate -- continued to consolidate Costello's musical reputation even after the radio hits stopped coming.

But after Blood and Chocolate he split with the Attractions (they would reunite for Brutal Youth eight years later, by which time Costello had recorded a soundtrack and with the Brodsky Quartet).

If Costello's career has been increasingly diverse since, the albums of first decade form an impressive body of work in which he uncompromisingly pulled numerous influences into the service of his music.

Other than perhaps Paul Weller among his peers -- and the Beatles before him -- it is hard to think of another musican of the rock era who has travelled so far in such a short period and, unlike Weller and Lennon-McCartney, seriously pursued his elusive muses with such conspicious success in the subsequent decades of his long career.

Elvis -- not so much "the King", but more a roving ambassador.
For more of Elvis Costello's career, reviews and an interview go here.