Graham Reid | | 3 min read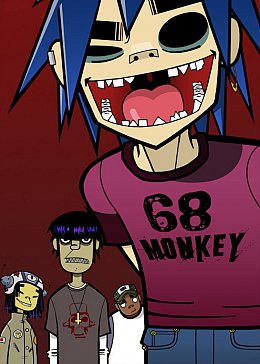 When I met Damon Albarn in London many years ago things were looking good for his band Blur: they'd previously scored a minor hit with There's No Other Way (heavily borrowed from Syd-era Pink Floyd which he cheerfully admitted), it had taken them to America, and their debut album Leisure went to number two on the UK charts.

Their second album Modern Life is Rubbish had just arrived and was steeped in an Englishness that was a banner-waver for Britpop.

Albarn was cocky and articulate. After the interview I said to someone even if Blur didn't go far Albarn certainly would. That Blur knocked out seven albums before the departure of guitarist Graham Coxon was further than I thought (I would have given them four, tops) but their albums were increasingly interesting . . . and these days they are considered an "alternative" rock band rather than the mainstream pop one they were in the early 90s.

Their turning point was their self-titled album of '97 (most bands have a self-titled debut so this was them announcing a rebirth) which was more ragged and alt.rock than the four which preceded it. Blur was closer to American indie rock than the dying end of Britpop (Oasis' last great blast Be Here Now came out later that year but sounded indulgent and bloated).

Blur's 13 (from '99) and Think Tank ('03) saw them moving even further from the axis of the British pop tradition (Beatles/Bowie/Kinks) which Albarn had been championing. They were defiantly different: there were loops and samples, Coxon pursuing the alt.rock direction, Albarn's listening habits gravitating to world music, the lyrics and sound darker . . .

When Coxon quit at the start of Think Tank sessions you knew Albarn would take the opportunity to reinvent himself. He'd already co-founded the imaginary band Gorillaz (their debut sold over eight million copies) with a fluid line-up, and had recorded Mali Music with various African musicians.

For Albarn, Blur had just been the stepping stone into a world where he could explore his own musical interests. That was proven when he hooked up with former Clash bassist Paul Simonon, Gorillaz guitarist Simon Tong and African drummer Tony Allen (of Fela Anikulapo Kuti's Afrobeat outfit) as the band The Good, The Bad and The Queen.

Then he bounced back to more Gorillaz projects: one a stage play based on the Chinese character Monkey, another the multi-media touring project and concept album Demon Days, and this year the all-star concept album/videos for Plastic Beach.

Against the odds, Albarn and Coxon reconciled and Blur headlined at summer festivals in 2009. When I spoke to him Albarn said, "I had all the advantages of the educated, white, middle-class person with a slightly more left-of-centre than conservative background. I had a good musical education and love Kurt Weill, Gershwin, Noel Coward and those people. I was lucky at school because I had a good teacher and my parents were involved in music and theatre . . . I can't write about the depths of misery because I've never felt it.

"In some ways, I'm perhaps disadvantaged in that. Unless something profoundly dark happens to me, I'm never going to reach inside myself, so I have to sing about kitchen sinks."

Along the way his split with Justine Frischmann certainly gave him material for gloomier songs – but that's largely been true: he's had advantages, and used them.

Blur, Gorillaz, Mali Music, The Good The Bad and The Queen . . .

Quite a journey. Everything – and the kitchen sink.

And the big-concept Gorillaz show comes to the Vector Arena in Auckland on December 21, 2010.

BLUR AND BEYOND: THE ALBARN BASICS

Blur, Parklife (1993): A classic Britpop album which celebrates thing English with wit, and songs which stick like a toffee-apple to your Modern Life is Rubbish tee-shirt.

Blur, Blur (1997): Their previous album had been titled The Great Escape, but it was more fitting here as they loosened the ties to Mother England's apron and edged towards US-framed alt.rock.

Blur, 13 (1999): A darker, more dense and demanding Blur but one which rewards even now.

Gorillaz, Gorillaz (2001): The genre-busting debut which hauled in dub, hip-hop, indie rock, Latin sounds – and brought Del tha Funkee Homosapien back from the wilderness. Who could have predicted that?

Gorillaz, Demon Days (2006, DVD): The cartoon band comes to life on stage in Manchester with guests Neneh Cherry, De La Soul, Ike Turner and many others.

The Good, The Bad and The Queen, The Good, The Bad and The Queen (2007): If Gorillaz was Albarn disappearing behind a cartoon character this was the alter-ego enjoying a mashing-up semi-supergroup.

Blur: No Distance Left to Run (2010, DVD): Beautifully shot doco on their reunion with rehearsals, reminiscences and stunning live footage of their resurrection. See here.