Graham Reid | | 8 min read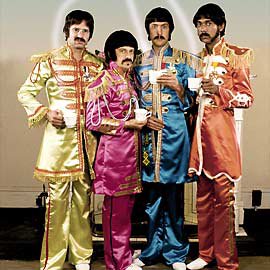 In the Sixties they changed the world -- in 1970 they changed their mind and broke up. They were the Rutles, lovable legends from Liverpool who launched their career with innocent hits such as Hold My Hand. Within two years the cynical Ron Nasty and cheery Dirk McQuickly had penned dozens of enduring classics.

As they matured through films A Hard Days Rut and Ouch!, their music became more complex. Then they took to drinking tea and despite warnings it would lead to stronger things, and hooked up with peculiar characters such as Arthur Sultan, a table-tapping spiritualist.

Finally, during sessions for their Let It Rot album they broke up.

Nasty took up with a performance artist and part-time Nazi Chastity, McQuickly married "a large-breasted biologically accommodating American girl," Stig O'Hara- - after a longtime fascination with all things Indian -- became an airline stewardess with Air India and drummer Barry Wom (always known as the quiet dumb one, started a chain of hair salons).
They all sued each other.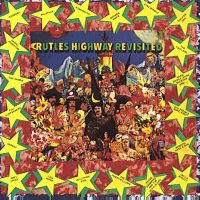 Their passing was mourned by young and old alike; Noel Gallagher of Oasis is a huge fan and some years ago Shonen Knife, King Missile, Daniel Johnston, Galaxie 500 and others lined up for the Rutles Highway Revisited tribute album.

Their remarkable story was told in the television documentary All You Need is Cash, a kind of This is Spinal Tap with a Britpop bent. And in the case of Rutles manager Leggy Mountbatten, very bent.

In their final days, however, they buried tapes of the album they were working on. The lost recordings became know as the Archeology Tapes by fans.

But today - or more correctly, in late '96 – those tapes plus three new songs were finally released, curiously the same day as their old rivals, the Beatles, release the final volume of their own Anthology series.

But then again, there were always a lot of parallels between their two careers.

And the man who could tell their story was Ron Nasty – and a lovely fellow called Neil Innes . .

"Yeah, it has been a long time," says the distinctively nasal and cynical Ron Nasty when we talk about the newly released old songs. "But then again, time is just a construct and without it everything would happen at once.


"After the split I spent 10 years sulking, which was actually a very good time for me. But things change and essentially what happened was Barry's dog uncovered the tapes and one thing lead to another.

"Dirk sadly couldn't join us, he's gone back into comedy. But I'd always kept in touch with Barry. He had to give up his hairdressing after a freak accident with tongs -- but to be more brutal, the beehive hairstyle and teasing in general went out of style so he ended up running a pub, The Cheese and Onion.

"I hadn't seen Stig for 15 years. He got a lust for travel and never stopped playing the music.

"But we're proud of the album, it`s not all material from 1970. We recorded three new songs and some of the material featured [guitarist] Ollie Halsey – the fourth Rutle, if you like -- who died in 92 and we wanted to keep as much of his playing on as possible."

At this point Nasty breaks into an unexpected laugh and suddenly Neil Innes -- the man who wrote all those parodies of Beatles' songs as the Rutles and played Nasty in All You Need is Cash – is speaking.

"It's very hard to keep in character, I'm only an amateur schizophrenic."

Innes - formerly of the Bonzo Dog Doo Dah Band, one-time Rutle and these past 20 years a presenter and writer of award-winning children's television programmes -- is a more interesting character that his Nasty alter-ego anyway.

After he's got the Archeology album promotion out of the way -- "six weeks, I give it!" -- he's thinking of writing a book about it all. "It'll be Rutlemania; A Nasty Experience."

The Rutles - a one-off joke by former Monty Python Eric Idle (Dirk McQuickly) and himself – genuinely did spawn a tribute album to a band that never existed and an album of the television documentary, or if you will "mockumentary".

And he made almost nothing from it.


Despite being a parody and leaning heavily on Beatles riffs (George Harrison not only appeared in the doco but assisted with genuine Beatles footage), the Fab Four's publishers didn't see the joke and threatened to litigate. Innes didn't have the money to fight it and had to sign over all his royalties. In a twist of global economics, Michael Jackson owned the Rutles' publishing rights.

Little wonder Innes says "I think the music industry stinks. The fun part is making the music -- but after that you're dealing with the kind of people that developed mad cow disease. `Let's make it and feed it to cattle]', that kind of thinking."

And that rather awful tribute album? "Sort of a tribute. I'm a tune man myself and you've got to work really hard to take all the tunes out, but they managed."

Innes, who lives on "an ex-farm 90 miles outside London", laughs at the suggestion the Rutles' "reformation" and Archeology album at the time of the Beatles Anthology series is naked opportunism.

"Not quite, thinly veiled I think. But it was really nice meeting up with [former Beach Boy, producer and Rutle Stig O'Hara] Rikki Fataar and [drummer, Ringo surrogate Barry Wom] John Halsey again.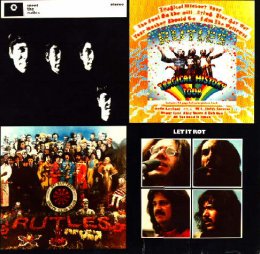 "But it was refreshing to hear the Beatles were emptying their cupboards -- plus you've got all these 50-year-old farts going back on the road, plus all these younger tarts out there claiming to be influenced by the Beatles and the Rutles. And they were."

He tells of Noel Gallagher borrowing heavily -- as only Noel can do -- from one of his Lennonesque non-Rutle hit How Sweet To Be An Idiot and how he made a brief comment in a local paper that he was now reclaiming his tune for the start of Shangri-La, a new Rutles song on Archeology which -- at more than seven minutes -- is a parody of Hey Jude (sing "shangri-la la-la-la").
That comment hit headlines in The Sun which claimed "Innes (51) makes Oasis pay" and produced a figure of £50,000 out of the air. Not a word of truth in any of it.

"I have every sympathy for anyone who's up there for real. The Rutles are really anti-stars. Women loved us because we did our own ironing."

This time out there are -- in another eerie Beatles parallel -- only three Rutles. Eric Idle hasn't climbed back on board. Too busy, Neil?

"No, he was genuinely grumpy. He was invited thrice, thrice he refused the crown. I agree with him that a video sequel is not appropriate, but if people are asking for Rutles songs because of the music then I'm only too happy to provide it."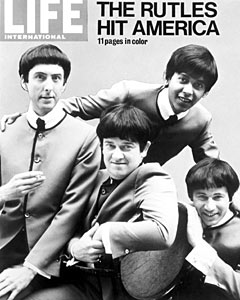 And that's what he has done; 16 Beatlesque songs from the Sgt Peppers sound of Major Happy's Up and Coming Once Upon a Good Time Band through sneering Lennon-styled rockers [Eine Kleine Middle Klasse Musik) and country-edged Ringo tuneless pop hits like Easy Listening written for John Halsey "who makes phrasing and pitching his own!"

"It was funny telling the Rutles story in '78 and pretending the Beatles didn't exist but since 1980 [the year Lennon was shot] I don't want to carry on that pretense. I think we can say, 'yeah, we were part of that but we really are Rutles now' and we clearly acknowledge the Beatles. It would be too tacky to pretend.

"I found it was liberating to choose songs that speak for themselves and acknowledge the inspiration of Beatles. They are my songs in fancy dress really."

And not a little sentimental. The lyrics to Don't Know Why ("we did the best we could, the acid test of fame we withstood") seems to nod affectionately?

No, just a happy ambiguity in song that started life about Charles and Di, it seems. A couple of others on the album came from his one-man show, one dates back to Bonzo days and Unfinished Words -- a kind of Rutles self-referential song in the manner of Lennon's Glass Onion with psychedelic lyrics . . .

"It think a lot of people get fun out of it and I don't mind pretending a bit, one more time. But really I'm perfectly happy with the bucolic lifestyle I have now. I like talking to children. Human beings go downhill after four, people have their sense of fairness curiosity and wonder worn away.

"I've tried to resist it -- and find myself more attuned to four-year olds."

And those of us with a very juvenile sense of humour.