Graham Reid | | 10 min read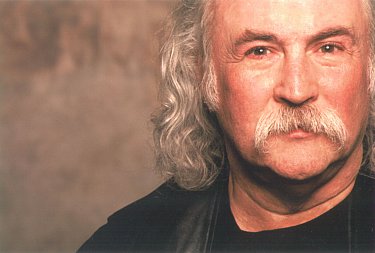 The life of 65-year old David Crosby is an open book. In fact, it is two open books.
In the late 80s Crosby wrote his autobiography Long Time Gone which, in compelling detail, outlined his career from a Greenwich Village folk singer to being a founding member of the Byrds, his friendships with the Beatles and Bob Dylan, being fired from the Byrds and forming Crosby, Still and Nash (whose second live appearance with off-on member Neil Young was at Woodstock), and then his harrowing decline from marijuana and LSD to cocaine and freebasing.
It was a book which felt in places like an open wound, but was courageous in its candour.
Late last year Crosby published the sequel, Since Then: How I Survived Everything and Lived to Tell About It.
That "everything" is quite something: after 15 years of abstaining he took to drugs again; was nearly killed in a motorcycle accident; had liver problems and a transplant; lost most of his money thanks to a dodgy manager; was reunited with his son James whom he'd given up for adoption in 1961; became the sperm donor for Melissa Etheridge and Julie Cypher (they had two Crosby kids now aged 10 and 11); contracted diabetes; was arrested in New York with marijuana and a handgun . . .
The list goes on and typically Crosby -- whom many consider the model for Dennis Hopper's character in Easy Rider -- is unsparing of himself.
You have to compliment the man on his candour, but wonder if being so open comes at a cost.
"Yes, it has a price and also its advantages," he says from his home in California where the Etheridge-Cypher kids, his young son Django, and three dogs are going what he laughingly calls "bonkers"
"I don't get to raise those two but I do get to see them. They are bright and smart and funny. It's a joy because the energy is so completely pure and fun and up, and I didn't imagine this. I thought I'd be done with all of that. The truth is it has brought me much more energy than it calls for, it gives me more than it asks and I love it.
"I see them several times a year, it's very kind of [Etheridge and Cypher] because they have no obligation to include me at all.
"But yes, it does have a price in that your life is out there in front of the world, but it is anyway. And this way I get to at least put the information out there that I think is true and fair.
"It has a great advantage in being able to look at your life and what you did and say, 'Jesus, that was a bad choice I made right there and that's how I got into that other thing?'
"So you make sense of it and learn from it. Then you set it down and walk away. It is very hard to get forward motion in your life if you are carrying too much luggage."
Given the nature of Crosby's private life you can guess he must have semi-trailers full of luggage. Yet Crosby is also -- and this is sometimes forgotten -- an exceptional musician whose harmonies can illuminate a song, and that was what drew him to performing with Stephen Stills and Graham Nash in the late 60s, the former from Buffalo Springfield (which also included Young) and the latter from the British band the Hollies who enjoyed a string of harmony pop hits.

Crosby however has also released acclaimed solo albums: his seminal solo debut of 1971 If I Could Only Remember My Name was singled out by Mojo magazine in early '07 as "the forgotten gem in the CSN&Y canon"; and his just-released three-CD retrospective Voyage has been picking up favourable reviews with Uncut placing it in best of the 2006 reissues.
But when scanning the complex CSN (and Young) discography there is one notably omission. There are Crosby-Nash albums, but no Crosby-Stills album.
Had only Crosby and Nash got together they would have sounded like a stoned Simon and Garfunkel, but with Still's passion for edgy rock'n'roll there was always some flintiness which fuelled their creativity. Even now there is tension between Crosby and Stills which, with his reputation for honesty, Crosby admits.
"That [musical tension] was a good thing, it worked fine and does to this day -- and that's worth it to me to put up with him.
"I'm very good friends with Nash and I love him dearly and have great respect for him. And I care about Steven too because I've been through too much not to. But he and I do disagree about a whole lot of things. It doesn't mean I don't respect him and certainly doesn't mean we can't make music together."
That is a candid admission, does he feel the same?
"He may not be as straight with you about it as I am, but he doesn't deny it."
Which must make for some interesting touring moments, and Crosby admits too that he doesn't like touring -- "that 30th hotel room in a row doesn't look good" -- but lives for the three hours on stage.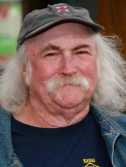 "They are a joy. I'd walk from gig to gig to do that.
"Like Neil, I have tried to cycle myself through as many different ways of doing it because it keeps it fresh and keeps it a joy. If you do it the same thing and just get up and play your hits you turn into the Beach Boys, and that's not good enough.
"In concert any time you hear CSN and CSN&Y there are certain songs you can count on. But if that is not balanced with a whole lot of new stuff that is valid -- and we can do really and that works -- then we're headed in a direction I don't like.
"So I keep doing a lot of new music and so does Neil, and he and I agree on that completely."
So what does Crosby listen to of contemporary music? Not surprisingly it is music cast in the same mould as CSN and the 70s singer-songwriters of their era.
"Lately a whole lot of Nickel Creek, an amazing band and some of the best harmony work of anybody ever, and they are instrumentally delicious and sing like God on a good day.
"I also like Jack Johnson a lot, I like the fact he thought of his own style and having it be such a laid back style and writing such good stuff. He writes really well and he's a nice human being.
"He's not in it to get on the cover of Rolling Stone and that's a great thing, it puts him in my camp. I still love Shawn Colvin, she's a great writer. It's very sophisticated stuff, like Joni Mitchell. There are people who can grasp it and there are people for whom it goes right over their head.
"I don't write so much now. I'm trying, but it comes when it comes and I can't legislate it into being. That's an unfortunate truth, but it is the truth. You have to make a space for it to see if it will happen, but it'll happen of its own accord.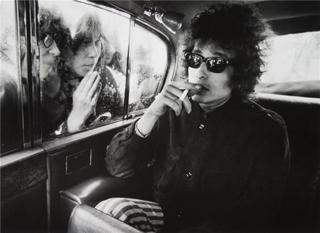 "Dylan used to get up in the morning have a coffee and sit down at the typewriter and work. I wish to hell I had that kind of discipline."
Mention of that old fellow-traveller allows you to ask if he sees any of that old crowd anymore.
"I cross paths with everybody. We're at a benefit or awards show or something. I've seen Bob a couple of times in the last couple of years. I do love running into those people because I admire them all. We're all peripherally aware of what each other is doing. It would be pretty hard to live in the US and not be aware of what [CSN] were doing on that recent tour."
Crosby says last year CS&N were re-invigorated on their Freedom of Speech Tour by being with Young who had written the angry political songs for his Living With War album.
"That was the strength of that tour, songs which say 'let's impeach the president for lying'. They were wonderful and putting those in the context of Ohio, Long Time Gone and For What It's Worth just really worked.
"That tour was fun, we pissed off Republicans a lot. There were people who stomped out saying, 'You can't say that about George'. But the point is, we can.
"We don't have to live with the state of our nation as it stands today. We can fight it, and we have and we do and we will. That's part of what we were doing on that tour.
"This is a great country -- in the conception of it. The ideas in the Constitution and the Bill of Rights and the Declaration of Independence are fantastic, the understanding of how humans work is unbelievably acute, and it's the best defence of freedom that has ever taken place.
"But what's happened to it here is that corporations -- corporations turned out to be not such a good idea -- have gotten so powerful they have distorted the framework and made it so one man-one vote isn't really what's running things.
"What's running things is the power of the dollar and that's distorting the situation here, and the Constitution, out of shape. This a tough time to be an American.
"Our country is doing harm and doing stupid things and embarrassingly dumb things and hurtful things. There are a whole lot of us, up to verifiably two thirds of the country, that want very badly for us to not be doing these kinds of things.
"I don't know if the audiences view will be changed by what we say, but I know I have to say it. If it's true I have to say it, and if that has a good effect out in the world then great. And if it doesn't? Well, I still had to say it."
As a man from the era of hippie optimism and a world where Rolling Stone magazine was about counter-culture and not corporate marketing, he reflects on what has been lost: "In the era that we grew up in fame didn't pay heavy price…. the press has gone more and more from the kind of press that Walter Cronkite and people like that stood for, to the National Enquirer and Star magazine. We've headed down.
"There also seemed to be some sympathy for artists from the rock media and we saw ourselves as kindred souls. That's pretty much fractionated."
He expresses admiration for nuclear-free New Zealand, and asks about getting out for some sailing in the harbour when CSN play in late 2007.
"I've never been to New Zealand and I'm really looking forward to it. I have an old wooden schooner here in California. I'm thinking about sticking around after the last date in Auckland and maybe see if I can go sailing for a day or two, and also try and see some of the country.
"My son James is going to be in the band and we're thinking of seeing if we can drive around a little bit.
"Sailing had a great effect on me and probably saved my life a few times. This is a very mixed metaphor, but it's a great way to keep your feet on the ground. The ocean doesn't know who you are and couldn't care less. You either have your shit together and treat the ocean respectfully or it's 'Oops' time.
"The ocean doesn't care if you are Bruce Springsteen -- so that's a good thing and that's had a very healthy effect."
And of his health?
"Well, I gotta take a lot more medicine than I would like. But that's in the nature of being a transplant and a diabetic.
"But I'm healthier than I was and I'm doing the best I can with that."
Shortly afterward this interview the CSN tour was postponed because Crosby fell ill.
Crosby, Stills and Nash
Trusts Stadium, Auckland, New Zealand. December 2007
Being unused to concerts starting so early, we arrived at 8.20 to find CS&N three songs into their set delivering Nash's Marrakesh Express -- and proving that those signature harmonies, while a little more raw, were still largely intact.
The joke might be that these guys -- average age 64 -- and their mostly mature audience might want early nights these days. But over the two hours-plus show (with an interval) they delivered with such energy that the full-house standing ovation at the end was much deserved and well earned.
Fuelled by nostalgia and respect for this music (and Crosby's survival against the odds perhaps), the audience was also urged on by Stills' incendiary guitar work which confirmed him as the Clapton of California.
This was a set of great internal dynamics: from Nash's hippie era acid trip Cathedral and the still relevant pop-rock of Military Madness, through Crosby's urgently angry Almost Cut My Hair and the Joni Mitchell-penned singalong on Woodstock, the music swelled or became hushed, the band behind weighing in with rock drums and twin keyboards, or cutting right back to just Crosby and Nash harmonising together.
And it was a crowd-pleasing set which included Wooden Ships, Guinnevere (sounding a bit dated),Teach Your Children, and Stills reaching back to his pre-CS&N days to the Buffalo Springfield hit For What It's Worth. They pulled in Dark Star, Southern Cross which is enormously popular in this hemisphere, and Our House about which Crosby quipped that surveys had shown between 1969 and 1973 30 percent of women had lost their virginity to it.
The only false note of the night was Nash's unrecorded Jesus of Rio which was so drearily earnest it should more properly have been in a Sting concert.
There were flashes of humour, some plain speaking about their president (the keyboard played by Crosby's son had a "Lick Bush in '04" sticker on it), and for a band which has had such a sporadic career there was a sense of common purpose which was palpable.
Older, grey or greying, and portly they may be, but David Crosby, Stephen Stills and Graham Nash exceeded expectation and sent a capacity crowd home very happy. And not too early either.
The Crosby interview is an expanded version of that which appeared in the New Zealand Herald in early 2007 in advance of a Crosby, Stills and Nash tour. The tour was postponed, but a Stills interview which followed appeared later in the year in advance of the rescheduled date. THat is here.