Graham Reid | | 4 min read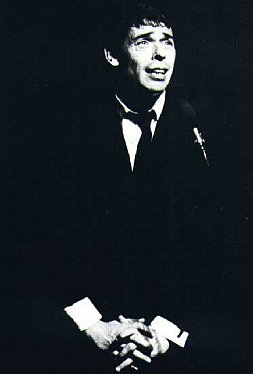 Jacques Brel is alive and well and living in ... Well, back in his hometown of Brussels, funnily enough. This is odd because Brel (1929-78) was ambivalent about Brussels. "Everyone has to come from somewhere," he would sardonically remark. And Brussels has often seemed a bit iffy about him.
The great singer-songwriter, who made his home in Paris, called one of his daughters France and died outside Paris, was barely acknowledged in Brussels for many years. A suburban Metro station is named for him in an area he would doubtless have dismissed as bourgeois, and a daughter started a Brel foundation. But for a long time that was about it.

Then, 25 years after his death, there was a flurry of activity to reclaim him.

In 2003 an excellent Brel museum opened not far from Grand Place with slides and film footage (evocative period stuff and of him performing) which allows you to walk through his life, stand in replicas of his childhood home and apartment, watch his final concerts, and follow him when he abandoned Europe and sailed around the Pacific for four years before his death.

Brel's life is fascinating. He was born to elderly Flemish-speaking parents (his song Les Vieux recounts their sacrifices) and his father owned a cardboard factory where he briefly worked. He started singing at bars such as A la mort subite (Sudden Death), which is still there today, much as it was in his day.

But it was in France where his career took off in the late 50s and early 60s. He became the pre-eminent chansonnier of his generation, filling theatres such as the Olympia, but was just as at home in smoky bars. He was witty and well-liked, his songs spoke to people at an emotional level. He was of the troubadour tradition but also an actor (almost a dozen films to his name) and occasional director, and a philosopher in song. He was much mourned when he died -- and is buried near Gauguin on the island of Hiva Oa where, two years before, he had rented a house.

Yet Brel was an unlikely star. He had tombstone teeth and full lips which would burst into a lopsided, gawky smile. On stage he usually wore a three-button suit (buttoned up), white shirt and dark tie. Songs would come out of him like sweat. The footage in his museum shows the labour of creativity and delivery.

On paper a description of his music doesn't make it sound a winner. The instrumentation was often simple, usually just guitar, accordion or a small band. But the essence of his appeal was his lyrics -- poems is a better word -- which were romantic, bitter, reflective, satirical or imagistic. And often tongue-in-cheek.

There was an excellent compilation, Infinitiment, released in 2004 which is a beautifully remastered, 40-track double disc of many of his best-known songs: Jojo, J'arrive, Le chanson de Jacky, La chanson des vieux amants, Ne me quitte pas, Amsterdam, Les bourgeois, Les Bigotes and it opens with his famous translation of The Impossible Dream from The Man of La Mancha.

Controversially it also included five previously unreleased tracks -- which Brel insisted never be released -- from his final Les Marquises sessions including the agonising L'amour est mort.

We have no cultural equivalent of Brel. At best we might say he sings with that speak-sing simplicity of Hank Williams or a young Willie Nelson, but he was also like Leonard Cohen (who covered Brel's songs). He spoke of universal truths in the language of the street, often peppered his songs with oblique and sometimes complex metaphors or images, but was rarely wilfully obscure like his contemporary Bob Dylan.

His songs -- he wrote more than 300 and never sang in English -- found an international audience which appreciated his bittersweet lyrics about the heartache of youth passing, of drunkards and whores, the pains of love and loss of innocence, and the need for acceptance. And death.

His most famous song Ne me quitte pas (with its aching, desperate repetition of the title, "don't leave me") is heartbreaking even if the language is unknown to you. But all of Brel's lyrics have been translated (the internet is full of sites) and songs such as Amsterdam and La chanson de Jacky have been covered by the likes of David Bowie, Scott Walker, Ute Lemper, Judy Collins and Nina Simone. The Kinks' Ray Davies and Pulp's Jarvis Cocker acknowledge the influence of Brel's lyrics.

In 67 the play Jacques Brel is Alive and Well and Living in Paris, based on his biographical songs, opened in New York. It had been adapted by Mort Shuman, who had written hits for Elvis and the Drifters. Because of his opposition to the war in Vietnam Brel refused to attend the premiere. In 75 it was made into a film of the same name and is now available on DVD.

Sometimes Brel's work was emasculated, as when Rod McKuen -- a fan who covered other Brel songs in French -- rewrote Le moribond (Brel's farewell when cancer was killing him) as Seasons in the Sun. Another step removed it became a vacuous pop hit for Terry Jacks in the 70s and was covered by Westlife.

But Brel's lyrics and delivery are too affecting to have been done much damage by such travesties. He can spring an image which surprises in its simplicity ("pale as an Easter candle" in Ces gens-la/Those People, There) and offers memorable lines: "Sailors who sleep stretched out like pennants along the dead waters".

Brel also had a great line in aphorisms: "With women it is passion, patience and remorse". But his most famous has become his epitaph: "It is the intensity of the life, not the duration".

Jacques Brel's short life burned brighter than most -- and, a quarter of a century after his death, it illuminates still.