Graham Reid | | 4 min read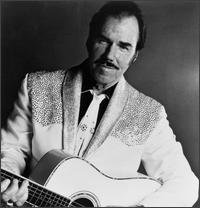 In the early Eighties, the late Slim Whitman – who had recorded more than 65 albums -- still held down the record for the longest number one on the British charts, 11 consecutive weeks, a feat unmatched by Elvis or the Beatles.
But back home in the States he was a singer without a song. He was a household name but few Americans could name a song by him.

And despite that phenomenal recording output and living in Florida, he was a huge star in Britain.

His popular, light country and standards repertoire, all sung in his distinctive style which included a soaring falsetto and effortless yodel, had won him a devoted following and yet, throughout the Seventies, he fell into obscurity in America.

The Slim Whitman story is one of fame and obscurity, and a meteoric rise again which can be pinpointed almost down to a day in December 1980.

Born in Tampa, Florida, Slim Whitman (born Ottis Dewey Whitman) did everything in his youth and teenage years except sing. He was a meatpacker and postman, did military service in the Navy and was a better than average baseball player who seriously considered turning pro.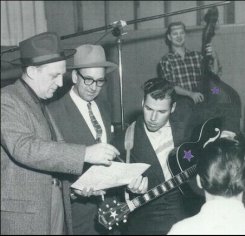 But then, with a friend from the shipyard where he was working, he put together a small band and came to the attention of Colonel Tom Parker in 1949, the man later to become Elvis Presley's manager.

Parker recommended Whitman to RCA Records and his song, Casting My Lasso to the Sky won him a spot on the Louisiana Hayride and eventually the Grand Ole Opry.

Throughout the Fifties, Whitman scored hit after hit with songs like North Wind, Rose Marie - the song which still holds the British chart record - China Doll, Love Song of the Waterfall and Indian Love Call.

Throughout the Sixties Whitman's star kept ascending, especially in Britain and Australia, where his albums of popular standards sold huge quantities. Ironically, however, he was less well-received in his homeland, and by the time the Seventies rolled around Whitman was becoming a forgotten man.

In fact, he only performed in America twice during the whole of the Seventies, the final time in 1972.

And then, almost literally overnight, Whitman was a star again.

Malcolm Smith, head of a New York mail order record company, convinced Whitman to make a television commercial to promote a greatest hits album.

"I never liked television," Whitman told me in the late Eighties, "but my wife kept telling me I had nothing to lose. Then my son Byron insisted I do it. So I did."

In some press the advertisement drew oceans of derision. Playboy magazine skewered Whitman viciously.

"With a hairline that can't quite decide where it's receding to, a pair of front teeth you could pass a table knife between and a dazzling black suit of rhinestone and polyester, Slim was the most arresting screen image since Yoda," wrote Kate Nolan.
Others were equally cruel, but the ad worked.

The album sold more than two million copies, an unprecedented number for a mail-order record, His next album, Songs I Love to Sing, sold a quarter of a million copies and by the late Eighties he was shifting about that number every year of his records.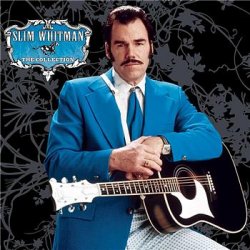 The Eighties saw the second coming of Whitman as he took to the road with his son, Byron.

With Byron delivering pop standards like Only The Lonely and old Elvis songs, and father Slim serving up his own country classics and popular material like Ramblin' Rose and Ramona, the pair brought out a cross-section of people which even surprised them.

After 18,000 teenagers surged forward at a show in Atlanta, Whitman was amazed.

"They were hysterical, trying to jump over the barriers and touch us," he told Us magazine. "Then they started flicking their cigarette lighters. I wasn't sure what that meant.

Byron had to tell me, 'It means they like you.' "

Despite that acclaim, Whitman – who really played the demanding star with promoters it should be said – kept things in perspective.

"I never would deny anyone a handshake or autograph. You meet the same people going down as you meet going up. I've had so many ups and downs I try to treat everybody nice."

The Whitman revival rolled on through the Nineties and beyond when Indian Love Call was used in the '96 film Mars Attacks! to save the world from Martian invaders, and his songs turned up in Rob Zombie's House of 1000 Corpses (2003).
In Walk Hard; The Dewey Cox Story it is Whitman who is cited as the only musician to ever make money.

And he did, thanks to a television ad which earned the derision of Playboy, today an empire more in danger of failing than Whitman's.
Slim Whitman died in Florida in June 2013. He was 90