Graham Reid | | 4 min read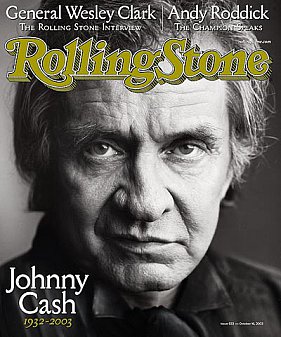 The last photographs of Johnny Cash told their own story: the thinning grey hair, the once tough jaw bent out of shape by years of painful dental surgery, the lines which spoke of a world-weariness.

And the ineffable sadness in those dark eyes as if he was looking into the beyond where he would once again be with his wife June, who died just nine weeks before Johnny passed on in September 2003.

"I took all the drugs there are to take and I drank," he once said. "When I married June I decided all that was no good, that I'd run through every evil, dirty thing there is and I didn't like it."

That is why Johnny Cash was, and is, revered by rock musicians, country singers, American presidents and hard-working ordinary people. He was honest about his human failings.

Like Ray Charles before him, Cash now has his tribute movie, Walk the Line starring Joaquin Phoenix and Reese Witherspoon. But unlike the expansive Ray biopic, Walk the Line narrows the focus on to Cash's early years - largely because the man's remarkable life is too long, complex and diverse to be encompassed in a tell-all movie.

Cash was admired not because he did the drugs and survived, but because of his raw candour and dignity. He knew the heart of darkness that lives within Man and had looked into his own abyss. But he came back from it, finding redemption with June and the faith he embraced.

And he brought all that to the recording studio when, after years of being ignored and even ridiculed, he began his stark American Recording series with producer Rick Rubin in the mid 90s.

He even went back into the studio after June's death and laid bare his aching soul.

One of his last recordings was with daughter Roseanne, by his first wife, Vivian, in which he sang of his failing body: "I cannot move a mountain now, I can no longer run. I cannot be who I was then. In a way, I never was."

Cash was born in Arkansas in 1932, lived in a shotgun shack by a railway line and worked picking cotton. He never forgot that harsh world where the Mississippi flooded their land, where he saw his 14-year-old brother Jack take eight days to die after a farm accident, where he heard tall and true stories from farmers and itinerants. Cash became a storyteller too. Stories of the poor and dispossessed, of men in prison and those who ride the rails, of cowboys and the plight of Native Americans, of the spiritually lost, and of pilgrims on their way to salvation - or the other place.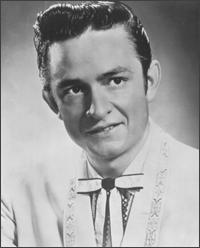 But it wasn't just the clarity of Cash's songs that etched him into people's affections.

It was as if he walked with dark spirits - a charismatic image he enhanced by wearing black. He also walked with history: he was at Sam Phillips Memphis studio - where he recorded his first hits Folsom Prison Blues and I Walk The Line - with Elvis, Jerry Lee Lewis and Carl Perkins who created the template for rock'n'roll.

Five years later - a volatile period marked by a failed marriage, meeting June, and the start of an emotional decline through speed and constant touring - he cracked the charts with Ring of Fire and was introduced to Bob Dylan, a young folkie about to turn popular culture on its head.

Cash was an early supporter and later, when Dylan plugged his electric guitar in and alienated his folk following, Cash defended him. When Dylan's life followed a similar pattern to Cash's in the mid 60s (speed, touring, derision) Cash was there for him again.

In the late 60s and early 70s - after his career-defining live albums at Folsom Prison and San Quentin - Cash was cleaned up (he'd married June on March 1, 1968), a country music icon, and bringing his music into homes across America - and here - through his weekly television show.

He introduced Dylan, now countrified and quieter, and many others, including black artists, to a new audience.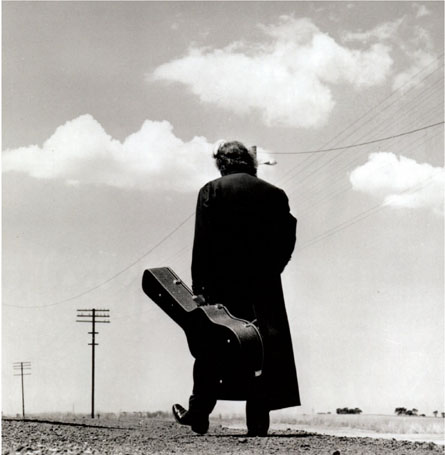 Through the late 70s and early 80s he made indifferent albums, was dropped by his longtime record company Columbia in 86, and teamed up with Willie Nelson, Waylon Jennings and Kris Kristofferson as The Highwaymen. They could equally have called themselves the Survivors. Then he met Rubin.

In a world of manufactured image and pop idols, Cash was the real thing. His music is a rich vein in American culture. That is why books are written about him, why Nick Cave, Lucinda Williams and Bono pay homage, why he was inducted into the Country and Rock'n'Roll Halls of Fame, and why there is now a film about a small part of his sometimes troubled life.

Johnny Cash walked his own line.