Graham Reid | | 4 min read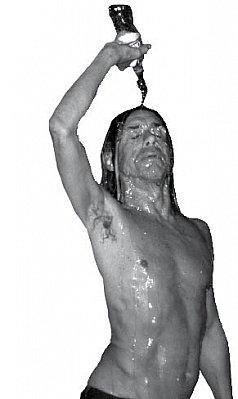 A few years ago, a cartoon in a rock magazine captured the essence of the Stooges. It showed a guy in headphones whose head had exploded and his friend in the other room saying over his shoulder, "So what do you think of the remastered version of Raw Power?"

The Stooges, fronted by Iggy Pop, delivered that kind of sonic intensity on albums like their drug-addled, self-titled debut in 1969 and the rowdiness of Fun House and Raw Power.

They were a band destined to self-destruct, especially when Iggy's heroin addiction sidelined him for a couple of years. In 1974, Iggy, the Asheton brothers Ron (guitar and later bass) and drummer Scott, and guitarist James Williamson (who replaced founder Dave Alexander) split acrimoniously.

But in the five years from their astonishingly muddled debut, produced by Velvet Underground's John Cale, to a typically riot-inducing farewell show, the Stooges became legendary and infamous -- even if, as with the Velvets, their albums barely sold at the time.

Today they are widely acknowledged as the godfathers of garage rock, the spiritual figureheads of a movement which includes the Datsuns and the D4. And some say the Stooges also defined punk rock and created heavy metal with albums like Raw Power.

It was certainly extreme rock -- in volume and intensity. Iggy would stage dive (some say he was the first), often perform in little more than a G-string, and self-mutilation wasn't uncommon. Obviously, it couldn't last.

After the break-up they went their own ways -- the Ashetons into less-than-successful projects, while Iggy worked with Williamson on the thrilling noise-fest album Kill City and then a wobbly solo career.

In 1977 he enjoyed a remarkable comeback, thanks to two Bowie-produced albums: The Idiot which included their co-written China Girl, and Nightclubbing which turned up in Trainspotting; and the terrific Lust For Life, the title track also in Trainspotting. His cover of the 1950s song Real Wild Child shot up the charts in the late 80s.

Since then, Iggy, whose stage name came from his mid-60s high-school band the Iguanas, has been acclaimed for just being himself: famous for being infamous. "I've been dirt and I don't care," he sang once.

Today there is something of the Elder Statesman about Iggy Pop. In recent years he has recorded with former members of Guns N'Roses and the Sex Pistols, worked with Larry Mullen of U2, Green Day, Sum 41 and Peaches.

He has also appeared in the movies Cry Baby alongside Johnny Depp, The Color of Money with Paul Newman, and Jim Jarmusch's Coffee and Cigarettes .

The other solo Stooges didn't fare so well. The Ashetons formed New Order (not to be confused with the British band) which quickly fell apart. Ron later joined Destroy All Monsters with MC5 bassist Mike Davis but it too had little success.

Other than for their Stooges career, the Ashetons looked destined to be a footnote in rock encyclopaedias.

Then in 2000 J. Mascis of Dinosaur Jr was playing shows with bassist Mike Watt, former Minutemen/Firehose, in which they paid tribute to the Stooges.

They convinced the Ashetons to join them and these substitute Stooges -- without Iggy -- took to the road playing Stooges material, to excellent reviews.

In 2003, the Ashetons got together with Iggy for the first time since 1974 for four tracks on Iggy's album Skull Ring which, as the Guardian reviewer noted, were so powerful they cast the rest of the album tracks in an unflattering light. Among them were songs with Sum 41 and Green Day.

The Stooges with Iggy were up and roaring again and, with Watt, they took to the road. Their opening gig at Clarkston, Michigan in 2003 drew unanimous acclaim.

Of the stage-invasion one reviewer wrote: "It was this reckless abandon and high-voltage connectivity between both artist and audience that made this night go down in history as, quite possibly, the greatest rock'n'roll reunion of all time."

Iggy has played with a lot of bands and musicians since the demise of the Stooges, but none has ever seemed to matter so much, or sound so dangerous, as this band.

Of their Seattle show last September one web-reviewer wrote simply, "There is no better band working the planet today".

The Stooges' present set-list includes their classic, nihilistic, energetic songs like 1969, I Wanna Be Your Dog, TV Eye, No Fun (the last song the Sex Pistols played in '77 before they broke up, for the first time) and Dirt. They have also shared billings with bands from at least two generations that they influenced - Sonic Youth, the Von Bondies, Mudhoney. They are playing classic Stooges songs which have been covered by the Sex Pistols, REM, Joan Jett, the Red Hot Chili Peppers, Guns N Roses and Rage Against the Machine.

Band reunions can seem cynical (the Sex Pistols' Filthy Lucre tour), self-serving (MC5) or just sad (any 1960s British pop band playing their old hits like a covers band).

But against the odds of time, their self-destructive tendencies and musical fashion, Iggy, his battered torso still toned and muscular, and the Stooges have proven the adage that second time round is often sweeter -- and more noisy -- than the first.