Graham Reid | | 5 min read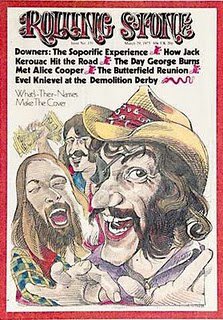 Dennis Locorriere spends most of the hour laughing and is more amused than irritated that many people mistake him for someone else. Locorriere - with slight streaks of silver at his temples and celebrating his 54th birthday on this day - is the voice of Dr Hook.

But he wasn't the face of that Seventies hit-making machine which cluttered up radio with songs like Sylvia's Mother, Cover of the Rolling Stone and When You're in Love With a Beautiful Woman.

The face, with the distinctive eyepatch, belonged to Ray Sawyer who in a further blurring of the memory these days tours as "Dr Hook".

Locorriere sang most Hook songs -- including harmonies in the studio -- and wrote much of their material, some with acclaimed songwriter and Playboy cartoonist Shel Silverstein. But still people mistake him for Sawyer, or say he looks better without the patch. Yet he is remarkably forgiving.

"If you think about Hook being pre-video band, then saw us on television for three minutes, you'd only remember the guy with the eyepatch.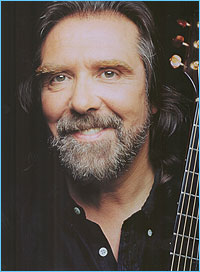 "Hey, that's all I remember. But it was lucky we had a guy who looked like that because we were touring with guys like Alice Cooper and all these pyrotechnic bands, so at least we had something for people to look at.

"The rest of us looked like hippies. I had a long beard and a Dickens coat and later people would say, 'Oh, you look really good now'. That was because I spent my childhood looking like my own grandfather."

Locorriere – now living in England after 15 years of semi-retirement in Nashville - laughs again. But that Hook confusion makes things difficult for him on his solo tours.

"I don't know who my audience will be. I think a percentage is going to wonder where my eyepatch is, I really do. But they'll be entertained and leave knowing what they came to see. As soon as I walk on stage I start a dialogue with the audience, and me talking is as much a part of the show as singing all those great old songs.

"Ray has the same problem. People talk to him about all these songs he sang, and it was me. I'd rather be the stranger to the audience on the way in so when people are on their way out they go, 'Oh, that guy'. "

And it's better solo than performing with Sawyer: "If there are a couple of guys on stage they are going to want to know which is Dr Hook. But now it's just me and a table. So it's either me, or the table. I couldn't have made it any easier."

Locorriere -- despite having songs covered by Bob Dylan and Olivia Newton John, and singing on albums by Nashville neighbour John Hiatt, Randy Travis and Travis Tritt -- happily reminisces about Dr Hook, the bar band he formed in New Jersey with Sawyer in '68, "playing anything to keep the drunks from killing us".

Hook's zany on-stage antics, hits from Silverstein which were farcical and funny, and their circus-like tours made their reputation. The song Cover of the Rolling Stone got them the cover (the BBC wouldn't play it, they regarded it as advertising) and their tours were notorious.

"We were like a big commune. So we were bankrupt in mid-70s, then came back and did all right. No one got rich - we were pre-video, so if you needed to see us we needed to be there. We earned a lot but we were a seven-piece band with families, toured with a five- or six-man road crew, and had an office staff. It was Dr Hook Inc. It took a lot of money to keep it going."

And they were self-indulgent days, too?

"Yeah, when you first go on the road you party every day because you think it's going to last six weeks. But after it keeps going you look at the itinerary and think that alone could kill you. So after six days in row I didn't want to do cocaine, I wanted to watch television.

"None of us ended up in rehab, no one did anything to that extreme. We had a great time on stage but it was really like the drunk on the high wire. If he was really that drunk he'd be dead a long time ago. That was us."

Sawyer left in '83 and Locorriere kept the band going, to diminishing audiences, before calling it quits in '85. "We'd had our day and that's the reason I wouldn't do a reunion. I loved it and I'm proud of it, but I don't want to put a band together and call it Dr Hook. Ray gets away with it because of the way he looks."

He seldom sees the former members now - drummer John David died a couple of years ago - but says when they were touring 300 nights a year they were always happy to get away from each other.

"It's like being in the army and you are down in the trenches with the bullets going over your head. You swear to God if you live through it you'll all have a barbecue. When the war's over everybody goes home, and that's what we did."

Locorriere retired to Nashville "to escape the music business," he laughs. "In fact to be close to the industry but not part of it" -- and had his 15-year-old son, whom he had seldom seen in Hook days, come to live with him.

He did a little writing, played and sang on a few sessions and loved being in a music town without feeling the need to "get back on the bus". His return to performance was prompted by Shel Silverstein writing a one-man play -- The Devil and Billy Markham -- and convincing him to perform it at the Lincoln Centre in '89.

"It got good reviews, which did a lot for my confidence because people didn't know who I was. A friend came one night and said afterwards two old ladies were looking at the brochure and one said, 'I don't know who he is' and the other said, 'Well, it says here he used to be a doctor'. That was great - they didn't care who I was, but I was entertaining.

"The play made me think I should get back out and try the thing I'm supposed to be doing. If you listen to people in this business I'd have been dead for years. I had a high-powered showbiz attorney ask me when I was 38 how old I was. I told him and he said I had maybe a couple of years left. I said, 'What? Did you see my x-rays?' That gets you checking your pulse every day and that's no way to live. I can still do this.

"My biggest fear is I'm going to die of some rare disease no one has ever had and they're going to name it after me. But they won't know how to spell 'Locorriere' so they're going to call it Dr Hook Disease -- and Ray's picture will run with the article."