Graham Reid | | 8 min read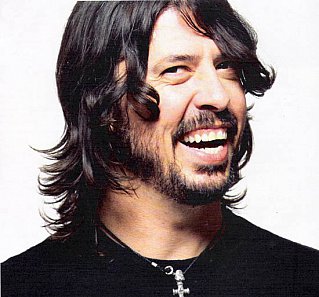 Through the swing doors, down the stairs, then hard right. Follow the corridor, then left, right and left again, then . . . umm. You're in a scene from This Is Spinal Tap.

Where, in this maze of corridors under the BBC Studios in Maida Vale, London, is Studio Four where the Foo Fighters are recording?

But another labyrinthine 100 metres and there it is, red light on as the band of former Nirvana drummer-turned-guitarist/singer Dave Grohl, guitarist Pat Smear, bassist Nate Mendel and drummer William Goldsmith record tracks for a BBC radio series.

This was something of special moment, Grohl tells me later, because it was the first time the Foo Fighters had recorded together. The band's self-titled debut album had just been his own over-dubbed recordings and released under that name so it could slip out without any attendant post-Nirvana comparisons. As if . . .

It's fast work, two takes only on each of five songs, much smoking under the large No Smoking signs and mutual humour between takes.

They power through a tidy one-minute thrash piece, Gaschamber ("a cover of an Angry Samoans track," says Grohl, "one of my favourite punk bands."). Then Grohl launches into a How I Miss You, notable for the cracked emotion of his vocals in fragile verses and torrential emotional outpouring in the chorus.

"How I miss you" from the man who was that close to Kurt Cobain and recently said he thinks about Kurt every day? This from a man who survived the bedlam that was Nirvana?

The room becomes airless.

'"Oh, that's a really old song," he laughs later. "I wrote it in '92 when my wife Jennifer was still in college in Detroit and Nirvana wasn't doing anything. It was before we were engaged, so I wanted to,write a song with the sole purpose of making this girl fall head over heels in love with me. And it worked!"

He laughs again, notes it was a B-side to the Foos' I'll Stick Around single - but there is the Grohl Conundrum. So much emotional investment in Nirvana was bound to bounce off him.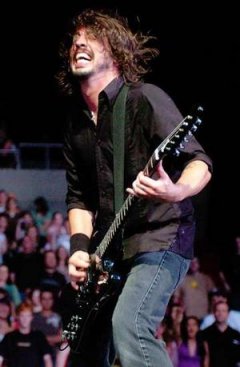 His lyrics were destined to be scrutinised for clues, he's lived with the line "I don't owe you anything" being thrown back at him in his rare interviews, but now, after having the band on the road playing their snappy pop for seven months, they've bedded in and created their own niche.

"Nirvana brought certain emotions and feelings out of people that Foo Fighters wouldn't conjure.

People look at us and say, 'They play pop music and look like they're having fun.'

"I seriously doubt someone would come up and say, 'You know what, you guys changed my life.'. "

He hoots at the thought but then readdresses the questions which follow him.

"I'm in this bind that the songs are four and five years old, some about specific things and others about nothing. I've never paid attention to lyrics but so many people have tried to read into them to find an answer or a reason or something.

"A lot of it I just isn't there because the songs are so old. Ow here we have 10 songs for a new album and I'm in this weird position where I could do two things: I could write about what I really feel or I could try to deny that.

"There are a lot of things I want to say but a large part of me doesn't want to say it to a million people. I don't feel like giving away pieces of myself for fear that at the end of the day there'll be nothing left. With this new album I could deny what I'm really feeling and make up some nonsense riddles for people to shout every night, or let everyone in on what I think about during the day or what I think about when I think about things. You know what I'm talking about.

"A lot has happened and people are going to sift the lyric sheet on the next record and there will be some substance to it. But I hate to be too revealing."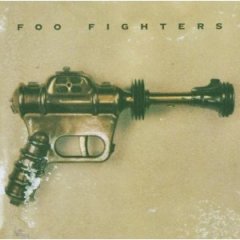 Which is exactly why Grohl - good-natured and chatty, the only one of the three who made a halfway decent impression here when Nirvana toured -- has been reluctant to give interviews since he went into a local studio, recorded the album (left) himself, then pulled together a band of Goldsmith and Mendel (when Sunny Day Real Estate broke up) and Smear (formerly of LA punk band the Germs).

When they first toured, everybody just wanted to talk about The Past, he says, and "I don't mind talking about Nirvana, although some things are so personal I won't go near with people I don't know. I don't mind interviews, but you end up doing them three times a day and it's like going to a therapist but with the reverse effect. It drives you crazy!"

Curiously, after we had sat within the same small smoky room underneath London somewhere, studio time was at a premium. So now he's talking from Osaka. And he's more than generous with his time, noting the band are playing most of the same venues Nirvana played in Japan on their only tour there - perfect-sized venues, he says of their 1000 capacity.

"One of the questions people would ask was, 'How does it feel getting back to the intimate club thing, isn't that strange?` Well, no. Playing to 6000, that felt foreign to me. When I was young I never went to big concerts. The first bands I saw play when I was 12 were punk rock bands in clubs where there were never more than 150 to 200 people.

"The first time I saw a real big rock show was some terrible heavy metal festival in Washington DC, and there were 50,000 people and everyone was going nuts. I felt sorry for them because they'd never experienced Bad Brains when the singer dives into the crowd, or Black Flag when it's so loud you can't swallow. So bigger places always seem foreign to me and music doesn't seem to translate in places that are that big and out of control."

Grohl admits that when he first stepped out front of the band he put pressure on himself to perform because he wanted to do it well. After a fortnight, however, "I realised I didn't have Kim Deal's voice, so I just forgot about it."

For him, a challenge is what it's all about. He makes the analogy with going on an amusement park ride. You may be scared, but after you've done it, while you might not have achieved anything, you've at least challenged yourself. The Foo Fighters were much the same.

"I'd always recorded stuff by myself in the studio and wasn't preparing for something like this. If I felt comfortable being a singer and playing guitar I wouldn't have felt so excited about doing it. It was incredibly frightening and 180 degrees from anything I'd done. I've said it many times but it`s true. It really feels like the first band I've been in, I'm in a totally new position."

Repeatedly in his free-ranging conversation Grohl returns to the pleasures of being in this band. When the others became available they quickly learned the songs he'd recorded and "used the tape as an excuse to be a band."

"We started writing new songs as we were learning these ones. Yet people tag this as a solo project, which is an idea I hate. It's not a sole thing because it'd be Dave Grohl and three other guys. If it was a 'project' I wouldn't be on the road for eight months, I'd be doing another 'project'."

He speculates on time lost on the road - eight months you never get back - and how he initially rejected the idea until the band came together.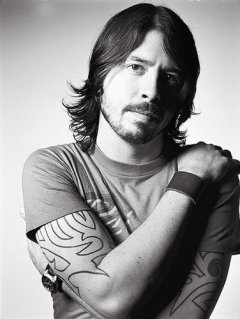 "Now I cannot think of one thing that would be more fun than what we're doing and being with these same people every day and loving them more and more. That sounds stupid, but it's true.

"I have this new family and we get to go on vacation together. In Nirvana I was just the drummer and that was so much fun, to play those big shows and go home and still be able to go to the supermarket and nobody recognises you. The best of both worlds."

"I've given up a little of that anonymity but if someone comes up and says, 'I really like your album' that's flattering. It's not so much a curse, just pretty nice that someone would do that. Thank you very much. I don`t wear a mask to the 7-11.

"Believe me, its not as bad as anyone else gets. I can't imagine being David Bowie."

Or even Kurt Cobain, a man who carried his monkey on his back for the world to see. Grohl saw it all but is refreshingly low-key about it. While Courtney carries the torch ("there is so much energy from the audience about Kurt," she told American chat-show host Barbara Walters this month), Grohl is just getting on with making his music and having fun. No angst, no self-induced tensions, and touring which is much more orderly, if nothing else.

He jokes about the punctuality of the Japanese ("I'm trying to learn that"), being genuinely surprised by the commercial success of the album (which picked up gold discs in most places) and how much fun it was buried away in that London studio hearing his songs pumped out by the band.

it all seems so mundane after what preceded it. And he's loving it.

"There's really not much drama. We're pretty boring, normal, everyday people. It makes me want to puke, actually. I don't think I have that star quality.

"I'm not disturbed enough, not handsome enough or weird enough . . . and I just don't want to be."
Want more along the lines of Seattle grunge? Then go here.