Graham Reid | | 4 min read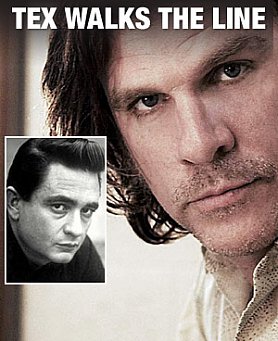 The hotel's drawn blinds shut out the mid-morning Auckland sun, pills are scattered on a table, the remains of takeaway food are on another and there's a pervasive air of "the morning-after".

"Yeah, very Johnny Cash," says Tex Perkins, the room's slightly disheveled occupant, in a husky and weary voice.

The Australian singer-songwriter – in such famous and notorious bands as the Dum Dums, the Cruel Sea, Beasts of Bourbon ("which broke bar records in a lot of places") and others – gets out a wry laugh. In the production The Man in Black – which he is touring nationally from late June – he plays the legendary Cash who, at one period in his life, was quite the pill freak.

Perkins' morning-after condition however is the result of a disturbed night and a sleeping pill taken too late more than any rock'n'roll hedonism – although he's not been unfamiliar with that during his life on the road.

Perkins is a big entry in any encyclopedia of Australian music, but The Man in Black allows him to go back to where it began, in the post-punk Dum Dums which he formed "tediously boring" Brisbane.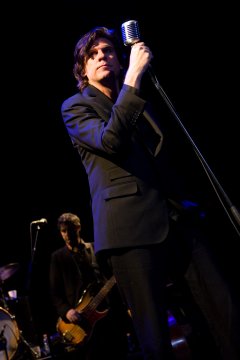 "When we first put the Dum Dums together, the band I was obsessed with as a 16-year old was the Cramps. Their thing was minimal rockabilly done in a post-punk way. We approached country music like that and I loved minimal twangy guitar – so Johnny Cash provided pretty much half our set.

"We did Folsom Prison, I Walk the Line and Ring of Fire. So I learned my craft with those songs. There's evidence of early Dums Dums on You Tube . . . and it's really really terrible," he laughs.

Perkins left Brisbane and the Dum Dums behind at 18 and explored other musical avenues, but in the Cruel Sea and when he teamed up with Don Walker and Charlie Owen (as Tex, Don and Charlie) there was a distinct and tough country influence.

So slinging on an acoustic guitar for The Man in Black and delivering whisky-barrel baritone alongside Rachel Tidd (who sings the June Carter Cash parts) and being out front of a band named the Tennessee Four (Cash fronted the Tennessee Two in the 50s) comes naturally to Perkins.

"I don't really play Johnny Cash. I share the narration with Rachael and I'm acting as Johnny Cash in the songs, and occasionally when I quote him I will do an impression.

"I introduce myself as Tex Perkins so it's not an impersonation. But you put on the boots and you play the part. It's important to give a performance that has reality and truth in it rather than a detailed impersonation."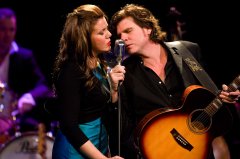 The production – which won the 2010 Helpmann Award Best Australian Contemporary Concert – has undergone fine tuning over the years ("the first script was, for want of a better word, shit") and while some songs are immovable – Walk the Line, Folsom Prison, Ring of Fire – "the others are changeable and we can rest some".

"Some of them serve the narrative, some are just fun to sing like Cocaine Blues and quite a few are really good duets with Rachael."

The show doesn't ignore those final years when Cash was rediscovered by the American Recordings albums: "Yes, I sing Hurt after June has died then I talk about his death. I've cried during that bit and I imagine some in the audience have too."

After 132 performances it is still a show Perkins enjoys, but he also has parallel projects. There's the new Tex Perkins and the Dark Horses album, the Cash show group – as Tex Perkins and the Band of Gold – have recorded an album of country songs, and he's finishing the narration to a documentary about Australian country singer Chad Morgan (below), famous for his protruding teeth and songs like The Sheik of Scrubby Creek.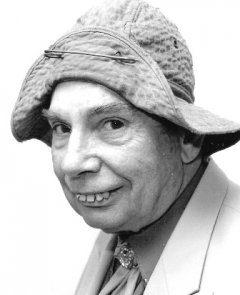 "Chad's never really been embraced by the country scene but it doesn't do him justice to call him a comedy act, even though most of his sons are comedy-based and he does play up his freakishness.

"He's a true outsider because at 79 he still puts his wife in station wagon with the caravan on the back and drives thousands of kilometers to do these shitty little gigs all over the country.

"That's our lot as performers, that's the life we've chosen. Long after success has moved on to somebody else you are still what you are.

"It's what sustains him and I see great dignity in that. This is what we are and what we do, and we just have to go and do it.
"And love it."