Graham Reid | | 4 min read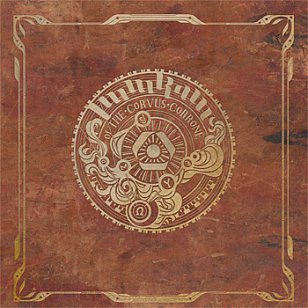 In late 1976 keyboard player Rick Wakeman of the progressive rock band Yes – riding a string of solo successes with his prog-rock concept albums The Six Wives of Henry VIII, Journey to the Centre of the Earth and Citizen Kane – gave a revealing interview to the British magazine New Music Maker in which he described his forthcoming project, a concept album based on Sir James Frazer's study of myth and religion, The Golden Bough.

But in an aside which went largely unnoticed at the time he also spoke of a remarkable prog-rock album by an unknown group he had just heard.

"No one knows who's on it, but it's this wonderfully evocative journey to a better place. The story is fantastic and the music has made me rethink what I am doing. It'll change anyone who hears it."

A few weeks later, David Bowie, speaking about his film The Man Who Fell to Earth, used much the same language about this mysterious album.

"The film is about travel across space and time. But there's that marvelous concept album by those unknown guys. It's also about a journey into hope. It'll really change you. It's certainly changed me."
Unfortunately very few did hear this album – The Voyage of the Corvus Corrone – because only 200 copies were pressed and almost overnight prog-rock and concept albums were wiped out by the arrival of punk.

In an illustrative aside here, my own band Ozymandias for example immediately abandoned our adaptation of The Brothers Karamozov, I fired the cellist and two keyboard players and renamed the group BorstalDogz.

Punk had that kind of cleansing effect in rock, but it also meant albums like The Voyage of the Corvus Corrone were lost to us.

By being caught in the tide-change of history, the album disappeared. But the story behind it is intriguing.

In early 74, Akashic Records in Paris received an anonymous parcel containing master tapes of the album, related artwork, some accompanying text and the address of the nearby Chateau D'Mercier. Akashic boss Jean Claude Onsager visited the chateau-cum-recording studio and learned only it had been hired on a day-to-day basis by three men – two musicians, the other possibly an astrologer mystic – who decorated the studio with arcane symbols and diagrams during recording sessions.

Akashic released the limited pressing of Corvus Corrone but shortly after Onsager mysteriously disappeared, the album went unpromoted and then punk arrived. Later the chateau was abandoned then demolished in the 80s after a fire. Curiously, some of those arcane symbols – notably that of the mysterious "Cog" design on the album cover – began appearing on neighbouring buildings in subsequent decades.
There was also some confusion over the album's actual title and attribution. In the "Cog" design the word "Immram" appears and many presumed that was the name of the band, but the word in fact is drawn from Celtic mythology and means approximately "voyage".
So the album was known in some circles as "The Immram of Corvus Corrone" and in others as "The Voyage of Corvus Corrone".
Right from the start the album and artist was clouded in mystery. Edgar Rouse of Tangerine Dream was rumoured to be behind it but while he refused to officially to deny his involvement many doubted it, Irmin Schmidt of Can said he knew one of the album's creators but refused to name him.
Corvus Corrone became entwined in rumour and legend, like Brian Wilson's Smile and Dylan's unreleased psychedelic rockabilly album Snakeskin Mescal recorded in early 67 with Ronnie Hawkins and the Band.
In 98 Seattle's Rock and Roll Hall of Fame paid US$3.2 million (NZ$3.8 million) for a mint condition copy, Stephen Hawking says it is his favourite album and taped copies were on all five Voyager flights into deep space.

The cult surrounding Corvus Corrone grew because so few had heard it. But – through events no less strange than those surrounding its creation – that has now changed.

Two years ago a former employee of the long defunct Akashic received a package from a French law firm. It contained a deed from the estate of label head Onsager charging him with the album's re-release.
By coincidence, Auckland's fledgling Escape Artists Recordings was looking for a project to launch itself and through a mutual friend of electronica artist Rhian Sheehan, the label's Paul McLaney was contacted by the Akashic employee inviting Escape to release it.

Oddly the master tapes sent to Escape ran considerably longer than that of the original vinyl – hence the seven track, 60 minute album appearing on CD – but the music exists in a strange realm somewhere between Tangerine Dream and the work of Brian Eno and Robert Fripp, with a sprinkling of esoteric fairy dust in the narrative.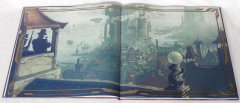 With beautiful remixing and remastering (by Escape's Jeremiah Ross) Corvus Corrone now appears in an album-sized, gold embossed 64-page book with striking artwork (the dark side of Roger Deans-meets-The Flying Dutchman) based on the original drawings which only recently re-appeared.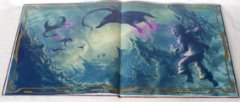 Also included in the package are lyrics, the story behind it and the choose-your-own-adventure/fantasy tale Escape from Xanoths based on the Corvus Corrone story which hasn't been seen in over 30 years.
It is an appropriately lavish package for this dreamy, richly textured astral-synth music with poetic lyrics which was decades ahead of its time and could, may still, change you.

If no one had recorded Corvus Corrone it would have been necessary to invent it.
As Escape has done.

The Voyage of Corvus Corrone is available as a limited edition CD/book (1000 copies only) or by digital download from Escape Recording Artists here.