Graham Reid | | 6 min read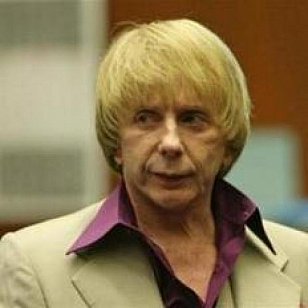 So Phil Spector has been charged with murder, huh? Well, no surprises there then - because Spector has been one of the more disturbed individuals in rock, right up there with the eccentric and once reclusive Beach Boy Brian Wilson, the Pink Floyd founder Floyd Syd Barrett, and the just plain weird Michael Jackson.
When it came to crazy behaviour and reclusiveness, however, producer/songwriter and sonic genius Spector could give most a run for their money. Just ask his former wife Ronnie - of the Ronettes, whom Phil produced in the 1960s.
In her autobiography Be My Baby, she tells of marrying Phil in early '68, who by then had retired from production and was holed up in his California mansion. She became a prisoner in the home.
Spector refused to let her leave the house without his permission, had intercoms installed in every room so he knew where she was at all times, and insisted she have an inflatable dummy of himself as "passenger" in the car if she was driving alone. ("Phil had actually gone to the trouble of making a dummy of himself to watch over me when he wasn't around.")
He never beat her, however - "He'd just yell and curse and call me names. But there were times when he shouted so much that I almost wished he would just go ahead and hit me" - but kept the house in constant gloom, the California sun shut out. He would watch Citizen Kane night after night.

Ronnie tells a funny story about Spector's wig fixation. He'd started to lose his hair in the early '60s and insisted all the lights be off in the bedroom when he took the wig off.

"Then he'd stumble into the bathroom in the dark, so he could rub this acetone solvent all over his head. It was the smelliest stuff in the world, but I guess it was the only thing he could use to get the toupee glue off his scalp. When he came back to bed the smell of that acetone could've killed a horse but Phil tried to pretend it wasn't there. Only it was impossible to hide. Like rubbing alcohol or marijuana, it was a smell that just wouldn't go away."

The marriage hadn't started well. On their wedding night Spector went off to his mother's house (he hadn't told her he'd married) and came home to an expectant Ronnie in a sexy negligee only to berate her for being after his money.

Spector was a volatile man - Dee Dee Ramone tells of him waving a gun at him during sessions for the Ramones' End of the Century album in '79, he pulled a gun and fired a shot into the ceiling during sessions with John Lennon - and once went to a black gospel church in Los Angeles with Ronnie wearing a huge Afro wig and carrying a gun "in case there's any trouble".

The diminutive Jewish guy behind the permanent shades who played the drug dealer in Easy Rider travelled everywhere with bodyguards but insisted he could kill a man with his karate blows.


None of this accumulated loopiness, however, denies his genius as record producer. The man Tom Wolfe profiled in '65 as "the first tycoon of teen" had his first hit at 17 with the Teddy Bears in Los Angeles. To Know Him is To Love Him took its title from the inscription on his father's tombstone and went to number one.

He relocated back to his birthplace, New York, and backed off being a performer - the Teddy Bears barely saw a cent from their hit - to concentrate on production and writing. The hits kept coming: Spanish Harlem for Ben E. King; He's a Rebel and Then He Kissed Me (the Crystals), Be My Baby (the Ronettes), You've Lost That Loving Feeling (the Righteous Brothers) and dozens more. Think "girl group" and Spector's name comes up immediately.

In the studio he was ruthless and demanded take after take. He stacked up the vocals, brought in string sections, pulled the drums up loud - and created his aural fingerprint, the famous "wall of sound". He said he was making "little symphonies for the kids".
Ironically he accompanied the group that ended his hit-making run, the Beatles, on their first flight to America. He also recorded a novelty song in late '64, I Love Ringo, backed by Beatle Blues with "Bonnie Jo Mason", who later found greater success as Cher.

The Righteous Brothers' Loving Feeling might have been Spector's biggest hit but it was Ike and Tina Turner's River Deep Mountain High of '66 that he placed his hopes on. He heard it as his greatest achievement, but American radio wouldn't play it. It stalled on the charts, he became morose, sank into a deep depression and locked himself in his room, and when his friend Lenny Bruce died he all but disappeared behind the walls of his mansion.

In a further irony it was the Beatles who brought him out of seclusion in the late '60s. The band had recorded a swag of unwieldy material and it was suggested Spector be brought in and make sense of the mess. John Lennon doubted Spector, a friend, could do it so tried him out on the Plastic Ono Band single Instant Karma.
It sold a million in the States and went top five in Britain.
Because it didn't have the heavyweight "wall of sound", Spector was entrusted the Beatles' material and out of it delivered the Let It Be album.

Paul McCartney to this day hates the over-production on The Long and Winding Road (there are suggestions a remastered Let it Be album will get rid of the choirs and orchestral backing**) and a couple of years ago he walked out of a Q magazine awards lunch when Spector was given, in his absence of course, a lifetime achievement award. Sir Paul might dislike what Spector had done to his song but it became the group's final number one US single, and the other Beatles seemed untroubled by it.


After Let It Be, Spector went on to produce George Harrison's All Things Must Pass album (yes, walls of sound) and Lennon's Plastic Ono Band and Imagine (both extremely spare productions). It seemed Spector was on his way back, but the chaotic sessions for Lennon's drunken Rock'n'Roll album in '73 showed his old craziness coming back. He disappeared with the tapes and held them for ransom.

Then, aside from sporadic work such as the Ramones and Yoko Ono's post-Lennon Season of Glass - and somewhat improbably a Leonard Cohen album, the worst of Cohen's career - Spector disappeared again into another million-dollar mansion with his wolfhounds, toupee glue, memorabilia and juke boxes stacked with his old hit singles.

And there he might have stayed, spoken about in awe for that five-year period in the 60s when his name was synonymous with pop anthems.
Then this week gunshots and a body brought Phil Spector back into the headlines and, ironically, pushed aside Michael Jackson as one of the oddest figures in pop.
The first tycoon of teen is now 62, on bail for $1.8 million and his lawyer is Robert Shapiro, who was one of O.J. Simpson's team.
Spector had recently been working with the British band Starsailor, but for a man immersed in music that must be the last thing on his troubled mind right now.
It's a long way down from the innocence of "da doo ron ron".
In September 2007 the judge declared a mistrial in the case of Phil Spector's murder charge. During the trial Spector married 27-year old Rachelle Short, described as an aspiring actress and singer. A few months later he turned 67.
In April 2009 he was found guilty of murder.
** see Let It Be . . . Naked (2003)