Graham Reid | | 7 min read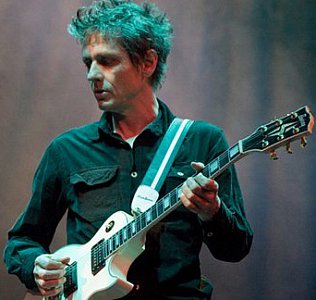 Dean Wareham's many past lives are all existing parallel in his musical life these days. As founder of the much acclaimed Galaxie 500 in 1987 around Boston, he quit the band in '91 to form the Velvet Underground-influenced Luna which lasted until the middle of the following decade.
More recently with his wife Britta Phillips (also in Luna in the latter days) he had played and recorded as Dean and Britta, and together they have provided music for 13 Beautiful Songs; Songs for Andy Warhol's Screen Tests which has played in art galleries and halls for the past three years before the backdrop of Warhol's short screen test films.
And then recently – around the time the Galaxie 500 albums were all reissued by Domino – he took to doing Dean Wareham Presents Galaxie 500, shows in which he, Britta and a drummer perform songs from his first band of over 20 years ago.
So in any given month Brooklyn-based Wareham – who was born in Wellington – will be playing Galaxie 500 songs, doing Dean and Britta shows or playing the Warhol gig. In early 2010 he played the Wellington Town Hall with the Warhol set, but it is the Presents Galaxie 500 show he will bring to New Zealand for shows in Wellington's Bodega (October 14) and Auckland's Kings Arms (October 20)
"That Wellington show was great," he says. "It was like a strange dream because I remember being in that building when I was about five. It's always slightly dreamlike going back to Wellington for me anyway. I tend drive around and look at the same spots. But going back and playing the Town Hall was wonderful, and it was packed and that was out first show in New Zealand.
When you started doing the Warhol did you run into the great affection people had for Galaxie 500?
The audience for the Warhol shows is odd. Sometimes when we play in museums it is just people who are museum members, like old ladies with blue hair, although some people are there for us.
But touring this [G500] show I have been going places and playing, like in Paris we played to double the number of people who ever came to see Galaxie 500 back in the day. And Sao Paolo in Brazil was amazing, 900 people singing along with every song and that was a shock. But England, the band was always popular so we expected to do well there.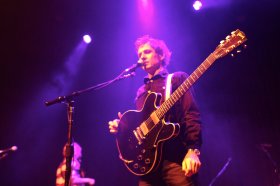 I noticed a Galaxie 500 clip on You Tube and someone has put a comment 'Makes me remember the happiest days of my life' and Galaxie 500 wrote themselves into people's autobiographies in that period.
Yes, if they are experiencing music as a teenager or even in their 20s that is when people are most passionate about music as they set out to define who they are. So hearing it again maybe has that effect of taking people back.
The band was unusual in those pre-Nirvana days, you were doing something quite different than what else was going around. Are you more aware of that now or were you acutely aware of it even then?
We were aware in Boston that we didn't sound like most of the other bands, it was the pre-Nirvana days but grunge was happening everywhere and that was popular in Boston too. Looking back 20 years later I feel the music has held up well and I can see more clearly now that we were putting out some of the better music at that time. I don't want to run around saying how great we were or how we had huge egos, and we didn't think we were the best band in the world. But I look at a list of records that came out in 1998 and 1999 and I think the Galaxie 500 ones somehow were among the best music made back then.
You can still sing these songs, because Strange for example is very high?
I can. After the first show we did in Brooklyn a journalist asked me if we'd dropped the keys but I didn't have to. It did take some work to figure out how to sing like that again, loud and high. By the end of the show I'm ready to stop. I try to space out the more demanding ones.
It seems to me by breaking up your shows between Presents Galaxie 500, Dean and Britta and the Warhol, you can keep some frisson of interest and excitement about Galaxie 500 by not doing them that often.
Yes, it's the same with the Warhol show which we've doing now for almost three years. We do that maybe once a month or something and you'd think it would be deadly dull just the same 13 songs. But because we don't do it that often, it isn't. And we haven't done a huge amount of touring with these Galaxie 500 songs, but once you start doing it then other people call and ask if we can bring the show to them. So it's been fun and a little dreamlike to go back and play these songs you haven't played in a long time. The set expands and we've added a few, but generally it is the same 15 or 16 songs which we rotate.
I see you are doing Galaxie 500 in Japan, have you played them there previously?
No. (Laughs) We were going to play Japan in 1991 but I quit the band. It was a little contentions because Damon [Krukowski] our drummer called about buying the tickets for Japan, but I knew in the back of my mind – and over that weekend it had become clear – that I didn't want to continue. I said, 'I don't want to go' so we never made it.
I imagine there are Galaxie 500 obsessives in Japan.
Yes there are. You look out there and there are people crying. Yes, and we play 7.30 or 8 o'clock.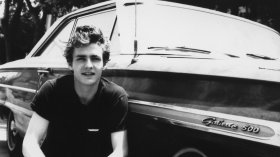 There is a lovely clip on the internet of a very young Galaxie 500 being interviewed and yours is the throwaway line about being in a band, you say, 'It's more fun than school' and that was lovely. But then you write [your autobiography] Black Postcards. Honesty is the true artist's recourse, so was it cathartic for you?
(Laughs) Yes, it was like a long and lonely therapy session and if you go back and write about your life you relive it, the painful moments and the fun ones. It was a difficult experience to sit down and start writing, but then it got to the point where I really wanted to do it.
You were lucky in that you had tour diaries.
Yes, I certainly had diaries for Galaxie 500 and some of the Luna things, but by the late 90s I was writing tour diaries for the website, although I was leaving all the good stuff out, all the personal stuff. So I had some diaries and I was lucky to find a list of every show I ever played and you can picture the city and the club. People remember things differently (laughs), but I didn't have that much on the early years of Luna, like '93 and '94, and so I didn't put much of that in the book. That was an easy and happy time, you don't sit down and write when you are in a good mood.
In a way writing is about exaggeration, certainly in songs. My book is pretty truthful but when you write a poem or a lyric you exaggerate your feelings.
One of the comments reviewers made was how honest you were in it, and you had been in therapy for a while.
Yes, a couple of times. It's so common here, the talking cure is what they say. So I put some of that in the book. I never really wanted to go, but I'd drag myself, and I'd walk out feeling better.
You seem to be in a good place in your life at the moment, all these parallel careers . . . and you've started your own little label.
Yes, we started that at the worst possible time. But I can see the thrill of discovering something and putting it out. It is really hard to sell CDs right now, but it has made me appreciate all the work that people did on all the different labels I've been on, especially when you are on an indie label and they are doing it for the love.
But we were always putting out CDs and making a living. For a couple of years we were on a major label and no matter what you did you were a failure, because they find things which can shift millions of units and it you don't you are the failure. You make a record and it sells 100,000 copies and gets well reviewed but at the record company they are always wondering what they can do next. It failed.
When you look out on the audience for the Presents Galaxie 500, who do you see?
It is mostly younger people.
What do you take from that?
It's flattering that young people discovered the music and are into it. But also that people in their 40s have kids and don't go out to shows as much. (Laughs) And in New Zealand we have never played these songs there so I don't know what will happen. The Dunedin show was cancelled because it was initially scheduled at the same time as one of the Rugby World Cup semi-finals, and I thought that was not good. So we said no to that one.
But we will have local guest guitarist come for a few songs, that should be interesting.