Graham Reid | | 6 min read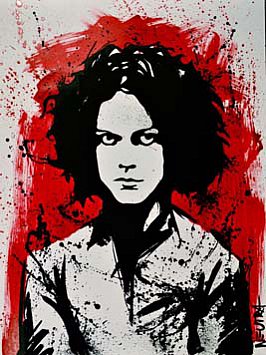 As a measure of how mighty or mundane Jack White's life has become, consider this: It made news in Hollywood gossip magazines that he had grown a moustache. Now for him, that's either great fame or a great pain. No two guesses needed about what he thinks.
The man who is one half of the White Stripes with Meg White -- his sister or ex-wife, believe what you will -- and largely responsible for one of the best albums of the year in Elephant, laughs about such trivia.
This sort of thing doesn't concern him, but he finds it strange anyone should care.
So let's get away from the facial hair - he's shaved it off - and get down to the real serious question. How's the finger, Jack?
"It's okay, it's not fully healed so I can't really use it very much so it's pretty frustrating. I'm pretty much playing with my other three fingers. There are a lot of things I can't do so I'm trying to replicate them with the rest of my hand. Yeah, it's frustrating."
And yes, the finger question is much more serious than a moustache question.
Two months ago he smashed the index finger on his right hand in a car accident and it didn't heal properly.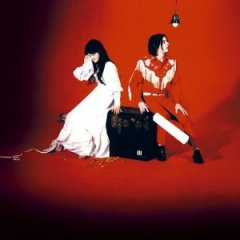 Tour dates to maximise the impact of their breakthrough Elephant were postponed, there was an operation - the ghoulish can check out the images on their website - and it was only three weeks ago that the White Stripes started playing again.
Their comeback show at the Greek Theatre, despite his reservations, was a superlatives-alert success and their touring life has begun again in earnest.
They rumble through the States and Canada for a while - he's on the line from Portland where they are playing with the Yeah Yeah Yeahs - and then head this way for another a short tour. So after a brief hiatus it's all go again in White Stripe world.
But for Jack, after the band's meteoric rise in the past three years, the enforced time out came like a reminder of mortality. He was 27 -- the same age Janis Joplin, Jimi Hendrix and Kurt Cobain checked out -- and he considered it a warning.
But put it to him that it's like Bob Dylan's famous "retirement" after a motorcycle accident (in '66 when he was 25) and he laughs. There was a difference.
"I did have a breather and that was good, but I couldn't do anything. I couldn't write music or work with [68-year-old country legend] Loretta Lynn, which I was trying to do, because I couldn't play guitar or piano. So it was breath of fresh air, but would have been nicer to have been able to write."
The downtime was busy enough, however. He still managed to produce Lynn's album in Nashville, and has overseen the release of Whirlwind Heat's album Do Rabbits Wonder?, which he co-produced last year and is the first on his Third Man Records label.
But he doubts the break gave him any Dylan-like perspective on where the White Stripes have been and where they might be headed.
"It's never been something I've ever really figured out, what we would do. I was always taking it as it came and when things get to the point where we don't want to do it anymore, because its obvious we shouldn't, then we won't.
"For now it's just making records and performing them I guess."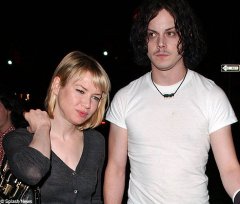 His life is not quite that simple these days. The reason gossip magazines have taken an interest in this musician with an encyclopaedic knowledge of rock, country and blues - and whether or not he has a moustache - is because of the company he's been keeping, notably actress Renee Zellwegger, who he has been seen chaperoning.
White and Zellwegger met on the set of writer/director Anthony Minghella's Cold Mountain, shot in Romania. White plays a deserter Confederate soldier/musician, Zellwegger's husband, and recorded some traditional songs alongside some originals for the soundtrack album with bluegrass musicians in Nashville.
He enjoyed the experience of movie-making - "I got to do so many things I hadn't done and it was great to learn" - and the film comes out in November in the States. He's seen the finished product so it seems reasonable to ask if he can act.
"Yeah, I'm all right," he laughs. "I'm mostly singing in the film so it wasn't an acting role that much. You can look at it and take it for what it is. But my character was a musician, so it wasn't a stretch."
He and Meg also appear as themselves in conversation and playing for the Jim Jarmusch film Coffee and Cigarettes, which was screened at last month's Toronto Film festival. Again, no big deal and not quite proper acting.
But he's now part of that world and squiring Zellwegger has got the paparazzi excitable - another actor/rock star line-up.
"I'm not a big fan of that gossip stuff," he says with admirable restraint. "We're in an age when everybody wants to know everything about everybody, at least in small soundbites they can digest at the grocery store or on television.
"It's a part of the world I've never liked. Everyone can walk away from it. You just have to chose where and when you allow it to happen."
To some extent, he admits, he can walk away more easily than others because he has a separate life as a musician. But the movie-making experience has given a better perspective on his own world. Elephant was recorded in a couple of weeks; Cold Mountain, which also features Jude Law, Nicole Kidman and Natalie Portman, was shot months ago and the movie still isn't in cinemas. There's some frustration that the filming process is so protracted.
"I don't consider it a waste of time. I do consider it precious time though. If you have the idea like Anthony Minghella had and you've written a screenplay and got people to invest, then the years he's put in ... it's so much time.
"I'm in a two-piece band and I produce the albums. It's very easy to get my idea across. But how do you get your idea across to all those people who are working in lighting and sound and the actors themselves? It's such a task to get those people to work towards your one goal - which you have to make become everybody's goal.
"You have to applaud any movie that's made which is appalling or good, it's a triumph. When I see a movie now that's not very good I feel bad about saying it's bad because of all the work that was put in."
The other experiences, like going to premieres, he can take or leave. "I don't have to go but I might want to."
With his photo in magazines with Zellwegger it's sometimes necessary to remind people that White is a musician, and a rare one at that.
Aside from the original material he writes, which can reference garage band thrash as much as ancient Delta blues, he has a catalogue of songs he sings which reach from Burt Bacharach to Bob Dylan, Beck, Blind Willie McTell, Elvis and Eddie Cochran.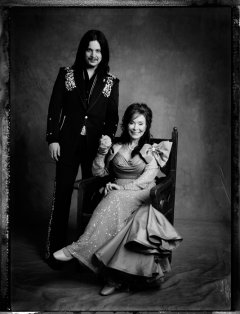 A particular favourite, however, is Loretta Lynn, the legendary "coal miner's daughter" of Butcher Hollow in Kentucky, who was married when she was 14, had four kids before she was out of her teens, and managed her own career while scoring dozens of country hits in the 60s.
The White Stripes have covered and performed a number of her songs, and he met up with the semi-retired singer last year. They hit it off and invited her to open for them in New York, and when Jack heard she was keen to record again he put his hand up for the production job.
"She's one of the greatest female singer-songwriter of the 20th century. She wrote her own songs about things nobody else would touch. So I put my name in to see if I might be able to produce the record - she hadn't done one in a long time. They allowed me to get in there and try it out and it worked out really nice.
"There are some old Loretta songs on it she'd never recorded and I love working with her. I can't wait for people to hear it."
Given her track record with songs like Mr and Mrs Used To Be and Don't Come Home A' Drinkin' With Lovin' On Your Mind it's not hard to see why Jack would like to work with her. But what did she see in him?
"I think she just thinks I'm handsome," he laughs.
That was before the moustache, of course.
"Yes sir."
For another interview with Jack White see here.