Graham Reid | | 2 min read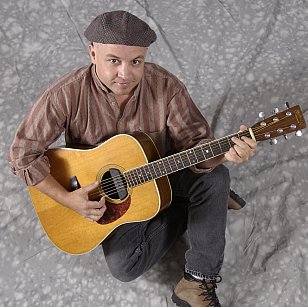 The way I remember it goes something like this. It was the early Nineties and on Auckland's Queen St there were very few buskers. And they were uniformly awful.
A man playing a guitar who can't play guitar was funny once . . . but after that it was just sad. And it did no credit to the student radio station that they adopted him for a little while.
So any busker who could stop people was a rarity -- and the one who did was American Billy Ebeling who not only had the slight appearance and fright of hair like a young Bob Dylan but he could actually play, sing and -- best of all -- keep a patter going with passers-by. His songs were good and his humour razor sharp and quick.
He was undeniably talented and so one day I asked him where he had come from.
Lawrence, Kansas he said, and I said, "Ah, the hometown of William Burroughs" -- and we hit it off.
I don't think he expected anyone in far-flung New Zealand would have known that. (That said, it was the full extent of my knowledge of Lawrence, Kansas).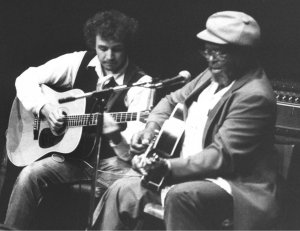 I interviewed Billy for the Herald as I recall and he rambled off around the country for a while and I lost touch with him. He picked up some good gigs though and once supported and sang with Brownie McGhee among others. He could hold his own on the concert stage as well as on a windy street corner.
And then some time later he was back on Queen St, this time with another guy. His brother Terry, as it turned out.
I think I might have interviewed both of them at that time.
And then Billy, as was his wont, rambled off again, the true troubadour.
I lost touch again, and then in the mid 2000s I came across his name: he'd won some "best street musician" award in Kansas City which now seemed to be his temporary home.
A true itinerant, Billy not only wrote fine country-rock/busking originals for guitar, harmonica, accordion and pedal steel, but could turn his hand to wonderfully innovative treatments of other people's songs.
I often wondered what happened to him, and now I know. He's still on the road and back in New Zealand.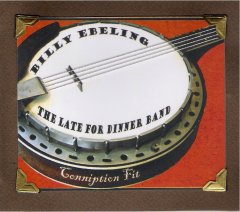 I know this because out of the blue a month or so ago he sent me an e-mail and what followed were copies of some of his albums, notably a new one called Conniption Blues with his Late For Dinner Band on which they sensitively overhaul some familiar songs in a folk-country manner.
It is a beautiful handmade, limited edition release (only 500 available, signed by the band and numbered).
Their version of Cheap Trick's power ballad I Want You To Want Me now comes as a slow and mournful acoustic plea with tear-stained harmonic, the Beatles' One After 909 is delivered much as Dylan might have done it on Nashville Skyline, and the Penn-Oldham classic Do Right Woman is a slow country ballad.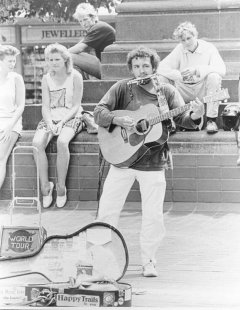 Billy might not look like the Dylanesque troubadour he once did when busking his way around Australasia, but his gifts haven't failed him.
In fact, on the evidence of this album, they have deepened and he brings an even greater emotional depth to these classic.
When he sings AC/DC's Long Way to the Top (he opens it with a Groovin' harmonica part) you feel he's earned the right to observe that it is indeed a long way to the top if you wanna rock'n'roll.
Buskers be warned.

This is how it's done.