Graham Reid | | 8 min read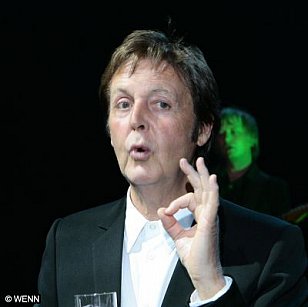 Around the time of his 50th birthday in June last year, Paul McCartney could have -- if he so chose -- picked up a couple of mainstream British newspapers and read editorials and think pieces suggesting that this former Beatle be made a knight of the realm.
And why not?
James Paul McCartney is undeniably Britain's most popular living composer and, as the writers pointed out, knighthoods have been given to classical composers like Harrison Birtwhistle whose works go largely unheard by the wider public.
Yet as one of the richest men in Britain -- ranked 19th by a Sunday Times poll with a personal fortune of around $1355 million -- McCartney has been a household name since the early 60s.
That this man whose back-catalogue of songs includes items such as Yesterday (more than 1600 different recorded versions) and a career which embraces film and television hasn't been so acknowledged may have something to do with his occasional political outbursts and habitual run-ins with Customs and police over a steady stream of marijuana possession charges from the late 60s through to a spectacular bust in Tokyo in 1980.
On his return to England after that incident -- initially forswearing the drug -- he called for marijuana to be decriminalised just as he had done in 1966. Four years later he was busted again.
McCartney's political statements have been no less outspoken. Early in his solo career he released Give Ireland Back to the Irish (banned by the BBC) and most recently All My Trials, which was released in late 1990 on the eve of the British Conservative Party vote on Margaret Thatcher's successor. That song savaged Thatcher's policies and what McCartney called "this non-caring society".

The song was fitting, he said "for all the modern trials that are bringing misery to millions, like joblessness, homelessness and the collapse of the National Health Service."
McCartney has also been active, through personal intervention, in keeping a hospital open. And, as a favourite son of Liverpool, he is behind the establishment of a performing arts institute in the city.
Such things may not endear him to those within the establishment who consider royal acknowledgment. But, in a way the cynical music press cannot comprehend, they make him something of a popular hero in the city of his birth.
And in mid-1991 this musical workaholic realised his most ambitious project so far -- an oratorio performed in Liverpool Cathedral to mark the 150th anniversary of the Royal Liverpool Philharmonic Society.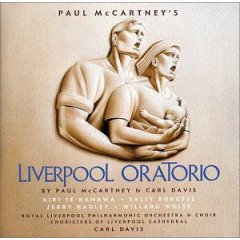 It was a huge choral, orchestral and vocal work with some difficult, if not virtuosic choral parts which, if it doesn't rank against the great oratorios nevertheless had some charm and appeal. There is a particularly demanding trumpet solo in the section relating to the death of McCartney's father, but mostly the Liverpool Oratorio has crossover appeal.
Yet while this work must have appeared a challenge to its composer who can barely read music, it was not without smaller precedents in McCartney's musical career which reached back to Buddy Holly and Elvis Presley aspirations in the 50s.
It was McCartney's song Yesterday, recorded in mid-65, that first introduced classical instrumentation into the Beatles' canon at the suggestion of their producer George Martin who scored the string quartet setting. For McCartney -- a curious musical intellect whose listening at the time included Arnold Schoenberg and Igor Stravinsky -- it was like another door opening.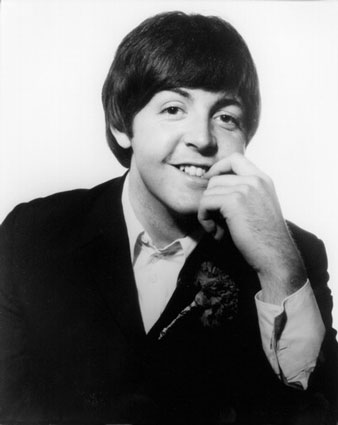 In April the following year he asked Martin to score an arrangement for Eleanor Rigby; later that year in his first solo venture outside the Beatles he wrote 28 minutes of film music for The Family Way which, once again, Martin arranged for him.
Within months he was working on Penny Lane which included four flutists, four trumpets, two oboists and a bassist. But the sound wasn't what he was hearing in his head . . . Until he saw David Mason on television performing Bach's Brandenburg Concerto No 2 in F major. The high sound of the trumpet was just what Penny Lane needed.
"The next morning I got a call and a few days later I went along to their studio," said Mason later. "I took nine trumpets along and we tried various things, by the process of elimination settling on the B flat piccolo trumpet.
"We spent three hours working it out. Paul sang the parts he wanted, George Martin wrote them out, I tried them."
Over subsequent years, with the Beatles no longer touring, McCartney (with the assistance of Martin) wrote orchestral and string sections for a number of works, broadening his palette by writing film themes (Live and Let Die, The Honorary Consul, the theme to Zoo Gang for British televison).
Although critics consistently said McCartney most often used strings to sweeten his already saccharine pop, the project which extended him and met with wide acclaim was the one which, on paper at least, looked the most likely to critically disembowel him: his extended sections and incidental music for his execrable 1984 film Give My Regards To Broad Street.
The film was rightly panned but McCartney's brief instrumental passages showed a keen ear for the potential of classical arrangement within a pop context.

Yet the album was a poor seller.
Why then, a mere four years later, would McCartney commit himself to two years' work on a piece he now describes as "one and a half hours, eight movements and the full kitchen sink"?
Simple. He was asked.
When British-based Now York-born composer Carl Davis was offered the commission to write something for the Royal Liverpool Philharmonic Orchestra's celebrations it was suggested to him that McCartney might well be interested. The two had had brief contact and McCartney admits he liked Davis' attitude when he read the conductor say in a magazine interview, "it is moves, I'll score it".
McCartney was delighted to be asked to write the work as it offered "the perfect excuse for me to expand my flirtatious excursions into the orchestral and choral world into a full-blown work".
And an oratorio -- a work not usually requiring dramatic action or sets, like a still-life opera -- was the ideal vehicle. And the theme would be nothing less than a quasi-autobiographical retelling of his life in Liverpool in the post-war years, ironic given that Penny Lane of some 20 years before was intended to be the first part of a never-realised Beatles concept album about their childhoods.
Yet the Liverpool Oratorio reaches beyond the specifics of McCartney's own life (the child in the work shares his birth year, particular teachers and places are mentioned) into the allegorical.

It is an ambitious work in its scope, which opens with the birth of child, Shanty, who suffers the loss of his father (it was actually McCartney's mother who died when he was young) and sees the vision of the woman he will one day marry.
The narrative takes the child through schooldays -- the repeated "not for ourselves alone but for the whole world were we born" was the motto of McCartney's old school -- and expands into the world of work, marriage and the redeeming nature of love.
When first performed -- and recorded -- two years ago it was notable not just for the high profile of its composer but for the soloists it commanded: Dame Kiri Te Kanawa took the soprano role, American bass Willard White sang the headmaster, preacher and Mr Dingle (a workmate of Shanty's), Sally Burgess took three mezzo-soprano parts, and Jerry Hadley sang Shanty.
It is a work which is punctuated by McCartney's pop sensibilities and has an especially demanding five-minute violin solo in the sixth movement.
"I heard Carl say to someone that the Oratorio is not concerto level, "said McCartney, "so thought I'd like to put some stuff in that's hard for any violinist just so as to separate it from al the easy solos in the world."
Malcolm Stewart, violin soloist for the Liverpool performance and recording, says it is the most daunting solo he has come across in 12 years of orchestral reading: "There's no margin for error".
Quite who left so little chance has been a matter for some comment recently. While McCartney has always been candid about his working method -- he sings, Carl scores for him just as George Martin once did -- Davis has been on record noting that his not insubstantial part in the process has been overlooked and he has been reduced to a mere amanuensis. Although he receives equal writing credit, the full title of the work he notes tartly is Paul McCartney's Liverpool Oratorio.
Giving credit where it has been due has never been McCartney's long suit however -- musicians in his bands have often complained about being treated like paid help -- but he was also prepared to take full responsibility for the work if it met with critical derision.
Shortly before the Liverpool Oratorio's first performance McCartney admitted to some trepidation: "It sounds good to me, but I've got to steel myself to the fact there are certain to be critics out there who are going to slag it."
He wasn't wrong.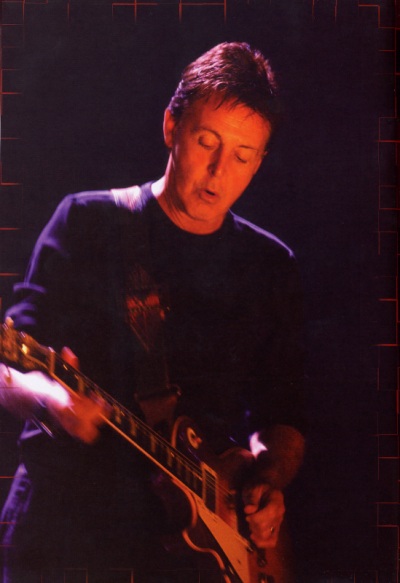 Geoffrey Thomason in The Guardian said the music was at times "lacklustre" and "embarrassing". Richard Morrison of the Times wrote, "there are some sweet tunes and the music is fun when it snaps into Latin American mode. But the churchy choral passages and laboured orchestral interludes make Brahms' Requiem seem like a hotbed of syncopation".
Rex Fisher reviewing the recording for the New Zealand Herald considered it "impressive but really inspiring" and "if truth be told, it tends to excite interest and admiration but lacks the spark of genius that marked the Beatle's other efforts on the other side of the musical spectrum".
Other critics hedged their bets: "I liked the opening and the end, both sections full of real songs, "said Il Gazzettino.
"Enough of value in this Oratorio to become a worldwide hit and sell millions of records," said the Daily Post in Liverpool, somewhat avoiding the central issue. And the New York Times offered, "what this oratorio showed was that McCartney has ideas that are well suited to the medium. If he persists he may well produce the classical repertory work that has eluded other pop composers."
Critics mostly saw the Liverpool Oratorio as a curate's egg: good in parts.
It is a work that walks a middle path between the classical and pop idioms and some have noted Andrew Lloyd Webber's Requiem suffered the same fate at the hands of classical music critics.
McCartney's Liverpool Oratorio has certainly been more popular than the critics might have wished: the album spent 20 weeks in the top 25 classical album charts in America and on the night of its first performance McCartney, Davis and its performers were given a 10-minute standing ovation.
But that was for a Liverpool composer writing a Liverpool-based work performed in Liverpool on an auspicious civic occasion.
Undeniably the Liverpool Oratorio possesses a certain Everyman quality in its narrative and the work has been given a number of performances in the two years since its debut -- but we might have to concede they were to audiences curious to hear the first work in the classical genre by a self-confessed "scruff from Speke" about whom some are saying is only a whiff of sweet smoke away from a knighthood.
This essay first appeared in the New Zealand Herald in 1993. It is unavailable on the Herald website: www.nzherald.co.nz