Graham Reid | | 5 min read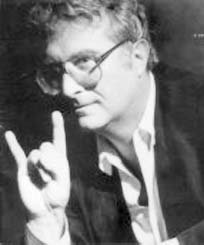 Randy Newman is a problem in popular culture, a man misplaced into the rock textbooks simply because there's nowhere else to put him.
He's part of rock culture by association (his albums are reviewed in rock magazines) but more correctly he's an ironic, acerbic songwriter who has populated his songs with an extraordinary collection of bigots, misfits, racists and cynics for three decades.

He has also written Grammy-grabbing soundtracks for movies such as Toy Story and its sequel, Toy Story 2.
On his latest album, Bad Love -- his first collection of non-movie songs in many years -- he fires a salvo at rockers who outstay their welcome (I'm Dead But I Don't Know It), addresses a love song to his ex-wife (although pointedly notes he'd sell his soul, and hers, for the sake of a song) and in The World Isn't Fair he adopts the voice of a smug yuppie addressing Karl Marx.

And adopting various personae has been Newman's trademark, whether it be Southern rednecks or desperate old men trying to impress young women ("I've got a Lexus now - come on home," he sings in Shame on Bad Love). Which probably makes it easier for him than most to write from the point of view of Buzz Lightyear and Woody in Toy Story.

Newman is out of the tradition of the great American songwriters, more likely to quote Irving Berlin than Marilyn Manson. He is currently reading Africa: A Biography of the Continent by John Reader and Breakfast on Pluto, shortlisted for the Booker Prize, by Patrick McCabe. And on the stereo he's got a Bartok violin concerto, at hand a box set of gospel music and he's been listening to Shostakovich symphonies "because I was doing a movie where I needed to make some big noise and wanted to see what someone does when they've got eight horns to play with."
No, Newman is not your average rock person -- and certainly not your average songwriter.



"Yeah, it's an odd path I took, an odd and indirect way to treat this music," he laughs quietly. "I can't think of anyone else who does that much of [adopting a character's voice] and I've done it consistently for 30 years.

"Even in the tradition of film or stage writing it's uncommon, like Frank Loesser writing Guys and Dolls. No one thinks that's Frank up there -- or Oscar Hammerstein. David Bowie sort of did it when he assumed the character of Ziggy Stardust but that's a little different."

Yet in pop culture the audience too often assumes Alice Cooper and Marilyn Manson are the same off stage as they are on. While they market a persona, Newman says he's consistently tried to make the song itself central, the audience not having to rely on his personality to drive it.

"I don't like it when you have to know who the guy is singing a song. I try to make every song coherent and consistent within itself, so no matter who was doing it you would get it. It's an inferior song if they have to know where I am coming from or know it's me -- because not that many people know who I am. I like the songs to work on their own."

Yet some of those lyrics have been so double-edged you can't help wonder if his audience gets the jibes he's making. When he goes on daytime television for the Roseanne show, doesn't he feel he's meeting his constituents?

"I would have thought my songs aren't that hard and people would get it. The USA is at the bottom of every Western country in maths and science and English, but in understanding entertainment they really get it. They get a movie like Mission Impossible which is incomprehensible to me! The great thing in Star Wars is at the end where someone says, 'You've got to go to the next colony and tell them everything that happened.' Who the hell knows what happened?

"Some people might not like [my music], but they get it because Americans are sophisticated about their entertainment. I never thought the audience was too slow to get what I was doing, it's not that cerebral."
Newman does admit, however, there are references now -- he mentions politics and geography -- which he used to count on people knowing, but no more. He also concedes the songwriter who improves or maintains a standard is a rarity. Which is odd because if song writing is a craft, would it not improve as the artist refined it?

"If you have success you do less and less of it for one thing. When you are first writing you are doing maybe 50 a year. Then you make a record and keep squeezing it out and there's something to live up to. Maybe it's an energy thing, there are fields like physics and chess requiring big brain power and people in those fields will do their best work early. But maybe rock'n'roll is just a young person's thing. There's no decline in Irving Berlin over a 50-year period. He had a hit in 1954 and a hit in 1908.

"I think working on movies where you have to work with music every day for three months, 10 to 12 hours a day, helped me on the last record. I look for signs of decrepitude and me slipping and I didn't really see it. Although maybe I'm the last one to see it. But I don't think its inferior to the stuff I've done before."

Bad Love has been turning in praise-laden reviews, as did this year's four-CD box set retrospective, Guilty.

But right now he's back in the world of soundtracks having just finished Toy Story 2. Next year he'll be out on the road -- might it be too much to expect he'd come this far down the globe?

"I was in New Zealand last Christmas on holiday with my family in Nelson, Taupo and Auckland. It was very beautiful and I'd love to come back," he says, admitting his career allows him to travel with almost anonymity. "You find a foolish promoter and you never know ..."