Graham Reid | | 7 min read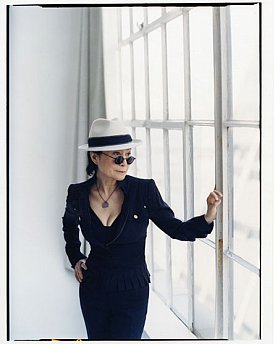 For anyone who has only experienced her singing -- which slews wildly between a visceral scream of anguish and an orgasmic howl -- Yoko Ono's remarkably quiet speaking voice, barely above a whisper, comes as a surprise. And this week as she talks about art and music from her home in New York it is aggravated by a cold and initially reduced to being almost inaudible.
"I'll do my best," she coughs. "I was just in about five countries and I've just come back so I think it was probably the plane."
She coughs again, gets a glass of water, then explains she was in Copenhagen and Spain opening her own art installations, about which she laughs almost self-consciously.
And in the course of a wide-ranging conversation Yoko Ono laughs a lot -- which will further surprise those whose only image of her is as the dour, emotionally impenetrable avant-garde artist who somehow seduced her famous husband, the late John Lennon, away from the Beatles and into years of bizarre political activism, art happenings and other period madness besides.
As a member of the Fluxus art group in the early 60s, and through the New York avant-garde scene, Ono had credentials as an artist -- of the performance art kind -- but so too had Lennon she says. And it is his work as much as her own she has put into the world this past decade.
An exhibition of Lennon's works entitled Imagine -- more than 100 drawing and limited edition lithographs -- is part of a permanent travelling exhibition of his distinctive, idiosyncratic work.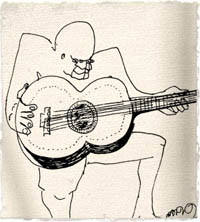 While some might tartly observe that as a visual artist Lennon was an exceptionally gifted musician, Ono is quick to remind that her husband -- whom she met at one of her own exhibitions at London's Indica Gallery in 1966 -- was also a former art school student.
"When we met we were talking quite a lot initially about art and artists and people he liked. And then he wanted to have a one-man show but he said, 'I can't, I'm a Beatle'.
"At the time I just couldn't understand why a Beatle couldn't do a show. I came from a very different background. He did a Robert Fraser Gallery show [You Are Here in 1968] which was basically ignored by the critics and his friends, so he was very disappointed."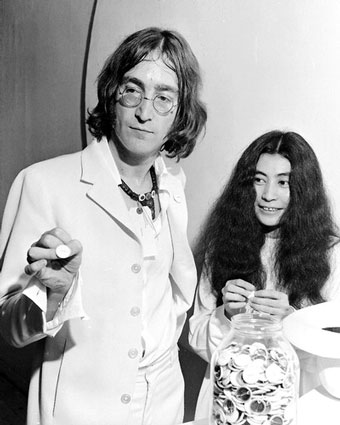 Not that it stopped him. Through a series of avant-garde films, albums of sound collages and found noise, exhibitions of drawings and lithographs, Lennon made a strong bid for artistic credibility outside the constraints of then then-disintegrating Beatles.
Most successful, if only for their notoriety, were the Bed Peace events -- the pair staying in bed for a week as a peace protest -- and the "War is Over -- if you want it" poster campaign of 1969, the latter anticipating by a decade the public aphorisms of artist Jenny Holzer.
"Yes, the stuff we were doing was a little too soon, a little too early I think," laughs Ono. "But you know, we suffered, we really suffered for not being able to communicate. It was like being invisible but you're not, you know? But that kind of suffering was probably very good for us because we were both very strong-headed people and had very high opinions about ourselves."
And she laughs again.
"It's good to learn a lesson that way. But we were totally, totally naïve as well," she says, noting both she and Lennon were stunned by the outpouring of vitriol and naked racism they encountered.
"I think that because it was us, the combination of . . . the Western hero, so to speak, John Lennon, and he decided to get together with an oriental woman. That whole combination made people angry, I think. I wasn't prepared for it. I was really surprised by it, but so was John. We went through that and it was a learning process. Also I think it was a learning process for John's fans."
Lennon of course had long been used to public scrutiny, and not just a Beatle. His lightning-fast, often scabrous wit had made it into print in two books of his odd verse, In His Own Write in '64 and A Spaniard in the Works a year later. Both books also contain his distinctive, often cruel, line drawings.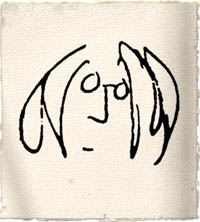 What the Imagine exhibition overview allows is to see the changes in his style, from the often biting caricature of the early work to . . . dare we suggest, something more akin to the refined Japanese calligraphic style?
"Definitely. John did visit Japan before he met me, but that was a totally different kind of trip. We went together -- not often, but often enough -- and he got more interested in the oriental brushstroke. I didn't influence him at all, he just picked up the brushes and he was experimenting with that too. Even before that, when we were still in Britain, he was asked to do lithographs, the Bag One series, and at that time already he was getting into that oriental minimalism. The spiritual aspect of the brushstroke is a fascinating subject in a way."
The works in the Imagine exhibition traverse all of those Lennon styles, from witty cartoons and quickly sketched caricatures of himself, Ono and their son Sean, to that refined Japanese-influenced simplicity. What is not part of Imagine is the famous Bag One works of his erotic lithographs from early 1970, eight of which were seized by Scotland Yard as obscene. In court they were compared with similar works by Picasso and subsequently released.
"I thought, 'What is going on here?' If it was Picasso he wouldn't be confiscated. There was definitely some kind of prejudice there, so [John] hit the wall in a way, a wall of prejudice everywhere. When we were living in New York he was looking for a gallery again and most of them thought it was just the dabbling of a pop star so why should they do it. Galleries have their own snobbery."
Ono says that after Lennon's death her priority was to release the Milk and Honey album they had been working on then, after five years, she turned her attention to his art works. She acknowledges her approaches to galleries met with indifference initially. However now "after 10 years, the programme is extremely successful and now his work has been put in the collection of the Museum of Modern Art in New York, that kind of thing."
That alone might give the lie to the argument that Lennon's drawings are famous only because of who did them rather than on their own merit -- but to be fair some of them are not very good. It is also notable that Imagine is not a work curated for galleries but is most often displayed in commercial outlets and places such as hotels.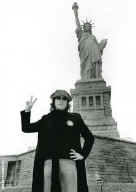 Some of Lennon's work however betray an assured and confident hand and Ono admits choosing from the hundreds of drawing and sketches was difficult for her. She says she chose works that were finished and Lennon would not have minded being shown. Some he felt confident enough about to sign and "the ones that are shown in the exhibition I really think are top quality stuff."
If the Imagine exhibition has led to Lennon the artist being taken rather more seriously, it runs parallel with the rehabilitation of Ono whose star has been in the ascendancy for the past five years, first with the much-acclaimed release of the Onobox, a handsome six-CD collection of her music, the touring programme of her films, then last year's unexpectedly strong Rising album with son Sean's band and the subsequent brief live appearances.
"I just put all my energy into my voice -- and people don't walk out on a thing like that!" she laughs.
And now there has been the re-release of all 11 of her solo albums.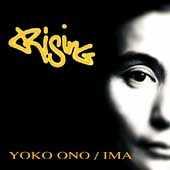 "You know," she says with an audible sigh, "I don't necessarily enjoy being that busy anymore. In the beginning I thought busy was good, you know? Then for about three years I have been so busy and this summer I just want to relax a bit."
And suddenly Yoko Ono -- for most of us frozen in images now 30 years old -- sounds every bit of her 64 years. She speaks of doing another album and of other projects, but that is her public life.

Privately through the Spirit Foundation -- to which go part of the proceeds from sales at the Imagine exhibition -- she has unobtrusively been a major donor to numerous charities.
"I think that's very important. There's a certain balance in our life and also you want to do your own thing, but also to help others too. If each one of us could just do a little . . . .
"The same goes with communication, just making people around you happy and doing things here and there.
"If all of us did that, the world would change very fast."
.
There is a considerable amount about Yoko Ono at Elsewhere including interviews, album reviews, unusual or rare singles and career overviews.
Start here.
.
For articles and reviews about John Lennon which includes demos of Beatle and solo material, start here.
.