Graham Reid | | 2 min read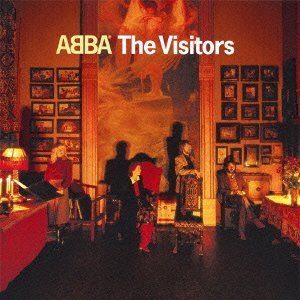 Abba were never my band. Too handclap-pop without the power-pop element, too clean and expressionless.
Yes, I got the pathos in some lyrics, loved the irony (or irony-free) covers which Flying Nun bands did on the Abbasolutely tribute and have a soft spot for Dancing Queen.
But . . . Just not my band. Never even bothered with their movie, despite Agnetha's bum which seemed acclaimed as a star in itself.
However when in Sweden, as I was recently, you have to do something Abba-ish, right?
Oddly enough, there's still no Abba museum in Stockholm as you might expect *, and word is these members of Sweden's pop royalty ruthlessly protect their image. I didn't see one Abba tea towel, commemorative mug or shot glass. Unlike Her Majesty in Britain whose likeness was plastered everywhere.
A different royalty perhaps?
There's also only one English-language Abba tour a week – Saturday at 11am. My flight landed at 9 and the Italians chatted up the woman selling tickets to the city for so long by the time I got to the stop the bus was heading down the motorway. I have Abba tour tickets as souvenirs of something I didn't see.
But you can do your own Abba walk, so one day I set out determined to be persuaded by the Anni-Frid, Benny, Bjorn and Agnetha experience.
Alas, what you learn is Abba were as manufactured as any Idol singer.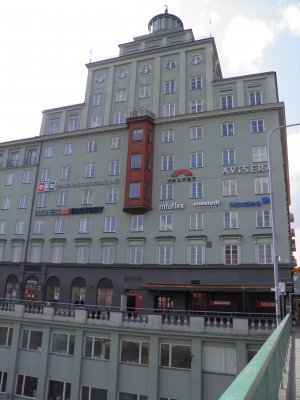 They didn't play clubs so – unlike London where you can go to the Marquee and haunts where everyone from Lennon to the Gallaghers hung out – you are reduced to standing outside buildings which were studios where Abba recorded (right), where the movie was shown, or where Frida and Benny once lived. Later I stood on the exact spot in Stortorget where a famous Abba photo had been taken, but I was there because of the nearby Nobel museum.
Maybe this is as it should be, because it turns attention back on all that really matters: the music.
Abba's last album The Visitors from 1981 was the one whose dark tone alienated pop fans but hooked in me for its introspective moods married to synth pop. It was also the final separation album: Agnetha and Bjorn had split two years previous but Frida and Benny called it quits just before the sessions started. So people read closely songs with titles like When All is Said and Done, I Let the Music Speak, One of Us ("is crying/is lying"), Slipping Through My Fingers and Like An Angel Passing Through My Room.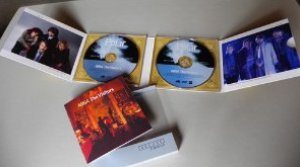 The Deluxe Edition reissue also intelligently adds, among other tracks, the A and B sides of their subsequent (and very interesting) singles for the full career coda.
The storytelling and musical-like lyrics hardly match Fleetwood Mac's Rumours for soul-bearing – Bjorn and Benny mostly kept an emotional distance from their lives – but musically The Visitors was ambitious, layered and as synth-edelic as it was dramatically moody or glitzed-up pop. Of special interest is From a Twinkling Star to a Passing Angel, a segue of song segments Benny edited together late last year into an impressive nine minute suite.
With a DVD of various television appearances (denying a split), promo clips, a lengthy interview in Swedish and ads for the album and hits collection, this is a wave goodbye to cheerful Abba pop.
Oh, I went to the building in which they shot The Visitors cover photo, but it was late and I couldn't get in, so . . .
Just "thank you for the music", I guess.
* A year after this article ran an Abba museum opened in Stockholm