Graham Reid | | 3 min read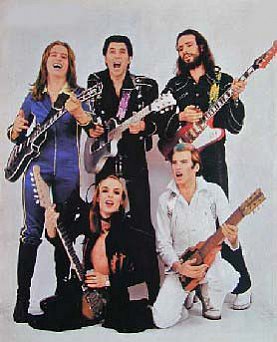 Before one of their earliest live shows – at the rain-soaked Great Western Festival in May 1972, on the bill with hard-rockers Nazareth – Roxy Music saxophonist Andy Mackay was grabbed for a quick interview about this group which was starting to gain attention.
They'd just signed to Island Records and their self-titled debut album was still a month away, but already the British rock press was talking up this odd sounding outfit in even odder looking outfits.
Visually they were a collision of Martian camp-glam off a catwalk (Brian Eno in platform boots and leopard print shirts) and retro-rock (Bryan Ferry with slicked-back greaser hair).
No one knew what to make of them, especially when the music skewed between discordant sounds (Eno randomly twiddling synth knobs) and poised matinee-pop (Ferry in quivering crooner mode).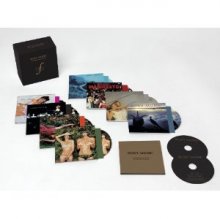 "Although the group sport a whole library of degrees and diplomas between them," wrote journalist Peter Nomis who interviewed Mackay, "their music is anything but academic and dry."
"We just want to play rock'n'roll," Mackay told Nomis. "We're a very hot band, but we are very cool people."
True on the last count, but "rock'n'roll"?
Their career – collected in the 10 CD box set The Complete Studio Recordings 1972-82, their eight studio albums plus non-album singles and B-sides – confirms Roxy Music wrote diverse songs.
But very little conformed to "rock'n'roll".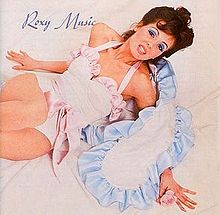 Yes, Do the Strand and Virginia Plain have some of those driving elements, but off that debut album (right) what of the sonic tapestry of Ladytron, the country-flavoured If There is Something and pastoral-meets-prog sound of 2HB (with Humphrey Bogart's line from Casablanca)?
Or their later incarnation with chic, machine-polished pop on albums like Avalon?
Their music was certainly special – Tony Tyler in NME called their first record "the finest album I've heard this year" adding it was the best debut he'd ever heard – but "rock'n'roll"?
This was elegant, evocative, retro-chic, mirrorball Pop Art which kept you guessing. Little wonder guitarist Phil Manzanera would later produce Split Enz's Second Thoughts album (the revision of their debut Mental Notes). The Enz had opened for Roxy Music and he recognised one of the few, equally creative, bands he felt an affinity with.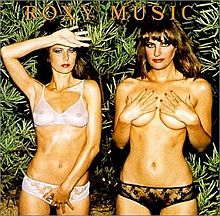 Roxy Music's career can be casually sliced into three periods for convenience: the albums Roxy Music, For Your Pleasure and Stranded form a distinctive and exciting period of unpredictability (the first two with Eno in the ranks, all in those eye-catching glamour model sleeves), then there was the rather more smoothly oiled, artfully conceived Country Life (right) and Siren (the latter including the hit Love is the Drug and Both Ends Burning).
After them, in the mid Seventis, Roxy broke up. Ferry successfully pursued a separate career, the others did sessions or solo projects (notably Manzanera on impressive albums under his own name) then reformed after a four years gap. But they were a much changed band.
The innovation and daring of their early albums was shelved in favour of well-oiled influences from disco, dance and cabaret for Manifesto, Flesh and Blood and Avalon which took them out of the 70s and into the 80s.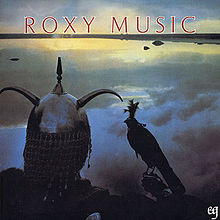 This was a very different but even more commercially successful incarnation (hits included Dance Away, Over You, More Than This and Avalon which feature Ferry in swooning, weary romantic mode).
Flesh and Blood and Avalon topped charts, their sound capturing the mood of the poised, dressed-up and self-obsessed Eighties just as those first albums had tapped into the barriers-down early Seventies when critics and an audience demanded to be challenged.
Roxy Music's albums are therefore many things to many people, doubtless one or two wrote themselves into your autobiography
You'll remember where you were when you first heard them, be it a student flat, nightclub or a grown-up dinner party.
There are some remarkable albums and songs in this tidy box . . . but "rock'n'roll"? Not really.
However Roxy Music were the better for its absence.