Graham Reid | | 3 min read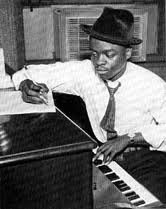 When Otis Blackwell died in May 2002 in his adopted hometown of Nashville -- the songwriter's city -- the tributes followed, and rightly so.
He might not have been inducted into the Rock'n'Roll Hall of Fame until 2010, but Blackwell's songs have been part of the DNA of rock music since the mid Fifties when he -- a black kid from New York who loved cowboy songs and was encouraged to write by Doc Pomus -- penned such classic songs as Don't Be Cruel, All Shook Up and Return to Sender, all of which Elvis took to the charts.
Presley took co-writing credit even though he didn't pen a word, but Blackwell was always philosophical about that.
"That was one of the things that was being done at the time," he said much later. "They figure that if you're going to write for somebody important you've got to give up a little something."
Blackwell also wrote Fever which Little Willie John had a hit with (he wasn't the first or last) and on early pressing it was John -- who actually didn't much like the song -- not Blackwell who got the writing credit.
After he heard Jerry Lee Lewis' Whole Lotta Shakin' Goin' On Blackwell reconfigured his Great Balls of Fire into Lewis' furious style . . . and Lewis had another hit.
Blackwell was only an occasional performer and recording artist with little success (although his Daddy Rollin' Stone was discovered and covered by a young Who on the flipside of I Can't Explain), but as a songwriter he was smart enough to provide perfectly pitched demos which artists like Presley would simply adopt as their own.
His first hit for Presley Don't Be Cruel was one of a set of seven songs he sold to Shalimar Music on Christmas Eve 1955.
"I was standing at 49th and Broadway and it was raining and sleeting and cold," he told writer Maria Mercedes Tito. "I didn't have a hat on my head and there were holes in my shoes. A friend of mine took me [over to Shalimar]. I played seven songs for them. They took [them all] and advanced me $25 for each song. I bought a new pair [of boots], a hat and an umbrella and went home with a little Christmas money."
As with so many jobbing, professional songwriters he was sidelined when the Beatles arrived and artists demanding they sing songs they had writen, but Blackwell sat it out and watched the royalty cheques come in regularly. He was inducted into Nashville's Songwriters Hall of Fame in '86 and the into the National Academy of Popular Music in '91.
A tribute album in '96 featuring Debbie Harry, Kris Kristofferson, Frank Black, WillieDe Ville, Joe Ely, Ronie Spector and others kept his name alive even as the songs lived on without him.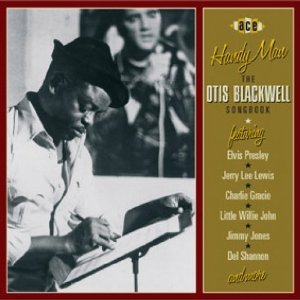 The 24 song collection Handy Man; The Otis Blackwell Songbook (Ace, through Border) certainly includes a stellar line-up -- Presley, Jerry Lee Lewis, Little Willie John, Del Shannon, Ben E King, Gene Pitney, Solomon Burke and others -- but the songs are mostly mismatched or lesser known pieces.
Doubtless Elvis' estate wasn't going to allow licencing of his biggest hits so here we get Make Me Know It which is a workmanlike piece by both writer and singer (although opened the Elvis is Back! album when he returned from the army), Don't be Cruel is done by Jerry Lee (fine but not Elvis), the Little Willie John Fever is the later version with strings, the lame version of All Shook Up is by someone called David Hill (a songwriter at Shalimar but previously unreleased) and so on.
Not many would be keen to have the Five Key's My Pigeon's Gone, but to hear gospel goddess Mahalia jackson bridge the church and the street with My Good Fortune is a rare treat. And jazz diva Dinah Washington get rockin' on Honky Tonk.
But there is no denying Blackwell was a great writer -- the evidence is also here on songs like the risque Brace Yourself by Ben E King, Cliff Richard and the Shadows' archetypal run at Nine Times Out of Ten which went top 3 in Britain in 1960 -- and even if he sometimes repeated a good tune or hook he was copying from one of the best.
A standout actually comes from Blackwell himself. One Broken Heart for Sale is his demo for Presley who took it to number 11 on the US charts in '63. What is impressive about it however is that Blackwell's demo shows Presley exactly the way it should be sung, and Presley did it just that way.
The King couldn't pay the man a higher compliment than that, could he?